Executives at petrochemical processor TPC Group woke the morning of Nov. 27, 2019, to tragic news. Its refinery in Port Neches, Texas, had experienced a major explosion over night that was felt 30 miles away. Three people were injured. Neighbors had to be evacuated. Property damage came to an estimated $153 million.
"We all remember that night very vividly, and of course our first concern was for personnel, the community and the environment," TPC General Counsel Marilyn Moore Basso told The Texas Lawbook in a recent interview. "We worked immediately and then continuously as a team to minimize any impacts there. We did recognize right away that the company would feel the effects in many ways for many years."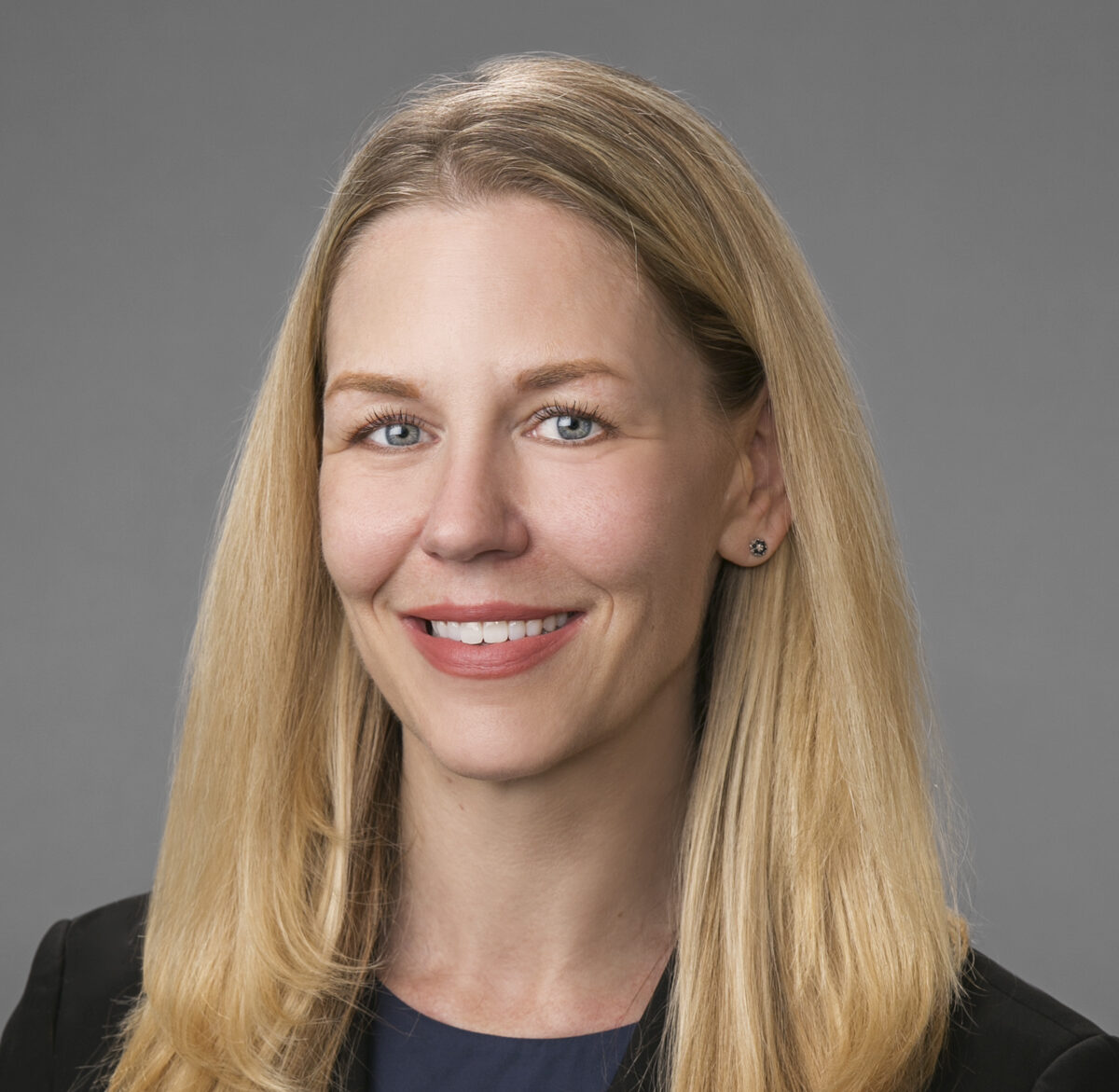 Little did Basso or others know at the time that the explosion was the first in a series of unpredictable events — the Covid pandemic, an unforeseen economic recession, the plunge in commodity prices and a winter storm that brought anomalous subzero temperatures to Texas — that would push an otherwise healthy company into bankruptcy.
The Chapter 11 restructuring filed on June 2, 2022, was simply the first in a series of extraordinary challenges that Basso and her team successfully handled in 2022.
Basso and the TPC team last year negotiated an agreement with bondholders in bankruptcy that eliminated $950 million in company debt, settled hundreds of millions of dollars in insurance claims, negotiated a settlement agreement with about 8,000 plaintiffs who had filed civil actions following the Port Neches explosion, established an environmental, Social and Governance structure and strategy for TPC, played a key role in the company's development and implementation of a cybersecurity strategy and was a critical leader in the on-boarding of corporate executives and board members as part of TPC's exit from bankruptcy in the fall of 2022.
"The biggest successes were also the biggest challenges — we achieved our objectives working collaboratively as a team," Basso said. "In addition to positioning our business for future financial success, we reached a fully consensual agreement with all parties in our case, successfully resolved all the third-party plaintiff claims against TPC relating to the Port Neches incident, reached a settlement with our insurers and maintained our strong relationships with employees, customers, suppliers and the community."
"There have been many great days [at TPC Group], but definitively the most impactful was the day we emerged from our restructuring with a strong balance sheet and a bright future to unleash the great potential for growth and value creation by our talented employees," she said.
Citing Basso's extraordinary accomplishments in 2022, the Association of Corporate Counsel's Houston Chapter and The Texas Lawbook have named her as a finalist for the 2023 Houston Corporate Counsel Award for General Counsel of the Year for a Small Legal Department (five lawyers or less).
ACC Houston and The Lawbook will honor Basso and other finalists and announce the winners at the award's event at the Four Seasons Hotel on May 4.
Premium Subscribers: Click here for a Q&A with Marilyn Moore Basso, who shares her passion for mentorship, the best advice she has received from her own mentors and public service efforts important to her.
"Her most significant work in the last year has been guiding TPC through a full Chapter 11 restructuring resolved by agreement in just six months in 2022," said Baker Botts partner Scott Janoe, who nominated Basso for the award. "The case was notable not only because of the size and complexity of the filing but also because TPC was doing this in the wake of the 2019 explosion at the company's refinery in Port Neches."
"The judge was very complimentary upon the conclusion of the bankruptcy case,'' Janoe said. "We were in and out of there in about an hour. None of that would have happened without Marilyn's leadership in dealing with all the different constituencies, including the equity holders, the company's directors and the two new independent directors that were brought in. Marilyn works tirelessly at building relationships and she was able to draw on the credibility she built up over years in the industry to bring these various constituents together."
Marc Katz, a partner at DLA Piper, said Basso's "drive and intelligence put her in the top tier of GC's, but it is her exceptional compassion and professionalism that really make her stand out."
"I have truly never met anyone who is a better GC and a leader," Katz said. "Specifically, there is nobody on her in-house team or at any of the firms with which she works, who works harder than her or is more knowledgeable within her core competencies. Marilyn is highly focused at understanding the areas outside of her broad range of expertise.
"As a GC and a leader, Marilyn understands what needs to be done, sets the proper example and tone for her team, and is supportive and understanding when things are challenging," he said. "This fosters an environment that encourages hard work, dedication and team minded focus, and why Marilyn has been incredibly successful in her role."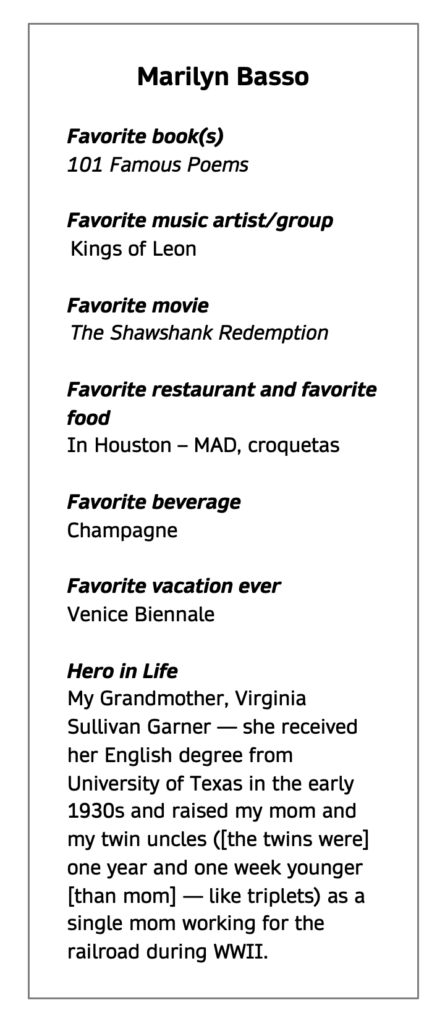 While Basso's entire family is from Texas, she was born in Summit, New Jersey, because her father, an accountant with Price Waterhouse, was on a two-year assignment with Financial Accounting Standards Board in New York City.
The family returned to Texas at the end of the assignment, and Basso grew up on the westside of Houston. Her dad spent a few years as an expert witness and consultant for energy companies, working closely with the in-house and outside counsel for those companies and often testified at trial. He retired as CFO of The Menil Foundation, where he was able to combine his finance skills with his love of art.
"My father always spoke fondly of the camaraderie and intellectual stimulation of working with those lawyers," she said.
Basso's mother was an executive assistant at various large oil and gas companies.
"She was extremely smart, organized and kind," Basso said. "I learned by watching her that a good executive assistant who also is a good person is your greatest asset. I have been blessed with amazing assistants throughout my career."
Basso's stepmother was head of HR for a Houston law firm.
"[She] taught me a lot about law firm dynamics and being a trusted leader in a professional environment," she said. "Most importantly, she showed me by example how to always treat everyone fairly and respectfully."
One of Basso's uncles was a lawyer who spoke several languages and enjoyed writing and traveled extensively, and he had an influence on her deciding to go to law school.
Basso's first considered becoming a lawyer while she was in high school.
"I thought it could be a great path to combine my love of people, culture, communications — written and oral — and collaborating with teams working toward a common goal," Basso said. "I focused only on law schools with international and study abroad programs and chose University of Houston for its Mexican Legal Studies program in Mexico City. I was drawn to transactional law because I wanted to feel I was making or creating something through the transactions I handled."
Basso graduated from Rice University in 1992 with a triple major — political science, Spanish and sociology — and spent a semester at Rice studying in Seville, Spain. She went to the University of Houston Law Center, which allowed her to study in Mexico City in the summer 1993.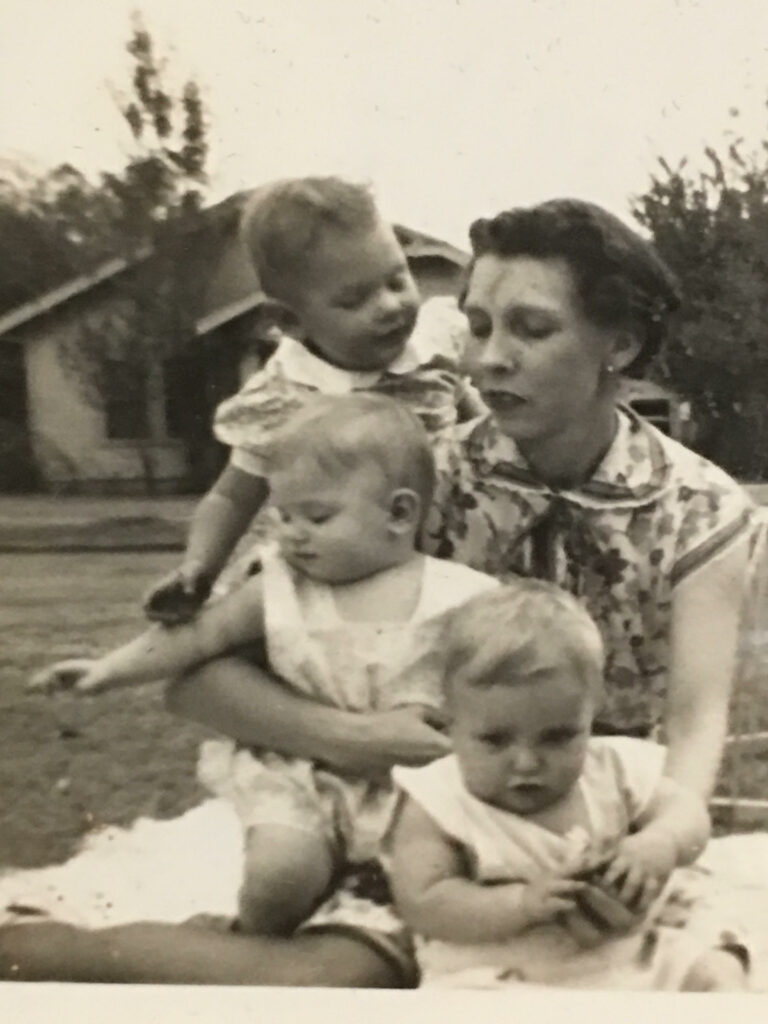 Marilyn's grandmother, Virginia Sullivan Garner
"My experiences studying abroad … confirmed my passion for international, multicultural interactions, as well as for working collaboratively toward a common goal leading diverse global teams," she said. "This passion led me to Baker McKenzie and ultimately to a career in-house at both multinational companies and local companies with diverse, multicultural teams."
After graduating from the University of Houston Law Center, Basso practiced corporate law for 18 months at Bracewell and then two years at Baker McKenzie.
But in 2000, she took her skills to the legal department at Baker Hughes.
"I realized as I worked on transactions in private practice that what I really enjoyed was understanding the business well and being part of the strategic team charting the path for the company, where I could shape decisions early," she said. "All of the attorneys in the legal department at Baker Hughes came from private practice, as I had, and were similarly committed to having a sophisticated legal practice but offering real-world, practical advice based on a deep understanding of the business."
Basso spent 18 months at Baker Hughes and then became assistant GC at Miami-based Elizabeth Arden, a prestige beauty products company.
In 2003, Dallas-headquartered Celanese Corporation, a global chemical company, hired Basso, eventually promoting her to deputy general counsel during her 13 years at the company.
The same recruiting firm that placed Basso at Baker Hughes and Celanese contacted her about a new opportunity: general counsel at TPC Group.
Basso met the leadership team at TPC, and they checked off all the important boxes for her — they shared common values, they trusted and supported each other, and they helped each other continuously improve and get the best outcomes for the company.
"TPC Group did not have any in house attorneys at the time and had outsourced the function while they looked for a general counsel," she said. "So I had the opportunity to both become general counsel and build a team from the ground up based on what roles and talent would create the most value for the company."
Another added benefit was that the job brought the family home to Houston, which was important because she had 3-year-old twins at the time.
The 2019 explosion at the chemical refinery in Port Neches presented Basso and her team with the biggest challenge of their career.
"Although we were very lean, the team had deep experience in industry, with each other and in the law — we all had worked together at some point at Celanese and knew each other well, and all of us came from big law firms, [including] Bracewell, Baker McKenzie, V&E and Jones Day," she said. "So, we were well positioned to lead the company through the extremely complex issues we faced."
Basso said the team also had excellent support from outside counsel, including Baker Botts, Simpson Thacher, DLA Piper and Farley & Partners.
"We were able to have boots on the ground at the site immediately, as well as be physically present with senior leadership to make the immediate decisions after the event," she said. "Strong relationships based on trust, shared values and transparent real-time communications — in each case, among the in-house and outside legal team and with the management team — were critical to our success."
Three months after the explosion, the world shutdown because of the Covid-19 pandemic. That sent commodity prices plummeting. Supply chains important to TPC's operations were horribly interrupted.
In February 2021, Winter Storm Uri hit Texas. For four days, unprecedented subfreezing temperatures, snow and ice pounded much of the state, causing millions of homes and businesses to lose power.
"Winter Storm Uri had a major impact on TPC Group, as it did on all of industry on the Gulf Coast," she said. "In many ways, it was more challenging than a hurricane in terms of recovery of the plant sites and equipment. A number of lawsuits have been filed against electricity producers by insurance companies and other parties. TPC Group has been named in some of these matters as an electricity producer despite providing miniscule amounts of electricity to the grid on an intermittent basis."
Basso said she expects TPC Group to be dismissed from the various lawsuits pending.
Then came June 2, 2022, when TPC Group officially filed for bankruptcy under Chapter 11.
"The explosion created its own set of issues in the bankruptcy — not just because of creditors and injured parties, but because there was an $850 million property damage and business interruption policy at stake," said Baker Botts' Janoe. "When TPC went into bankruptcy, its Houston facility was its most valuable asset and the insurance policy was second."
"Twenty to 30 insurance companies were involved in the syndicate, creating multiple reinsurance issues," Janoe said. "Ultimately, Marilyn and the Baker Botts team were able to recover roughly 90 cents on the dollar."
The insurance payments were made all at once rather than paid out over a number of years, which allowed the company to fund the restructuring.
"That also generated tax benefits for all the parties so it was an important win during the bankruptcy," Janoe said. "During the bankruptcy proceedings, Marilyn and her team worked with some 70 attorneys and staff at Baker Botts, on top of other professionals assisting the company. Even with this large scope and level of activity, Marilyn kept costs in check — and actually below the budget that had been anticipated."
David Azarkh, a partner at Simpson Thacher in New York, said the TPC Group restructuring was successful because Basso was "extremely good at organizing teams of professionals and running point on a transaction."
"Marilyn treats outside counsel like family — she lets you know when she likes what we do and she lets us know when she doesn't," Azarkh said. "She does not hesitate to speak up if she disagrees. Marilyn wants answers. She knows some issues are not black and white, but she wants our best advice."
"Marilyn is a stellar GC," he said.