When times are good, corporate law firms do well. When times are bad, those same law firms sometimes do even better. For corporate law firms operating in Texas, 2020 was one of those years. It flirted with financial disaster as the global Covid-19 pandemic, plunging oil prices and recession roiled the economy.
But 2020 turned out surprisingly well in the end. The final numbers show The Texas Lawbook 50, our annual financial review of the most lucrative slice of the state's legal market, once again posted overall gains in revenues, profits and lawyer ranks.
The Lawbook 50's exclusive data shows three-fourths of the top 50 firms had higher revenues in 2020 than in 2019 and nearly two-thirds posted record revenues. Six law firms – only one of them based in Texas – grew their Texas revenues by 30% or more. And a new name rose to the top of the rankings, with Chicago-founded Kirkland & Ellis becoming the first non-Texas firm to claim the top spot in the Lawbook 50.
The trio of corporate law firms known for decades as the Big Three – Vinson & Elkins, Baker Botts and Norton Rose Fulbright (formerly Fulbright & Jaworski) – sit right below Kirkland. Each saw revenue declines of 9% or more, although all three reported strong gains in profits per partner. The Texas lawyers at seven firms saw their book of business decline 6% or more.
The nationally elite corporate practices once again significantly outpaced the home-grown competition, although several Texas-based firms had strong years, too – such as Jackson Walker, Haynes and Boone, Winstead, Bracewell and Porter Hedges, all firms that focus on representing middle-market companies.
Taken together, The Texas Lawbook 50 generated $6.74 billion in 2020 from the lawyers in their Texas offices – up 4% from the previous year (chart 1). In a sign of the pandemic's toll on the economy, 2020 finished well short of 2019, the blockbuster year that saw Lawbook 50 revenues jump by more than 10%.
"The overall market for legal services in Texas is a growth story," said industry analyst Michael McKenney, managing director of Citi Private Banking's Law Firm group. "Some of the biggest gains are in the high-growth, high-performing firms. They are distancing themselves from the rest of the market."
The 2020 performance of Texas corporate firms was in sync with national trends, McKenney said. His data show 6.3% revenue growth in the overall U.S. market, suggesting Texas might be lagging the rest of the country – but that's not true across the board.
"Some in Texas are exceeding their own firmwide growth," McKenney said.
Chart 1
Sifting through the Lawbook 50 data, which includes both Texas-based firms and those operating in Texas but headquartered elsewhere, reveals some key findings for 2020:
Twenty-seven firms exceeded the Lawbook 50 average of 4% revenue growth.
The 31 firms reporting record revenues was just one fewer than last year.
The Top 10's combined revenue was $58.1 million higher than in 2019 – up less than 2%.
The erstwhile Big Three, ranked second, third and fourth, saw a $140.1 million combined decline in revenues, accounting for almost 68% of the overall losses from 2019 to 2020.
In total, those three firms employed 110 fewer lawyers in 2020 – a factor in producing lower revenues.  
Four other Texas-based firms in the Top 10 increased their in-state revenues – Jackson Walker by 5.3%, Haynes and Boone by 7.3%, Akin Gump by 8% and Winstead by 8.8%.
Only one of the six firms that grew revenues by 30% or more was from Texas – Houston litigation boutique Ahmad, Zavitsanos, Anaipakos, Alavi & Mensing (AZA), up by 39%.
Fifteen firms had double-digit revenue gains, with Coats Rose joining AZA as the only two Texas firms to achieve the benchmark.
In total revenue dollars, seven of the Top 10 were Texas-based firms, but only 17 of the Top 50 are headquartered in the state.
Those 17 firms saw the combined revenue from their in-state operations decline by $17 million, or less than 1%.
But the Texans, with 34% of the firms, produced 44% of all revenues – an upshot of those big Dallas and Houston firms in the Top 10.
The 33 national firms increased revenue by almost $299 million, or 8.6%.
An eclectic group of five firms joined Kirkland in achieving Top 10 revenue growth in both dollar and percentage terms in 2020 – Simpson Thacher, Baker Hostetler, Morgan Lewis, AZA and Weil Gotshal.
For the year, revenue growth of 4% exceeded headcount growth of less than 1% – a positive sign for revenues per lawyer.
Two High Flyers, Three Grounded
Among the 27 Lawbook 50 firms with above-average 2020 revenue growth, two soared above all others.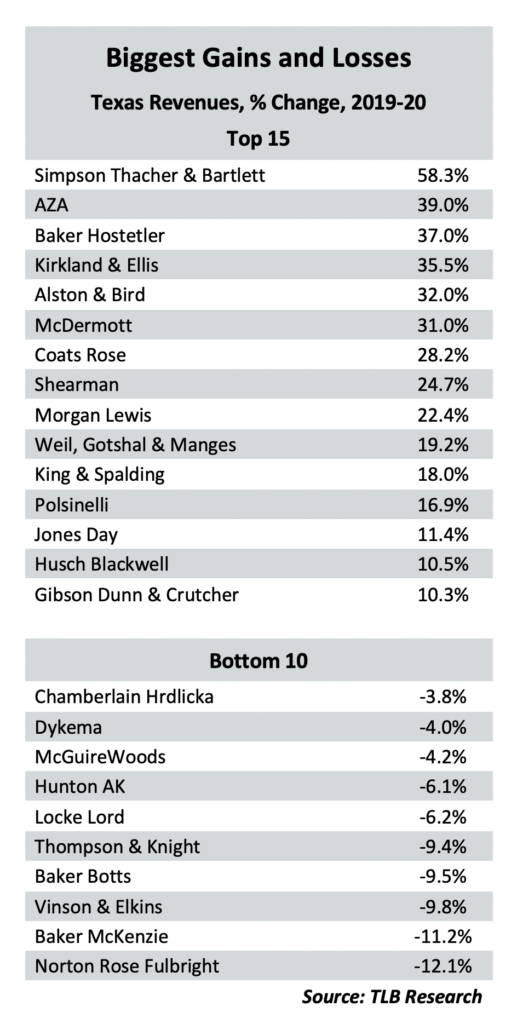 New York-based Simpson Thacher grew its Texas revenues by an astonishing 58.3% – more than any other firm (chart 2). In going from $57 million in 2019 to $90 million last year, the firm jumped to No. 26 in the Lawbook 50, up 13 spots from its 2019 rankings. Despite the rapid expansion of business, Simpson Thacher's lawyer headcount only increased by nine – from 40 in 2019 to 49 in 2020.
"We saw an embarrassment of riches in 2020," Robert Rabalais, partner-in-charge of Simpson Thacher's Houston office told The Texas Lawbook. "The first quarter of this year was up 20% over last year, which was a record. Everybody has been working so hard. We could be at 200 people right now if we wanted to."
As The Texas Lawbook reported last week, Kirkland experienced a record-shattering year. The Chicago-founded firm increased its headcount 23% but grew revenues 36% – from $389 million in 2019 to $529 million last year.
Kirkland's one-year gain of $139 million was really big, surpassing the total 2020 revenues generated by 32 of the other firms in The Lawbook 50. Looked at another way, it exceeded by more than $60 million the combined revenues of the next three largest revenue gainers – Simpson Thacher at $33 million, King & Spalding at $24 million and Haynes and Boone at $21 million.
In going from fourth to first in revenue, Kirkland leaped over the previous year's three largest law firms in Texas – all with deep Texas roots, all with lower revenues in 2020 than in 2019. No. 1 for three straight years, V&E saw its revenues decline from $552 million in 2019 to $498 million last year, or nearly 10%, and now ranks second in The Lawbook 50.
The number of V&E lawyers fell by 33. In addition, the firm reduced its Texas equity partners from 125 to 118. Even as it shrunk, V&E raised profits per partner by 5% to nearly $3 million – a threshold number that legal industry analysts say allows the Houston-based firm to remain competitive with the elite national law firms in the lateral hiring market.
"I was very pleased with 2020 – we had record profits," V&E chairman Mark Kelly said.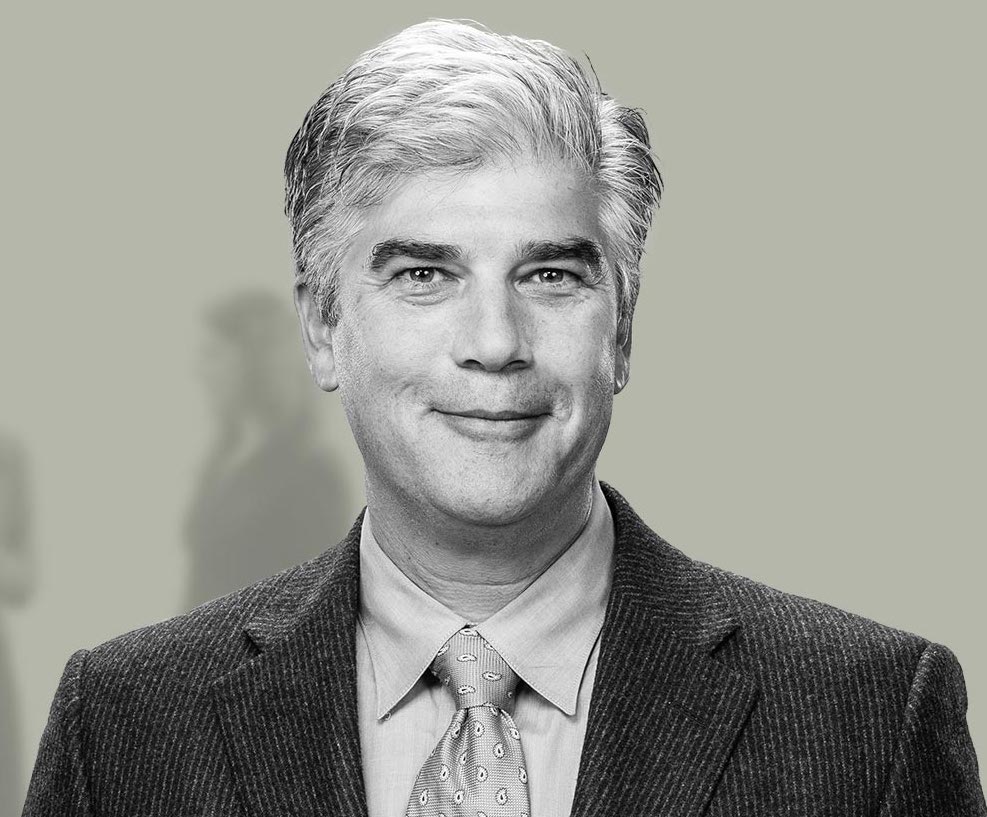 "We saw an embarrassment of riches in 2020."
— Robert Rabalais
Now No. 3 Baker Botts cut lawyer ranks by 51 and No. 4 Norton Rose Fulbright was down 26. For both, declines from Texas operations were even steeper than V&E's. Houston-based Baker Botts had $361 million in revenues in 2020 – down $37.9 million, or 9.5%, from the prior year. Norton Rose Fulbright's 2020 revenues declined $48 million, or 12%, the biggest decline from 2019 in the Lawbook 50. At both firms, profits per partner increased because of significant declines in lawyer salaries and expenses reduced by the pandemic, such as travel.
V&E, Norton Rose Fulbright and Baker Botts delayed the start date for dozens of first-year lawyers from the traditional September or October timeframe to January – a pandemic-driven necessity that contributed to declines in headcounts, revenues and expenses.
The Texas Lawbook previously reported anemic net hiring in 2020 among the state's 50 largest employers in corporate law. On average, members of The Lawbook 50 added less than one lawyer each to their ranks – well short of 2019's decade-high hiring surge to five newcomers. As client business picks up, firms report they've been briskly adding lawyers in the early months of 2021.
"There was a lot of hand-wringing going on last March, April and May, but despite the headwinds, demand stayed up and I think all of our Texas offices performed at a high level," said Jeff Cody, managing partner of Norton Rose Fulbright's U.S. operations. "Overall headcount was down, but we are actively recruiting associates and partners and looking to grow."
Prospering Despite the Pandemic
Corporate firms with litigation, regulatory and transactional law practices in Texas might have done quite a bit better in 2020 – maybe even as well as 2019 – if not for the pandemic. Business boomed at most firms in the first few months of 2020, but Covid-19 precautions closed law offices and courts and sent lawyers home to work remotely. Meetings with colleagues and clients went online, followed by depositions, court proceedings and even some trials.
Nothing like it had ever happened before.
"In normal times, [the firm] would have handled it inside."
— Hilda Galvan
In the pandemic's early months, many top managers worried their firm's finances would tank along with the Texas economy. Their worst fears didn't materialize, and firm leaders started sounding upbeat toward the end of the year. Demand strengthened as clients facing unfamiliar business issues rushed to their lawyers for help, and the supply side held up as remote delivery legal services, imposed under duress, proved surprisingly effective and efficient.
"In March of last year, if you told me we'd be up more than 10%, I'd have said you were smoking something," said Rob Walters, Gibson Dunn & Crutcher's Dallas partner-in-charge.
Gibson Dunn's Texas revenues rose from $124 million in 2019 to $137 million in 2020.
"Nobody expected this," Walters said.
Some 2020 revenue gains occurred because of additional business generated from the disruptions of the Covid-19 pandemic and the work-at-home orders designed to get it under control.
Several law firms saw significant increases in client demand related to labor and employment issues – from allowing staff to work from home and safety issues in the office to possible benefits for furloughed workers under the CARES Act and requiring employees to be vaccinated.
Hilda Galvan, partner-in-charge at Jones Day's Dallas office, said clients turned more often to outside counsel to get quick answers in a treacherous, unfamiliar business environment. Jones Day saw its Texas revenues increase by more than 11% to $122 million in 2020.
"There were so many novel issues related to Covid-19 for our clients, especially involving labor and employment," she said. "In normal times, they would have handled it inside [the firm]."
Galvan added that Jones Day's real estate practice held up surprisingly well in Texas, especially with clients involved in residential and multifamily housing projects.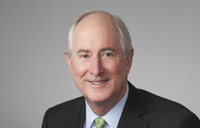 "That's incredible in light of what's happened."
— Robert Reedy
Across the landscape of corporate law, the practice group seeing the biggest surge in demand last year was bankruptcy and restructuring. Kirkland was the biggest – but not the only – beneficiary.
Weil Gotshal's Houston and Dallas lawyers represented more than a dozen companies that filed for Chapter 11 protection last year in Texas, including Gavilan Resources, mall owner and operator CBL & Associations and CEC Entertainment, the parent company of Chuck E. Cheese and Peter Piper Pizza restaurants. Weil's revenues jumped 19% to nearly $100 million.
Bankruptcy lawyers at Jackson Walker (No. 5 at $305 million), Norton Rose Fulbright, V&E and Munsch Hardt (No. 32 at $76 million) also kept busy.
Haynes and Boone represented lenders, creditors and debtors in more than two-dozen Texas bankruptcies last year. The firm grew revenues by more than 7% to $305 million. "It was a strong year for Haynes and Boone," said Taylor Wilson, who took over as the firm's new managing partner in January. "We didn't take our foot off the gas because of the pandemic."
Porter Hedges managing partner Rob Reedy said the firm's corporate restructuring practice, which advised clients involved in three-dozen Texas bankruptcies in 2020, was a key reason why the Houston-based firm produced record revenues of $87 million in 2020.
"That's incredible in light of what's happened," he said.
What's Ahead: 2021 and Beyond
When it comes to finances, Texas corporate law firms turned bad times into good times in 2020, and the new year offers the prospect of a vaccine-enabled reduction to many of the limits imposed because of the Covid-19 pandemic. A return to near-normalcy – within firms, among clients and in the economy as a whole – has law firms optimistic about 2021, anticipating a return to the faster revenue growth of 2019.
"The Texas legal market has not reached the tipping point or the peak yet," said Yvette Ostolaza, chair-elect of Sidley Austin's management committee. "As long as businesses continue to move to Texas, there is more growth potential."
At Simpson Thacher, first quarter receipts were up 20% from the same period a year ago, setting the stage for another record year.
"Everybody's been working really hard for the last 24 months," Rabalais said.
Tracie Renfroe, managing partner of King & Spalding's Houston office, expects to build on last year's 18% revenue gain.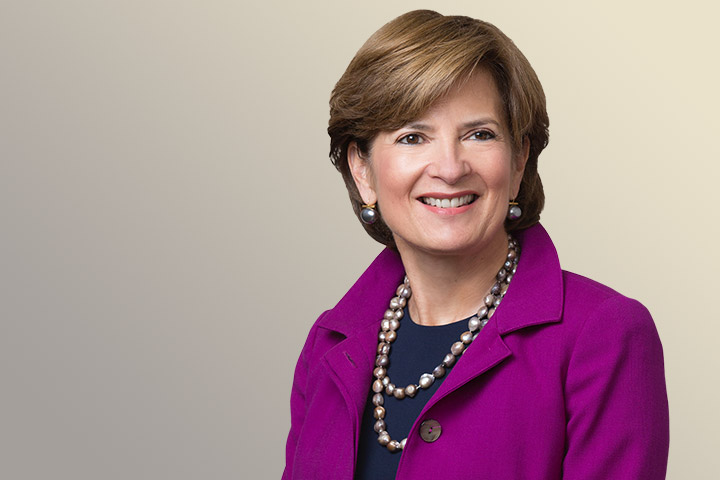 "We are extremely busy and have more work than we can handle."
— Tracie Renfroe
"We had a record-breaking 2020 and we are on-track for an even better 2021," Renfroe said. "We are extremely busy and have more work than we can handle."
King & Spalding is representing clients involved in more than 30 disputes related to the severe winter storm that hit Texas in February, causing power to go out across the state.
"We are covered up in that litigation right now," Renfroe said.
Even the big firms that saw falling revenue in 2020 anticipate business bouncing back.
According to managing partner John Martin, Baker Botts had repositioned itself in the past two years for "robust economy activity" anticipated in energy and technology – both "right in the cross-hairs of our strategic plan." He expects patents and intellectual property to be strong practices going forward, too.
"We are extremely bullish about 2021," Martin said.
Kent Zimmermann, a law firm consultant at Zeughauser Group in Chicago, foresees a changing and challenging business environment coming out of the pandemic – a mix of good times and bad times.
It will translate into strong demand for legal services. For clients, many of the last year's unsettling economic forces are still at work – most notably for Texas, the oil and gas business caught in the wringer of an energy transition. Clients are facing new issues in taxation, energy, finance and regulation, many arising from the change in administration in Washington.
"All in all, it's going to be a period of growth and prosperity for the next year or two," Zimmermann said.
As the pandemic fades, firm managers don't expect a return to the status quoof February 2020.
This year and beyond, firms will be sorting out the repercussions of changes let loose, or at least accelerated, by the 2020 experience with the Covid-19 pandemic – notably, more working from home and reduced need for office space.
At Jones Day, for example, Gavan worries about how her firm will adapt to returning to the office.
"Many of our lawyers enjoyed working at home," she said. "We have to balance the benefits of working at home with the benefits of being together. Young lawyers learn by hands-on work and by being together with more experienced lawyers."
Reimagining the law office will unfold over a longer period, paced by leases and construction schedules, but projects begun before the pandemic are done or nearing completion.
King & Spalding just opened its new digs, shrinking from four-plus floors to three. "We're just making smarter use of the space we have," Renfroe said. "We've tried to design the office for the next 25 years."
V&E's relocated Houston office, set to open next year, will cut square footage by about a third. "We're going to have more efficient space," Kelly said.
Coming:
Wednesday: RPL – The True Measure of Success
Friday: The National Firms Growing Stronger
Wednesday, June 2: The Texas Legacy Firms: Grow, Focus or Merge
Monday, June 7: The Elites