It's always a pleasure to be around people who are passionate about what they do. A tour guide with Mammoth Cave National Park was the most recent person to provide this gift when my husband and I toured the Great Onyx Cave in Kentucky's Mammoth Cave National Park.
Though not connected to the Mammoth Cave, the park's main attraction (or at least, no connection park officials are aware of), Great Onyx has its own rich history, including a business deal gone south that started with a handshake and resulted in two landmark Kentucky real estate cases.
Attributing a mix of Kentucky folklore and official court proceedings, our tour guide animatedly told the story of L.P. Edwards, who owned the land above Great Onyx, and Edmund Turner, who discovered the cave. In 1915, Turner approached Edwards and told him that based on his recent cave expeditions in the area, he knew there was a cave under Edwards' land. Turner proposed a deal to split tourism revenues 50-50 if Turner could find and open the cave. Turner dug at a spot down the hill from Edwards' home and found it.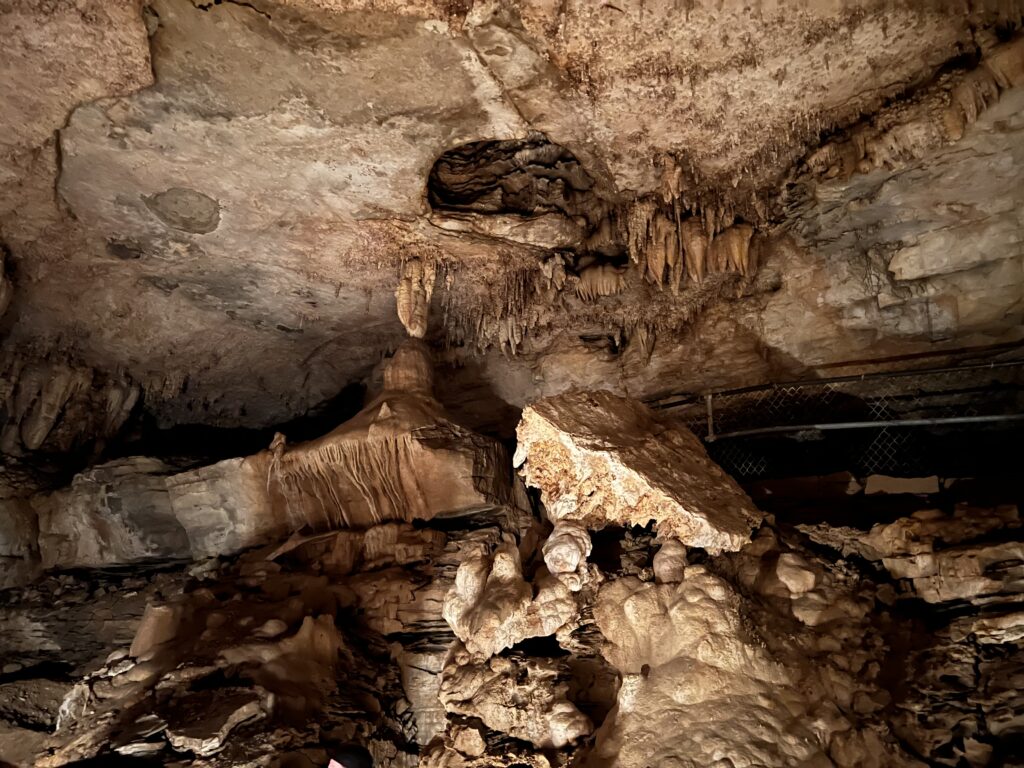 Inside Great Onyx Cave
With its abundant, sparkly geologic formations and stalactites, Great Onyx Cave quickly became a successful tourism business venture. Especially for Edwards, who cut Turner out of his half of the handsome profits. After Turner confronted Edwards, he asked, "Did you get that in writing?" and continued to tell Turner, as our tour guide put it, to "pound sand."
Turner died young and broke not long after that confrontation, so he never saw his day in court. But "One-Eyed Joe" Lee, who owned part of the land above Great Onyx Cave, created legal troubles for Edwards after he turned down One-Eyed-Joe's offer to go away if he paid him $5,000. Two cases emerged: Edwards v. Sims (1929), a leading authority on below-surface ownership rights, and Edwards v. Lee's Administrator (1939), which provided guidance on trespassing damages. Lee's estate won and was awarded around $20,000 — more than $300,000, inflation adjusted, in present-day value. 
Our tour guide told us it's these stories that keep him returning to the cave, but a likely government shutdown could keep this man out of the caves for a while, furloughed at home.
If you're also passionate about the national parks, think about how you can help them or a federal employee loved one if and when a shutdown happens. While ethics regulations restrict federal employees from receiving certain gifts, you could always donate to the National Park Foundation to help keep the parks clean during shutdowns. Or, as TODAY suggested during the 2019 shutdowns, get creative through acts of kindness: Have a federal employee neighbor over for dinner or buy an item from any federal employee garage sales or other side small businesses that pop up.
Lawbook founder Mark Curriden, who grew up in Kentucky and is a prolific caver himself, said if he ever had to give up journalism, one alternative career he'd consider is a Mammoth Cave park ranger. And despite the uncertainty that federal employees can sometimes face, I can certainly see the appeal.
The Latest
— Robert Tobey of Johnston Tobey Baruch has joined the board of directors of the Legal Aid of NorthWest Texas. Tobey is a commercial litigator and the 2020 president of the Dallas Bar Association. Before becoming president, he served as co-chair of the DBA's Equal Access to Justice Campaign from 2014 to 2015. He also currently serves on the State Bar of Texas' board of directors.
— On Oct. 12, the Housing Crisis Center will host its annual HCC Golf Classic presented by Pearson Air. HCC's mission is to prevent homelessness and stabilize those at risk in decent, affordable and permanent housing while empowering them to solve their own housing problems in the future. Proceeds from the golf classic will go toward its homelessness assistance and prevention programs and services. (More information here on both programs.) A few lawyers are on HCC's board, including Southwest Airlines managing director of labor relations Edward Berbarie, Reed Smith partner Sarah Stewart and Gary Powell, an attorney for the City of Dallas.
When: Thursday, Oct. 12. Lunch served at 11:30 a.m. and shotgun start at 1 p.m.
Where: Buffalo Creek Golf Club in Rockwall
Sponsors so far: Reed Smith
How to sponsor: Sign up via this link (the best method), download the brochure here or call Gwen Martin at 469.250.1952 to set up logistics or learn more about sponsoring.
— On Sept. 15, the Texas Access to Justice Foundation and the Hispanic Issues section of the State Bar of Texas raised $50,545 during its virtual fundraising event, "LAW"tería. The money raised will go toward legal aid efforts in Texas. "Law"tería is a nod to the traditional chance game Lotería, which means "lottery" in Spanish. Participants donated to enter the game and were emailed a game card in return. Jurists and lawyers across the state played, and celebrity callers included Texas Supreme Court Justice Brett Busby, Chief Judge Alia Moses of the U.S. District Court for the Western District of Texas, Chief Judge David Morales of the U.S. District Court for the Southern District of Texas, Justice Amparo Monique Guerra of the Texas First Court of Appeals and Justice Dennise Garcia of the Texas Fifth Court of Appeals.
— On Sept. 8, a number of Holland & Knight lawyers were sworn into leadership positions for the Hispanic National Bar Association during its annual convention in Minneapolis. Austin partner Juan Alcalá was sworn in for his second term as HNBA's regional president for Region XII (Texas, Arkansas, Louisiana and Oklahoma). Austin associate Adrienne Waddell joined the board of governors as a delegate to the HNBA council of affiliates. The council of affiliates is a group of domestic and attorneys, judges, law students and other legal professionals whose core mission is to advance the interests of the Hispanic legal community. Two of their out-of-state colleagues also were sworn in — Miami partner Daniel Mateo as the 46th president over the entire HNBA organization, and Miami partner Frances De La Guardia in her second term as the regional president for HNBA Region VIII, which covers Florida.
— Every Wednesday in October, volunteer attorneys with the Dallas Bar Association will answer legal questions on a pro bono basis via the DBA's LegalLine E-Clinic. The clinics will be Oct. 4, Oct. 11, Oct. 18 and Oct. 25 between 4 p.m. and 8 p.m. A volunteer attorney will call the pro bono client for up to 15 minutes of free legal advice.
To participate, fill out the online form here.