To my disappointment, Christmas is already here. And it only seems to come earlier each year.
On Tuesday evening, during my weeks-overdue trip to CVS for toiletries, the red and green M&Ms were on the shelves, even as a cluster of clearance Halloween leggings were still on display. The red Starbucks cups ubiquitous with the holiday season made their 25th-annual appearance at the start of this month, even as temperatures in Texas still hovered above 75 degrees. My calendar in December is already filled to the brim with social obligations, even as I ponder over what kind of cheese to bring to my Friendsgiving potluck.
I know, I know. Unpopular opinion over here. I'm aware that many you already have your tree up because, as I recently heard someone put it, "I don't deprive myself of joy." But hear me out.
I thought the takeaway of the pandemic and this current mental wellness movement was that we all needed to be more present? To take a deep breath in, exhale for six counts, and observe the surroundings (from my viewpoint, the approximately two leaves in North Texas that are starting to change to an autumnal hue)?
However, none of this "be present" rant applies to holiday giving. If you're orchestrating a donation drive or a gala, I'm aware of how it works. You have to plan that shit out. But if you're a nonplanner like me, and are still trying to decide how to give back this season, a few ideas are below, including Christmas giving and Thanksgiving-giving.
Now, I don't want anyone to get the idea that I hate Christmas. Just don't talk to me about it for another week.
The Goods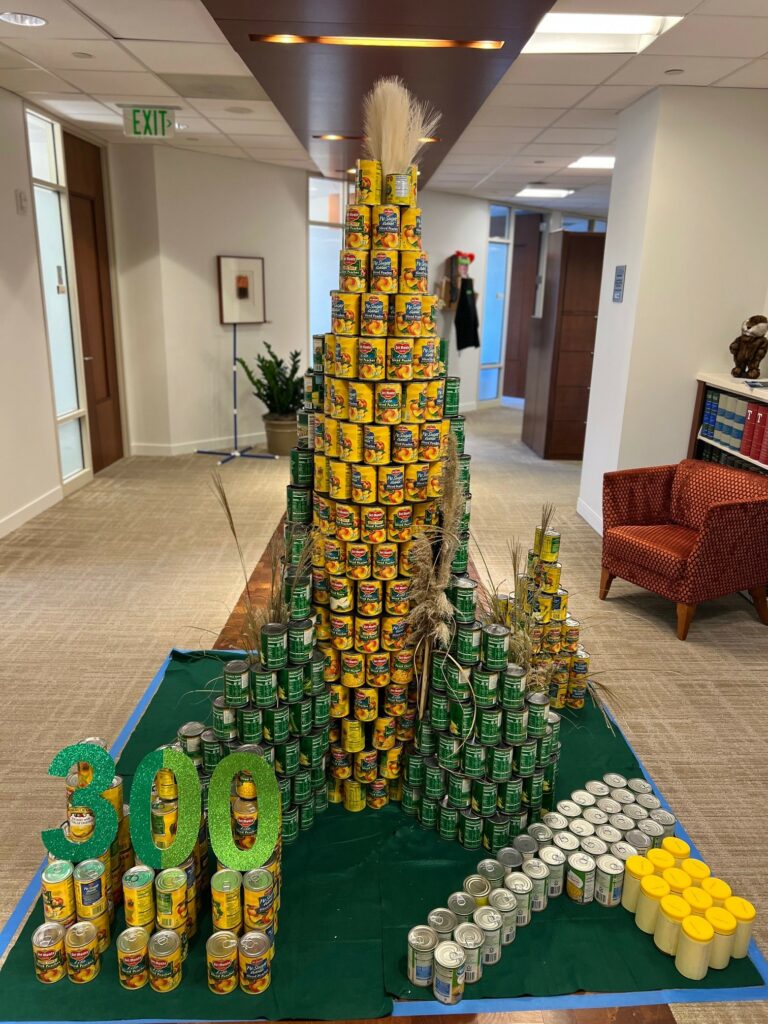 — This afternoon, Weil, Gotshal & Manges' Dallas office will donate 1,180 cans of food to the North Texas Food Bank. But before they readied their donations for transport, the office broke up into two groups for a food-structure contest. Guest-judged by a representative of Crescent Property Services (Weil offices in the Crescent), the contest yielded a nearly 733-can structure in the shape of an avocado and a 300-can structure in the shape of a corn husk.
Fun fact: Weil got its inspiration from the recent CANstruction Dallas exhibit in NorthPark Mall, which featured 19 book-themed structures built entire out of canned foods. The donated items also benefitted the North Texas Food Bank.
— Lynn Pinker Hurst Schwegmann partner Michael Hurst and 29 other volunteers, including board members of the Dallas Bar Association, are spending next Tuesday and Wednesday delivering Thanksgiving turkey dinners to 29 families in need in the Dallas area. The families are clients of the DBA's Dallas Volunteer Attorney Program. This is the 19th year for Hurst to keep up the tradition, which he began in 2003 to set an example for his own children to practice gratitude and give back to the community. And it marks 13 years since Hurst's solo effort became a group effort; for the past 13 years, the project has included a network of Dallas volunteers delivering a meal to DVAP clients.
— The Dallas Bar Association's Community Involvement Committee has been up to quite a few recent community service activities. The committee is co-chaired by Joe Hoffman of Katten and George Shake of Dufee + Eitzen. Below are a few of the committee's recent and current projects that benefit various pockets of underserved communities in DFW, including some that firms can still participate in:
* Santa Brings a Suit: From now through Dec. 2 at 1 p.m., the committee is collecting gently-used business attire, including suits, pants, belts, purses, shirts as well as winter attire, including coats, sweaters, pants and socks. Donations will benefit the Dallas Life Foundation, a homeless recovery center. Firms that have participated in this year's event so far include Barnes & Thornburg, Bracewell, Haynes and Boone, Holland & Knight, Jackson Walker, Katten Muchin Rosenman, Lynn Pinker Hurst & Schwegmann, Glast, Phillips & Murray and Sommerman, McCaffity, Quesada & Geisler.
Drop off your gently-used attire at: 1) Arts District Mansion, 2101 Ross Ave, or 2) Katten, Muchin Rosenman, 2121 N. Pearl St., Ste 1100
* Food drive: Between now and Dec. 16, the committee is collecting canned and nonperishable food items for a food drive that will serve Sand Branch Community, long considered one of the poorest areas in Dallas County and one that has been without running water for decades. Firms are encouraged to collect donations at their office and drop off all items at the Arts District Mansion by Dec. 16. Suggested items include: rice, beans, boxed potatoes, flour, sugar, canned vegetables, canned fruit, canned meat, peanut butter, soup and other shelf-stable items.
* Blood donor drive with BloodCare: On Oct. 26, the committee spearheaded a blood drive, predominantly for DBA members, that benefitted Carter Blood Care, a nonprofit community blood center that provides transfusion resources to more than 200 medical facilities in North, Central and East Texas. The Halloween-themed event resulted in 56 donors providing 54 lifesaving products, which benefited 162 local patients.
Editor's Note: For your public service news to be considered, email us at public.service@texaslawbook.net.