This week's edition of P.S. features the fundraising outcome of the JL Turner Legal Association Foundation's annual awards gala, an Arlington nonprofit that received federal funding to help prevent youth homelessness, featured quotes from partners at Baker Botts and Hunton Andrews Kurth and LyondellBasell's general counsel on why supporting this year's Houston Bar Association Harvest Celebration was important to their organizations, this year's recipients of the Dallas Volunteer Attorney Program's pro bono awards, and the University of Houston Law Center's newest legal clinic hire.
The Latest
— On Oct. 21, the JL Turner Legal Association Foundation hosted its annual awards gala at the Westin Galleria Dallas. The foundation arm of the JLTA, the African-American bar association in the Dallas area, hosts the event every year to raise funds for scholarships for minority law students. This year, the event raised $150,000 — roughly $23,5000 of which was awarded to diverse law students. Paul Stafford, the immediate past chair of the JLTA Foundation, said the total raised at this year's gala was one of the largest — if not the largest — amounts in the foundation's history. He said the foundation has raised "conservatively, half a million dollars" in the last 25 years.
The scholarships range from $1,000 to $3,000 per student, and the scholarships are always a mix of merit-based and need-based.
"The need is there and in this environment, it's more challenging to be admitted [into law school] given the state's attack on diversity," Stafford said. "And it's [also] going to be more difficult to get that financial aid to actually stay in school."
There were multiple tiers of sponsorships, but sponsors in the two highest categories — diamond ($10,000 donated) and platinum ($5,000 donated) — included Locke Lord and Gibson Dunn (both diamond) and Haynes Boone, Stewart Law Group, AT&T, Thompson Coburn and Dallas County District Judge Eric Moyé (platinum).
— The University of Houston Law Center has named J. Anna Cabot as director of its immigration clinic. Before joining UH Law this fall, Cabot taught clinics at the American University Washington College of Law and the University of Connecticut School of Law. Previous work experience also includes working at the Center for Gender and Refugee Studies in San Francisco, El Paso's Las Americas Immigrant Advocacy Center and Asylum Access — Tanzania in Dar es Salaam. Founded in 1999, UH's immigration clinic handles asylum applications for victims of torture, domestic violence, human trafficking and other immigration-related matters. With the financial help of the Texas Access to Justice Foundation and other private donors, the clinic manages a docket of about 100 immigration cases.
— This week, Arlington-based nonprofit Seasons of Change, which creates pathways out of poverty for the community's most vulnerable populations, received federal funding from the U.S. Department of Health and Human Services' Administration for Children and Families. The funding was a $3.8 million grant that's part of the agency's Runaway and Homeless Youth Program. Seasons of Change is one of 11 organizations across the country to receive the grant, which will be used to design and deliver community-based demonstration initiatives to prevent youth homelessness.
— On Nov. 13, members of the Houston legal community will gather at the River Oaks Country Club for the Houston Bar Association and Houston Bar Foundation's 74th Annual Harvest Celebration, the HBA's and HBF's largest fundraiser of the year. All net proceeds go toward Houston Volunteer Lawyers, the pro bono arm of the HBA that provides free legal assistance to low-income Houstonians. Last year's Harvest marked the first time for the event to raise just over $1 million, and this year the HBA and HBF aims to match — if not surpass — that benchmark.
Tickets are still available for purchase here. The event is in the "late registration" phase ($300), which will be available until Nov. 12.
Multiple Harvest sponsors at the diamond, ruby and sapphire levels were recently quoted in the Houston Lawyer for why it is important to their firms and companies to support the event. Here are a few highlights:
Hunton Andrews Kurth partner Kaylan Dunn (diamond sponsor): "The practice of law is a privilege that gives us status in the community, in exchange for which we have a continuing obligation to our community to provide legal services for those who cannot afford to pay. The Harvest Celebration is our time to renew our commitment as lawyers to fulfill those obligations, and to help create paths to justice for those who would otherwise be unseen, the forgotten, and the overlooked."
Baker Botts partner Louie Layrisson, 2023-2024 chair of the HBA Litigation Section (ruby sponsor): "As lawyers — and especially as litigators — we are called upon to serve as advocates. It is a privilege to advocate for access to justice by supporting Houston Volunteer Lawyers in their mission to provide crucial pro bono legal services to those who need it most."
LyondellBasell General Counsel Jeffrey Kaplan (sapphire sponsor): "At LyondellBasell, one of our values is to 'champion people,' as they are at the heart of everything we do. We also believe in being good community neighbors, which includes making resources available to a wide array of people in the Houston area. Supporting the Harvest Celebration through our global corporate citizenship program, Advancing Good, is a natural fit for our company because it is a crucial component of HVL's ability to provide access to legal services for individuals who would otherwise have nowhere else to turn."
To view more lawyers' quotes on the importance of the Harvest Celebration, visit here for the Houston Lawyer's September/October 2023 digital magazine edition.
— Every Wednesday in November, volunteer attorneys for the Dallas Bar Association's LegalLine E-Clinic will answer legal questions on a pro bono basis for Dallas-area residents in need from 4 p.m. to 8 p.m. A volunteer attorney will call the pro bono client and provide up to 15 minutes of free legal advice. Registration closes at noon on Tuesday each week. To participate, complete the online form at this link.
— On Oct. 27, the Dallas Volunteer Attorney Program — a pro bono partnership between the DBA and Legal Aid of NorthWest Texas — held its annual pro bono awards program to honor Dallas-area law firms and individual lawyers who stood out this year for their pro bono work. The Pro Bono Lawyer of the Year Award went to SMU Dedman School of Law Professor Joanna Grossman, and the Pro Bono Firm of the Year Award went to Haynes Boone. Here are the other awards recipients: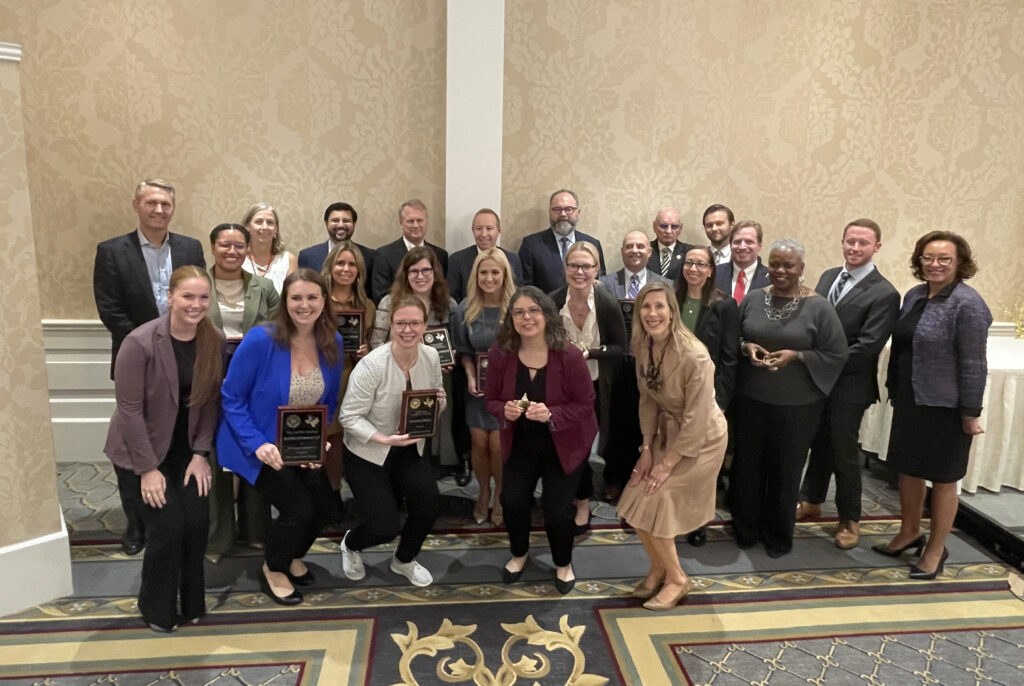 Pro. Bono Appreciation Award: Katten Muchin Rosenman partner (and current DBA president) Cheryl Camin Murray
Chris-Reed Brown Pro Bono Award: Akin attorney Nina Melanie Orendain
Pro Bono Coordinator of the Year Award: DLA Piper pro bono counsel Crystal Doyle
Clinic Coordinator of the Year: Belinda Martinez Seymour of Haynes Boone
Outstanding In-House Attorney: Weil, Gotshal & Manges associate Jenae Ward (Weil's 2023 "lend-a-lawyer" for DVAP)
Outstanding Government Attorney: Karen Young of the Texas Attorney General's Office
Outstanding Virtual Clinic Attorney: O'Melveny & Myers associate Emma Jones
Outstanding Eviction Clinic Attorney: Vinson & Elkins associate Eugene Temchenko
Outstanding Virtual Veterans Attorney: Bradley Arant partner Wendi Campbell Rogaliner
Outstanding Virtual Clinic Sponsor: SMU Dedman School of Law
Outstanding Clinic Attorney South Dallas: Charles Katz
Outstanding Clinic Attorney South Dallas: Manning & Myers senior shareholder Jack Manning
Gold Award for Pro Bono Service: O'Melveny, Hunton Andrews Kurth and Holland & Knight
Silver Award for Pro Bono Service: Fish & Richardson, Weil and Baker Botts
Bronze Award for Pro Bono Service: Cozen O'Connor, Sidley Austin and Kirkland & Ellis