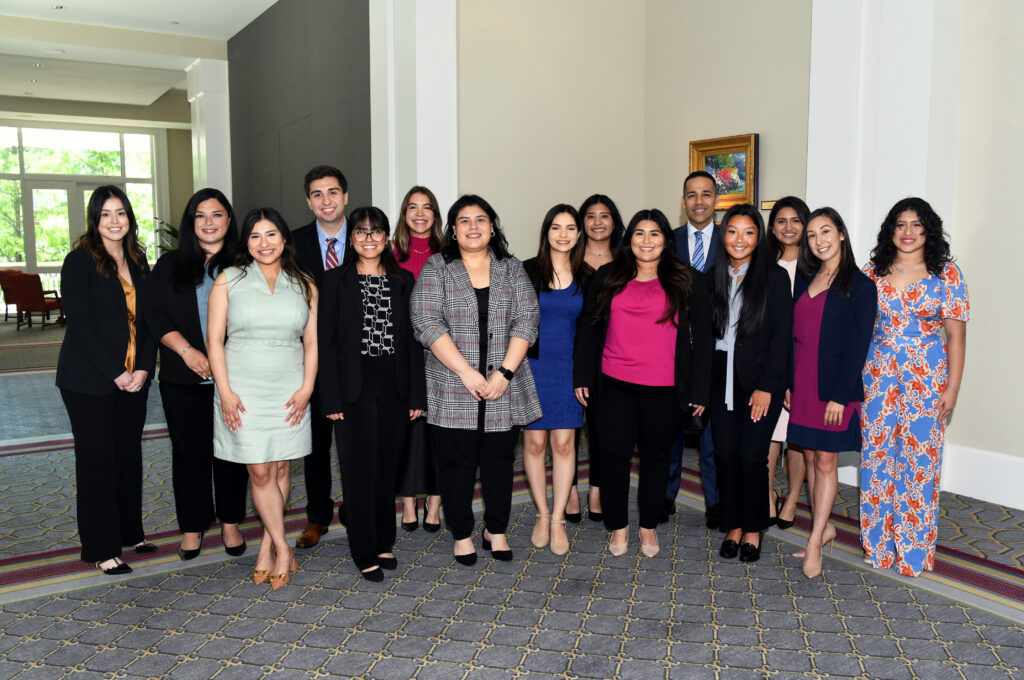 The 2023 scholarship, judicial internship and bar study grant recipients of the Dallas Hispanic Lawyer Foundation's annual fundraiser.
On Wednesday, the Dallas Hispanic Law Foundation held its annual Amanecer luncheon, where it honored its 2023 scholarship, internship and bar study grant recipients. DHLF's mission is to advance Hispanics in the legal community by raising funds and providing scholarships, stipend-paid internships and bar study grants to Hispanic students interested in the law.
This year, DHLF awarded scholarships and bar study grants worth $4,000 each to 11 law students and recent law graduates from all over the state. Separately, DHLF announced four law students who will intern with Dallas-area judges. Each judicial intern will receive a $3,000 stipend. One law student, rising 3L Daniela Villegas of the Thurgood Marshall School of Law, is a recipient of both a scholarship and a judicial internship. Career aspirations of the 14 recipients range from practicing immigration law, labor and employment and corporate law to opening nonprofits to giving back to the Hispanic community through pro bono work. One recipient wants to become a public defender, and eventually, a judge to help combat the prison pipeline.
DHLF awarded $56,000 in total to this year's recipients and as of May 16 have raised a total of $103,125.
Holland & Knight partner Adrienne Dominguez, DHLF's president, laid the groundwork for the importance of these scholarships in her opening remarks by pointing out that there are 10,691 Hispanic lawyers in Texas, which only makes up 10 percent of the attorney population. It's an improvement from the 6,702 Hispanic lawyers that accounted for the Texas legal population 10 years ago, but "a 2 percent gain is not quite the progress we're looking for," Dominguez said.
The keynote speakers were Regina Montoya and Florencia Velasco Fortner, who engaged in a substantive discussion that provided more context about the inequities the Hispanic population in Texas faces. Montoya, a highly regarded Latina lawyer in the Dallas community, has served as general counsel of Children's Medical Center of Dallas, sat on numerous boards, was one of the first Latina partners at a major law firm, and was nominated by President Clinton as a U.S. representative of the United Nations. Fortner is a nonprofit executive who leads The Concilio, which aims to combat poverty among Hispanic families by unlocking education, wellness and economic opportunities.
Citing Concilio's 2022 State of Latinos report, Montoya pointed out that the Hispanic population has grown 22 percent since 2010, compared to a 4 percent growth of non-Hispanics, and 43 percent of Dallas speaks another language besides English at home. Moreover, 29 percent of Hispanics in Texas are uninsured, the largest of any state.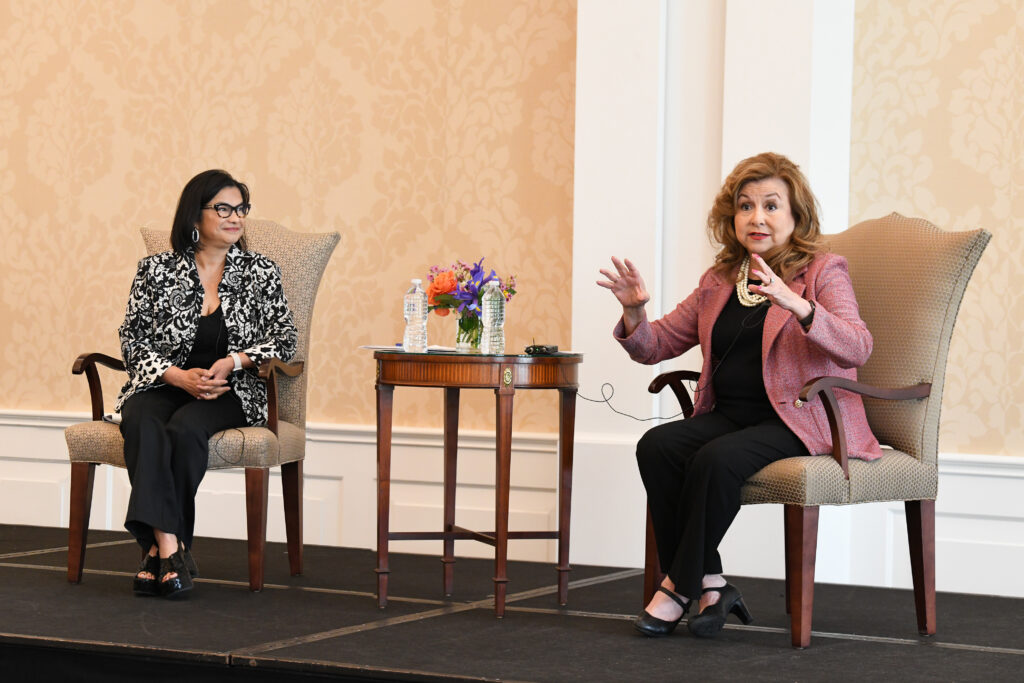 Florencia Velasco Fortner (left) and Regina Montoya (right)
"Given the number of Hispanics in Texas, many organizations are acting like we're not here," Montoya said. "These disparities… are an American problem."
Asked how the legal community can help The Concilio, Fortner encouraged the numerous law firms in the crowd to "become an ambassador of our mission. Download the report, share it."
Firms can also join The Concilio for think tanks, host a networking event, and help the organization financially. The Concilio seeks to raise $5 million over the next three years.
Below is a full list of the 2023 recipients of the scholarships, bar study grants and judicial internships:
Scholarhips
Elena Luna, rising 2L, Texas A&M School of Law
Marcela Munoz, rising 2L, University of North Texas at Dallas College of Law
Isabella Rios, rising 1L, University of Texas School of Law
Maria Rodriguez, rising 1L, University of Texas School of Law
Fernanda Roman, rising 2L, Texas Tech University School of Law
Daniela Villegas, rising 3L, Texas Southern University Thurgood Marshall School of Law
Bar Study Grants
Lucero De Paz, Texas Tech University School of Law '23
Teresa Estrada, Texas Southern University Thurgood Marshall School of Law '23
Astrid Fuentes, UNT Dallas College of Law '23
Dennise Hernandez, Texas Southern University Thurgood Marshall School of Law '23
Princess Rodarte, Texas Tech University School of Law '23
Judicial Interns
Jennifer Montiel, rising 2L, UNT Dallas College of Law, interning with Senior District Judge Barbara Lynn of the Northern District of Texas
Marcela Munoz, rising 2L, UNT Dallas College of Law, interning with Dallas County District Judge Martin Hoffman
Fernanda Roman, rising 2L, Texas Tech University School of Law, interning with Dallas County District Judge Dale Tillery
Daniela Villegas, rising 3L, Thurgood Marshall School of Law, interning with U.S. Magistrate Judge Irma Carrillo Ramirez of the Northern District of Texas
The Latest Charitable Happenings
— On May 12, Genesis Women's Shelter & Support raised $1.1 million at their annual luncheon, the nonprofit's largest fundraiser of the year. The pearl-themed event also commemorated Genesis' 30th anniversary. To celebrate three decades of supporting women and children survivors of domestic violence, Genesis brought in Nicole Kidman as its keynote speaker. Before 1,500 people in a giant, pink-shaded, flower bouquet-filled ballroom at the Hilton Anatole, Kidman spoke about her work advocating for women who are victims of war crimes and human trafficking as a UN Goodwill Ambassador, her role depicting domestic violence survivor Celeste Wright on the HBO series Big Little Lies, and how her own upbringing by a strong mother and supportive father helped pave the way for all the advocacy work she does for women today both on and offscreen.
"I seek out these roles not to torture people … but to [build connection]," Kidman said of the difficult roles she has played throughout her acting career.
— June 20 is World Refugee Day, and the Human Rights Initiative of North Texas is celebrating with two things lawyers are known to enjoy: books and beer. The "Books and Brews" event will take place from 6 p.m. to 9 p.m. at Whose Books, a family-owned indie bookstore in Oak Cliff that aims to eradicate the book desert in South Dallas, and will feature an immigrant-author panel discussing their literary journeys moderated by Whose Books owner Claudia Vega.
The panel features Jenny Bhatt, an Indian writer and translator and author of All of Us Killers, and Bahar Momeni, an Iranian writer and author of The Trees We Carry.
Beer (and wine) will be available for purchase, as will limited edition HRI art prints and merchandise that interpret the journeys of former HRI clients.
Tickets for the event are $25 and you can purchase them — and donate more if you would like — here. All proceeds from the event will support HRI's mission to provide pro bono legal and social services to its clients, who are immigrants and refugees who have survived human rights abuses.
— The Texas Bar Foundation provided a $12,500 grant to the Texas Legal Services Center to supports its Virtual Court Access Project, which seeks to improve low-income Texans' ability to obtain free legal services by deploying virtual court kiosks to communities across the state. More specifically, the grant will help TLSC produce a series of videos to educate Texans on how to use a virtual court kiosk. So far, there are eight kiosks across the state, predominately in local libraries. For more information on their exact whereabouts and how to reserve one, visit here.
— And now, The Lawbook would like to thank Sidley Austin for its recent generous donation to the Texas Lawbook Foundation. The lawyers at Sidley — especially Yvette Ostolaza, Angela Zambrano and Scott Parel — have been supportive of The Lawbook for many years, and we are grateful for the firm's continued support.
Parel, who co-manages Sidley's Dallas office with Zambrano, said the firm understands the importance of pro bono work in promoting equal access to justice and giving back to communities.
"Our firm has a longstanding commitment to providing pro bono legal services to those in need throughout the state of Texas, and beyond," he said. "In 2022, Sidley attorneys contributed more than 150,000 pro bono hours defending constitutional rights and civil liberties, protecting immigrants seeking asylum, advocating for military veterans and representing impact-driven emerging enterprises."
In addition, Zambrano said, Sidley supports opportunities for its attorneys to give back in other ways, such as volunteering or serving on boards of nonprofits.
"Our professionals currently sit on approximately 300 civic and charitable boards lending both their time and expertise to those organizations to further impact their missions," Zambrano said. "We believe supporting public service is a win for all involved. Not only are we helping those in need, but we are also enhancing the professional and personal growth of our talented individuals."