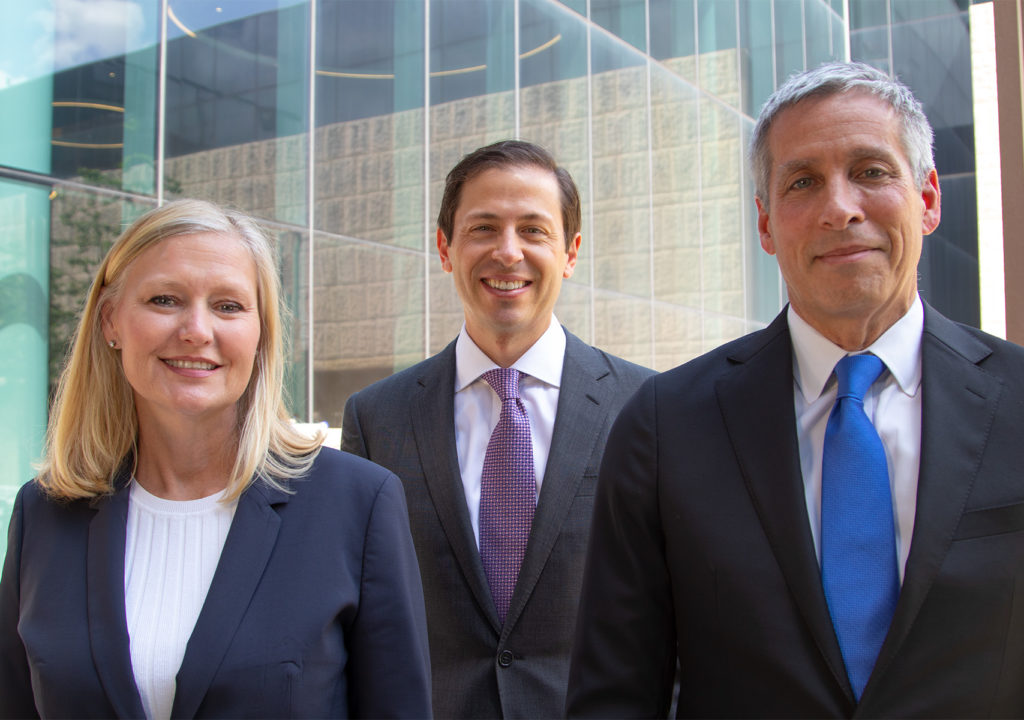 Julie Pradel, Maine Goodfellow and Robert Task
Each night at 11 p.m. for nearly a year, Robert Task, Julie Pradel and Maine Goodfellow were on the phone together discussing the problems they faced, the challenges lying ahead and the successes achieved that day.
The calls ranged from 15 minutes to nearly an hour.
Together, in-person and working remotely, the trio — all three senior-level in-house counsel at Phillips 66 — spent hundreds and hundreds of hours negotiating the terms, handling due diligence, doing the paperwork and getting the necessary approvals to push Phillips 66's $3.4 billion acquisition of its limited partner, Phillips 66 Partners, over the finish line.
Task, Pradel and Goodfellow faced multiple headwinds: stresses from the lingering pandemic, fluctuating oil and gas prices, rising interest rates, a tumultuous global economic environment and wild swings in stock prices.
Sponsors of master limited partnerships such as Phillips 66 Partners have been restructuring their control of MLPs through take-private transactions.
"What made the Phillips 66 and Phillips 66 Partners take-private transaction unique is that the market at the time still viewed Phillips 66 Partners as a premier midstream MLP, and Phillips 66 decided to pursue a transaction before the market truly demanded it," said Latham & Watkins partner Thomas Brandt, who worked on the deal for Phillips 66 as outside counsel.
"This was just another example of Phillips 66 proactively exploring opportunities to drive greater value for Phillips 66 shareholders," Brandt said.
The Association of Corporate Counsel's Houston Chapter and The Texas Lawbook have named the Phillips 66 acquisition as one of two finalists for the 2022 Houston Corporate Counsel Award for M&A Transaction of the Year.
The awards ceremony is Thursday, May 19, at the Four Seasons Hotel in downtown Houston, where the finalists will be honored and the winners announced.
Premium Subscribers: Click Here for a Q&A with the Phillips 66 team, where they offer advice for outside counsel and discuss public service projects they are involved in.
While the Phillips 66 in-house team that worked on the deal counted more than a dozen members, the trio of Task, Pradel and Goodfellow were the leads. They started working on the transaction in March 2021.
Task, a deputy general counsel, worked closely with the Phillips 66 corporate business development team responsible for the transaction. Goodfellow, managing counsel, was the principal lawyer for the energy giant overseeing the legal work for Phillips 66 Partners. Pradel, also a deputy GC, was the original lawyer responsible for Phillips 66 Partners' business and worked closely over the years with its board of directors.
"As we were working with the business team in creating the case and subsequent offer to acquire Phillips 66 Partners, the team came together in a very organic fashion," Task told The Texas Lawbook.
The legal department leadership trio has worked together on multiple deals over the years.
"Rob, Julie and Maine are some of the nicest and most competent transactional lawyers that we've had the privilege to work with," Brandt said. "Each of them is able to identify complex legal issues and approach them with an eye to providing the best commercial result for the company."
Brandt said Task, Pradel and Goodfellow "make a great team and this transaction would not have been a success without their involvement."
Vinson & Elkins partner Peter Marshall, who advised the Phillips 66 Partners conflicts committee, said Pradel, Goodfellow and Task were an impressive team that "acted in a dynamic and responsive manner on a transaction that slowed and sped up multiple times."
"Julie, Rob, Maine and the P66 team were consistently organized and professional," Marshall said. "They were very good advocates for their client, while at the same time being cooperative with, and extending every professional courtesy to, their counterparts on the other side of the transaction."
Task, Pradel and Goodfellow are all the first in their families to become lawyers.
Task was born in Maryland but grew up in Houston. His father was a mechanical engineer who designed and built electric generation facilities. His mom was a nurse for close to 40 years.
"In high school it became apparent to me I was developing unusual reading, writing and communicating skills," he said. "I started to think about how I could leverage those abilities in a profession. That thinking led me to the decision of working toward law school to become a lawyer."
Task said University of Texas at Austin professor Sarah Weddington, who taught Leadership in Government class, had a significant influence on his career decisions.
After graduating from South Texas College of Law in 1991, Task's first job was deputy general counsel to the governor of Oklahoma.
"Although it was a job in state government, I had a great mentor in Gov. David Walters," he said. "I learned not only how to be a lawyer, but was present for legislative, regulatory and political negotiations on almost every major issue facing the state. I determined at that point, my career as a lawyer would be transactional in nature."
Task went in-house in 1996 — first as senior counsel at Reliant Energy for four years, then 17 months as assistant GC at Dynegy Marketing and Trade and then six years as a general counsel at SUEZ Energy and Constellation New Energy.
In 2009, Task became deputy GC for commercial trading at ConocoPhillips.
"When the decision was made to spin off Phillips 66 from COP, I had the choice to stay in the role I was in at COP or take on the challenge of being part of a team standing up a new company and becoming the chief transactional lawyer for Phillips 66," he said. "Needless to say, I chose the new challenge at Phillips 66 and have been here since its inception in May 2012."
Pradel was born and raised in Houston. Her parents owned a dry-cleaning business.
"My sister and I grew up working with our parents at the dry cleaners," she said. "I learned a lot about hard work and customer service."
The University of Houston hit the trifecta with Pradel. She received her bachelor's degree in business administration in 1995 and both her law degree and MBA from UH in 1999.
Pradel spent 14 years at the Williams Company, where she served as senior counsel for the natural gas pipeline company in Houston.
"I enjoyed the work, the company and the people, but when we had young children I needed a better commute," she said. "Phillips 66 was closer to my home, and it was growing its midstream business. Phillips 66 is a great place to work."
Phillips 66 hired Pradel in 2013.
Goodfellow was born in Montreal, Canada, where his father started and owned a sporting goods company. His mother, who was from Bryan, Texas, is an artist. His parents met in New York and moved to Montreal after getting married.
After graduating from Rice University in 2005, he attended the University of Texas School of Law in Austin. His first job was clerking for Judge Michael Keasler at the Texas Court of Criminal Appeals.
"Although I ultimately pursued a career in a different area of the law, the lessons Judge Keasler taught me about professionalism and ethics have guided me throughout my career," he said.
Goodfellow spent five years practicing at three law firms in Houston — Baker Botts, McDermott and Bracewell. At Bracewell, he got his first deal work with Phillips 66.
"I got to know Rob and Julie and several other people at the company over the course of a couple of years," he said. "One day, Julie called me and asked if I would be interested in applying for an in-house role at Phillips 66. Having enjoyed working with the in-house lawyers at Phillips 66, I thought that it would be a great opportunity, and it was."
Goodfellow has now been with Phillips 66 for seven years.
Task said Latham & Watkins has been the external firm for Phillips 66 Partners' legal work since the company's inception because of its MLP expertise.
"Negotiations were challenging with the Phillips 66 Partners Conflicts Committee in a unit-price-rising environment that extended over a seven-month period of time," Task said. "The nightly 11 p.m. catch-up calls certainly added to this being a memorable transaction to work on for both the team and their family members."
Task praised Latham and V&E for their role in the deal.
"Thom Brandt was available at any time and served as a great thought partner as we maneuvered through the many complex issues this deal presented," he said. "We really couldn't have done the deal without Thom's assistance."