On Jim Cowles' first day in high school, his dad walked into his bedroom and announced it was time for the 14-year-old to decide what he was going to do for a living.
"Sir, I want to be a lawyer," Cowles responded.
Seven decades later, in an interview with The Texas Lawbook, Cowles said he never regretted the decision – not even for a single day.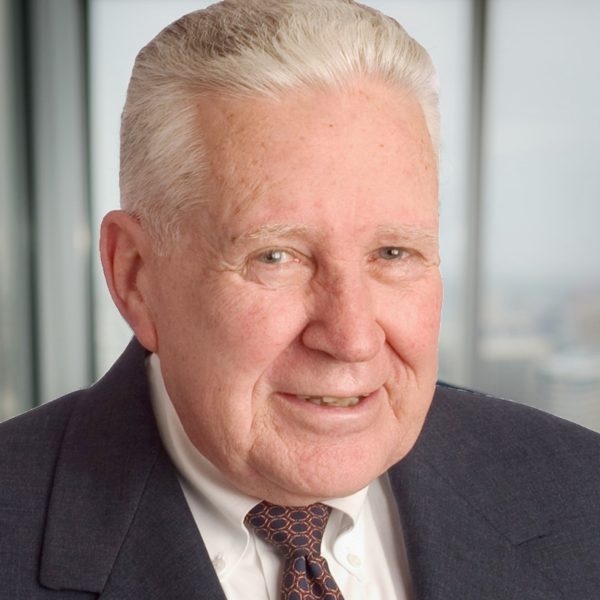 Cowles, who tried nearly 600 cases to a jury verdict, including a dozen trials while he was still in law school, died this past weekend, according to an announcement released Wednesday by Cowles Thompson, the firm he co-founded in 1978.
He was 87.
"Jim has won cases against some of the most successful plaintiff lawyers in Texas, such as Frank Branson and Windle Turley," the Cowles Thompson release stated. "But despite their fierce battles in the courtroom, Jim treated them with courtesy and respect. He didn't play games. He cooperated and even kidded with them. Despite beating them out of millions of dollars in contingent fees, they are all good friends. A remarkable lesson in integrity and professionalism."
Cowles loved being a lawyer.
"I couldn't wait," he told The Lawbook. "I would go down to Justice Court, which was a notch above small claims court and represent folks in auto accident cases and other small disputes."
Cowles, however, believed the role of lawyers today is not the same as when he started.
"The legal profession has changed dramatically and the changes are not for the good," he said. "Today, you cannot be sure that opposing lawyer's word is good as gold."
Litigation today is "a battle of motions and discovery and so much paper and it goes on and on at an enormous cost to the client," he said.
Cowles first trial in 1960 was an auto accident case in Georgetown, Texas, against a seasoned lawyer. A named partner sat behind Cowles for the entire two-day trial. The jury awarded Cowles' client a few thousand dollars, which was a big victory.
"On the 30-minute drive back to the office, the partner told me all the things I did wrong in the trial," he said. "By the time I got back to Austin, I was pretty sure I had actually lost the trial."
After a short stint in the corporate legal department at Texas Pacific Railroad, Cowles joined a Dallas firm where he tried 18 trials his first year and 22 trials his second year. He won all 40.
"Those were the days before there was this thing called a 'billable hour,'" he said. "We would just sit down at the end of a case and figure out how many days we had work on a case and send the client a bill that we both believed was reasonable."
Cowles was hired to defend 35 lawyers and four state district court judges in Wichita Falls who had been sued by the region's former district attorney. The lawyers and judges served on the Texas disciplinary board that had disbarred the prosecutor.
A federal judge handling the lawsuit dismissed the case and the plaintiff's lawyers appealed to the U.S. Court of Appeals for the Fifth Circuit.
"I had not been paid by the 35 lawyers, but I wrote to them asking them to cover my expenses for traveling to New Orleans for oral arguments," he said.
A few days later, one of Cowles' clients wrote back.
"Jim – We agree that you should not be required to pay for your travel to New Orleans. So, we have agreed to have a horse ready for you every 40 miles all the way to New Orleans."
The plaintiff dismissed the case a week prior to oral arguments.
Cowles was also known for his creativity in court and his efforts to challenge traditional thinking. Five decades ago, Cowles was one of the first lawyers in the U.S. to try to use science to demonstrate the flaws in eyewitness testimony.
In 1966, Gerald Don Dearing hired Cowles to defend him in a car crash case. The family of Richard Nutter sued Dearing, claiming he was at fault in the head-on collision.
The plaintiffs claimed that Nutter was driving his Ford west on Forrest Lane in Dallas about 10 p.m. and that Dearing was traveling east in a Chevrolet when the crash occurred. The evidence showed that the car traveling east was responsible.
The key eyewitness in the trial testified that he saw the Chevrolet driven by Dearing eastbound on the four-lane road. Five police officers sided with Nutter, saying Dearing was eastbound and crossed into on-coming traffic. Dearing suffered serious head injuries from the crash and was hospitalized for 57 days. He had no recollection about whether he was driving east or west.
Facing an overwhelming amount of evidence, Cowles hired a former inspector with the Texas Department of Safety. Using police photographs from the scene of the crash and retracing the paths of the two car drivers that night, the inspector testified that using basic common sense led him to conclude that Dearing could not have been driving east.
The jury ruled unanimously for Dearing. About a year later, the Texas Supreme Court reversed, saying that juries should not use customized evidence based on habits of parties to override the testimony of eyewitnesses.
In 1984, Cowles put his extraordinary courtroom skills on display when he cross-examined a famous medical expert for the plaintiffs in an asbestosis trial in federal court in Marshall.
The federal judge, Robert Parker, publicly praised Cowles by describing Cowles' questioning of the expert as "a $600,000 cross-examination."
When Cowles arrived back at the hotel conference room where all the defense lawyers were working, he was greeted with a standing ovation.
Cowles was always fast on his feet in court.
In 1992, he represented a physician in a lawsuit brought by the parents of a baby who was born with brain damage at Baylor Medical Center. The judge hearing the case struck all of Cowles' legal defenses before the trial started due to alleged discovery violations.
Despite severe limitations seemingly designed to guarantee a plaintiff's victory, Cowles used his cross-examination of the other side's witnesses to prove his case.
The jury returned with an award of $0 against Cowles' client.
In 1999, Cowles was involved in a trial in which a Fort Worth doctor surgically removed the patient's wrong lung and left the cancer in the remaining lung.
During the cross-examination of a medical expert, Cowles used a cardboard toilet paper roll to demonstrate the manner in which a bronchial tube could be closed down by a tumor. He showed how the tube could easily be squeezed and closed off, shutting down airflow.
That night, janitors cleaning the courtroom thought the tube was trash. When told of the tube's disappearance, five jurors brought Cowles toilet paper rolls to court the next morning.
"The jury ruled for my client and I had the judge and the jurors sign the roll, which I still have today," he said in 2014.