There have been no wasted days or wasted nights in Carolyn Benton Aiman's life.
The sixth of eight children, Aiman grew up in South Texas to parents who were a railroad conductor and a nurse's aide. Her father read multiple newspapers each day ("He expected us to read them, too," she says), and music was a "common thread" in the family ("You could hear Frank Sinatra, Sly and the Family Stone, Al Green and Freddie Fender in my house on any given day," she says).
Corporate lawyers from Texas to New York to California say Aiman is passionate about her commitment to her clients, her pursuit of fairness, diversity, inclusion and equality, and her love of family.
And the three definitely mix.
From being the first African American elected to be Queen Cardinal at Harlingen High School in 1980 to leading one of the most successful corporate diversity efforts at one of the world's largest corporations to being named the new chief legal officer of Sempra Infrastructure earlier this year, Aiman has earned a global reputation for leadership in diversity, equity and inclusion (DEI).
"Much of what Carolyn has done and continues to do, and the lives she has impacted and continues to impact, goes without recognition or fanfare," says Carita Walker, general counsel of Greenlots, an electric vehicle charging subsidiary of Royal Dutch Shell. "Carolyn has been consistent, deliberate, behind the scenes yet with several game-changing examples of speaking truth to power. Her recognition in this space is long overdue."
The Texas Lawbook and the Association of Corporate Counsel's Houston Chapter agree and have named Aiman a finalist for the 2021 Houston Corporate Counsel Award for Achievement in Diversity and Inclusion.
"Carolyn models D&I behaviors and actions and leads by example," says Walker, who nominated Aiman for the award. "She has hired and retained a diverse team of in-house lawyers and outside counsel. She has mentored and developed attorneys of all races and backgrounds."
For Premium Subscribers: Click Here for a special Q&A with Carolyn Benton Aiman on challenges facing in-house counsel, what she looks for in outside counsel and what she looks for in "thought partners" when considering outside counsel.
"Carolyn is a thought leader who reflects true inclusive leadership," she says. "Others outside of the U.S. have expressed gratitude for her efforts, because they can see how her leadership will reach under-represented minorities in other countries."
The effect Aiman has had, according to numerous lawyers, is both systematic and personal.
"Carolyn has been very impactful in my own life when it comes to issues of diversity and inclusion," says Eversheds Sutherland partner Jake Dweck. "She has been and remains my primary mentor in this complicated space. She made me so much more aware and taught me how to view diversity as a way of life, not only professional life by the way, as opposed to a 'program' or an initiative. She helped me look in the mirror, get better and continue to strive to understand and improve.
"Beyond honing my own understanding, I have conferred with Carolyn often regarding diversity and inclusion within our law firm and with other clients," Dweck says. "I can think of several instances where Carolyn's views have affected our thinking and directions."
Aiman, who spent 19 years leading legal diversity efforts in the Shell Oil legal department, said DEI should be a part of the fabric of the business.
"My dad instilled confidence in me, a drive for excellence and strong habit of continuous learning and curiosity."
"[Mom] taught me to listen and pay attention to more than just the words being spoken."
— Carolyn Benton Aiman
"This should be more than an initiative or a once-a-year conversation. This has to be part of the DNA, like safety in a corporation, like culture in any relationship," Aiman told The Texas Lawbook. "You must tend to it. Legal departments and law firm leadership should set an expectation, and leaders should be selected for their ability to develop people across all demographics."
"Leaders not only talk diversity, but their actions should match their words, including who they surround themselves with and with whom they work," she says. "If you only work with the same people all the time and never introduce and welcome new voices, then it might mean you need to reconsider how you think about diversity."
Several lawyers interviewed by The Texas Lawbook say that Aiman's impact on diversity in the corporate law world is second only to legendary Shell Oil general counsel Cathy Lamboley.
"Cathy's contribution to diversity in the legal profession at Shell is unmatched," Aiman says. "Cathy was a key driving force across the profession outside of Shell, too. For example, she was a key partner with the MCCA during her tenure and clearly expected the firms that did business with Shell to embrace diversity. She has an incredible legacy and made a huge difference, which reflects the importance of who is leading and the messages from the top."
Aiman agrees that there has been an increased focus on diversity in the profession. She sees renewed efforts to broaden how the corporate legal world "ensures true inclusivity."
"A key success factor would be for companies and law firms to move beyond doing DEI as an initiative, a one-and-done approach, and make it a part of the way they do business," she says.
Born in Harlingen about 30 miles from the Mexico border, Aiman was a Girl Scout, a high school cheerleader, track star and student council leader.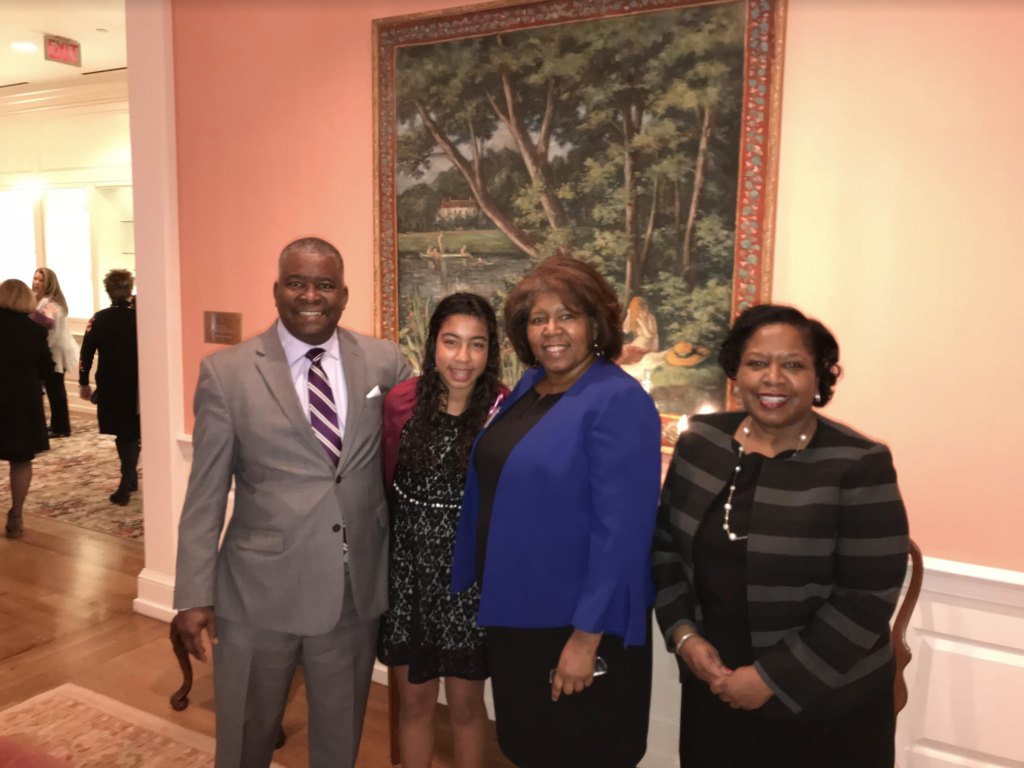 Aiman at a Houston "Women of Influence" Awards Luncheon
Aiman's father was a decorated military veteran and worked for the Missouri Pacific Railroad – later the Union Pacific – for most of his life. He was a plaintiff in a groundbreaking class action that successfully sought seniority rights for railroad employees.
"My dad instilled confidence in me, a drive for excellence and strong habit of continuous learning and curiosity," she says.
Aiman's mother earned her GED late in life and worked as a nurse's aide and a salesperson.
"She encouraged my writing and my interest in the law," she says. "She taught me to love football, especially the Dallas Cowboys. She taught me to listen and pay attention to more than just the words being spoken."
Aiman earned a bachelor's degree in mathematics from the University of Texas at Austin.
"Math is a universal language. It's one of those subjects that is all about problem solving — no pun intended," she says. "Math teaches you to take complexity and find simplicity. Broken down into basic parts and then solved from there. I love word problems.
"I think studying and understanding math is very similar to the law in many aspects," she says. "Looking at a problem and understanding its parts, taking the complex and finding simplicity. With the challenges we face today, like energy transition and climate change, social challenges … these require us to look for ways to solve problems and find solutions, which calls for these kind of skills."
Aiman graduated from the University of Missouri School of Law in 1992.
"I wanted to be a lawyer for as long as I can recall," she says. "From very early on I respected the importance of the rule of law and how it can make lives better. I understood that lawyers have influence and can bring change and can make things happen. I was, and I'm still, fascinated by how the law touches so much of our lives."
Former Harris County District Judge Levi Benton, Aiman's older brother, says he was surprised when his sister went to law school.
"Because Carolyn's love of math and numbers, I didn't think she would have any interest in being a lawyer, but she has been an excellent attorney," Benton says. "Carolyn has a great sense of right and wrong. She is perfect for the C-suite and the boardroom because she is so good at pushing businesses to be good corporate citizens."
Aiman's younger sister, Mary Benton, agrees.
"Carolyn's mind is so analytical, but I also remember that she was outspoken on the issues important to her," says Benton, a former Houston TV reporter and now director of communications for the City of Houston."
"Carolyn has always played the part of my big sister," Benton says. "She believes strongly in fairness and what is right, and she is always willing to help people. I have seen her do it over and over."
After clerking for U.S. District Judge Kenneth Hoyt for a year, Aiman joined Missouri-based Husch & Eppenberger as a trial attorney in 1993 and was there for three years.
In 1995, Aiman sought a position at Seyfarth Shaw, a Chicago-founded firm that had just opened an outpost in Houston. The firm hired labor and employment lawyer Gloria Portela to anchor the office. She needed to hire two associates for support.
Aiman applied and the two lawyers had a great meeting. Portela decided to hire others.
"Carolyn called me and she wanted to know why I didn't hire her," Portela says. "Carolyn is a very direct and clear communicator. She doesn't pull punches and she doesn't leave you trying to figure out where you stand."
Portela explained her reasoning and Aiman responded that she would have made the same decision if she had been in charge.
The two have remained friends for 26 years.
In 1996, Aiman moved back to Houston where she practiced litigation for four years at Wickliff & Hall.
Aiman said her first trial in Houston involved a woman who, she says, "was having a hard time."
"She didn't have a case against my client, in my opinion, and we proved that, but I remember thinking a lot about why she viewed her situation the way she did," she says. "It helped me think about perspectives and people's lived experiences, and that helped me as a leader in how I created inclusive environments, as well as how I navigate and understand different business groups and their respective needs."
In 2000, Texaco, which was a client of Aiman's law firm, invited her to go in-house.
To Aiman, the position at the oil company was fast-paced, intellectually stimulating, and it required strong strategic skills and business understanding. She says the decision to go in-house was easy.
"The higher you rise in the organization, the more important those capabilities become," she says. "Good in-house lawyers are expected to understand the business, help drive value and really think about how to facilitate the outcomes the business seeks. The skills for being successful are as much about the business and performance skills as the substantive legal skills."
Aiman handled labor and employment issues for Texaco until Chevron purchased most of Texaco's assets for $36 billion in 2001. Texaco also sold some assets to Shell in order to get antitrust approval from the federal government.
The following year, 2002, Aiman jumped to the Shell corporate legal department in Houston.
Over 19 years, Aiman filled several senior counsel roles ranging from employment law, corporate governance for downstream manufacturing and commercial and business development with alternative fuels, wind and upstream.
In 2012, she was promoted to managing counsel for capital projects and the global supply chain – a position she held for more than nine years.
"I had the fortune of leading a team to deliver some of Shell's most significant capital projects around the world and address the challenges that arise from that," she says. "These projects were critical to Shell and its success, and working across countries, communities, business lines and cultures was important to Shell's strategy and its bottom line."
"Carolyn digs deep and wide. She is always in a listening and learning mode, asking questions and making connections between seemingly disparate themes."
— Jake Dweck, Eversheds
"The last thing I worked on at Shell was being one of the leaders that put together our strategic approach and global response to the pandemic for our capital supply chain," she says. "It was an exhausting year but a satisfying one professionally because the value and import were critical, and being able to shape it and lead a cross-functional team through it was a privilege."
Dweck, who has worked with Aiman on several contentious matters over the past six years, said Aiman is "book smart" but also "has extraordinary social intelligence" that gives her the ability to read situations and people.
"As a lawyer, Carolyn approaches any problem with an eye towards achieving the most efficacious business solution," he says. "She couples developing a strategic overview – what is the desired solution and how to get to there – with seeking granular understanding of all key parameters.
"Carolyn digs deep and wide," he says. "She is always in a listening and learning mode, asking questions and making connections between seemingly disparate themes. And once she adopted the pathway to solving the problem, she zeros in on effective execution."
Aiman was one of the first chairs of Shell's legal diversity and inclusion committee 14 years ago. She led the legal department's recruiting and summer associate program, which successfully increased the number of women and lawyers of color applying and getting jobs in the oil giant's law group.
In addition, Aiman galvanized leaders within Shell in the days after the murder of George Floyd to develop and implement a global legal racial equity plan that Walker says has the potential to be a sustainable cultural shift in the way Shell legal globally approaches diversity and inclusion.
"I'd say my main successes were the people I hired, developed, mentored and sponsored, across demographics," Aiman says. "I recognized and modeled that talent is not fixed, that all groups produce talented people and I focused on growing people."
Portela, who is now a mediator in Houston, said that Aiman's success in her DEI efforts is because she seeks to involve not "the usual suspects," in a reference to the movie Casablanca.
"Carolyn is provocatively collaborative," she says. "She seeks out 60-year-old white males to see what their concerns are. She doesn't go into meetings thinking she knows what others are thinking."
This summer, Houston-based Sempra Infrastructure, which is the consolidation of two energy and infrastructure companies designed to facilitate the global energy transition to lower-carbon energy, conducted an exhaustive national search for a new chief legal officer.
They hired Aiman.
"One of the things that attracted me to Sempra is one of its core values is to champion people," she says. "We value diversity across our system and understand it is all our jobs, not just HR's or our SVP Diversity and Community['s]. Like safety, the leader plays a pivotal role but everyone has a role in ensuring safety, and diversity and inclusivity is the same."
Inosi Nyatta, a partner in Sullivan & Cromwell's New York office, says she has only known Aiman for six months and she is already impressed with her leadership skills.
"Carolyn quickly came into this new position and has established a strategic direction on where the business is going," says Nyatta, who has represented Sempra on global project finance matters. "She realized that she can shape the position in ways to better serve the business.
"Sempra already had a focus on D&I," she said, "but Carolyn is looking to take it to the next level."