Porter Hedges named partner Bill Porter must have seen something special when he recruited Vanderbilt University second-year law student Joyce Soliman in 1996.
Twenty-seven years later, the Houston-based, 125-attorney, full-service law firm has named Soliman, a corporate finance lawyer and the past chair of the Asian American Bar Association's board of trustees, as its new co-managing partner.
Soliman succeeds long-time firm leader Rob Reedy and serves as co-managing partner with Porter Hedges corporate transactions partner James Cowen. Soliman will handle external affairs, including recruiting, business development, marketing and innovation. Cowen is co-managing partner for administrative affairs, which includes management and administration of the firm's internal affairs.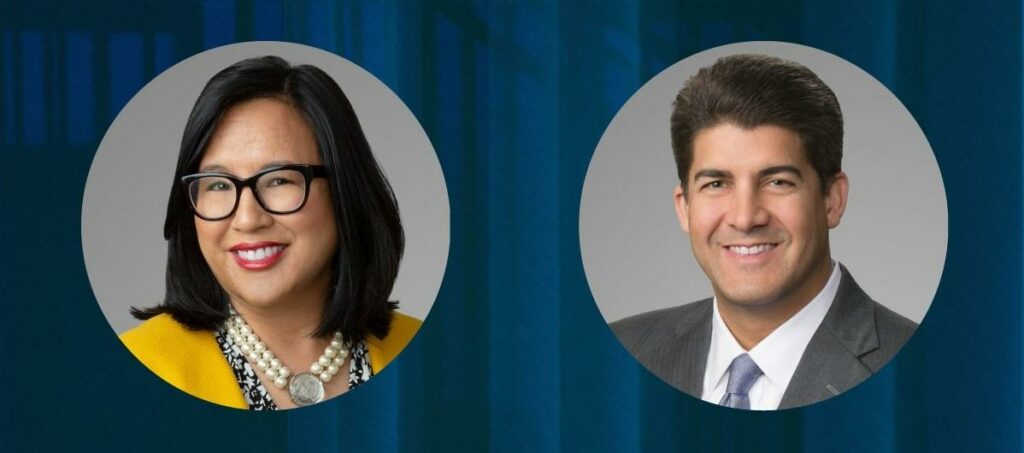 In a written statement, Reedy said Soliman and Cowen (pictured above) "represent the next generation" and have been "instrumental in establishing so much of what has defined our success."
"We know there are challenges out there with subjects like artificial intelligence and business development," Soliman told The Texas Lawbook in an interview Tuesday. "There are challenges keeping headcount. In this market, you cannot be passive."
Soliman, who left Porter Hedges in 2000 to be associate general counsel at Quanta Services for two and a half years, said the time being in-house "definitely informed how I work with clients."
"I understand and appreciate how fast they move and need answers," she said. "You have to think more like an in-house counsel as an outside lawyer today."
Soliman grew up in southern Louisiana and was the first person in her family to go to become a lawyer. She went to college and law school at Vanderbilt and considered staying in Nashville to practice.
"The pull of Houston in 1997 — I could tell the city was on the upswing," she said. "I knew the caliber of transactions in Houston would be bigger and more significant than Nashville."
Porter Hedges voted Soliman into the partnership in 2008. She plans to continue representing clients.
In 2022, Porter Hedges surpassed $100 million in revenues for the first time in the firm's history, according to the Texas Lawbook 50, which tracks revenue of law firms operating in Texas.
Cowen, who was named Porter Hedges co-managing partner in August 2022, started at Porter Hedges only six months after Soliman joined the firm. He said he and Soliman have worked together on several corporate transactions and believe in a collaborative partnership.