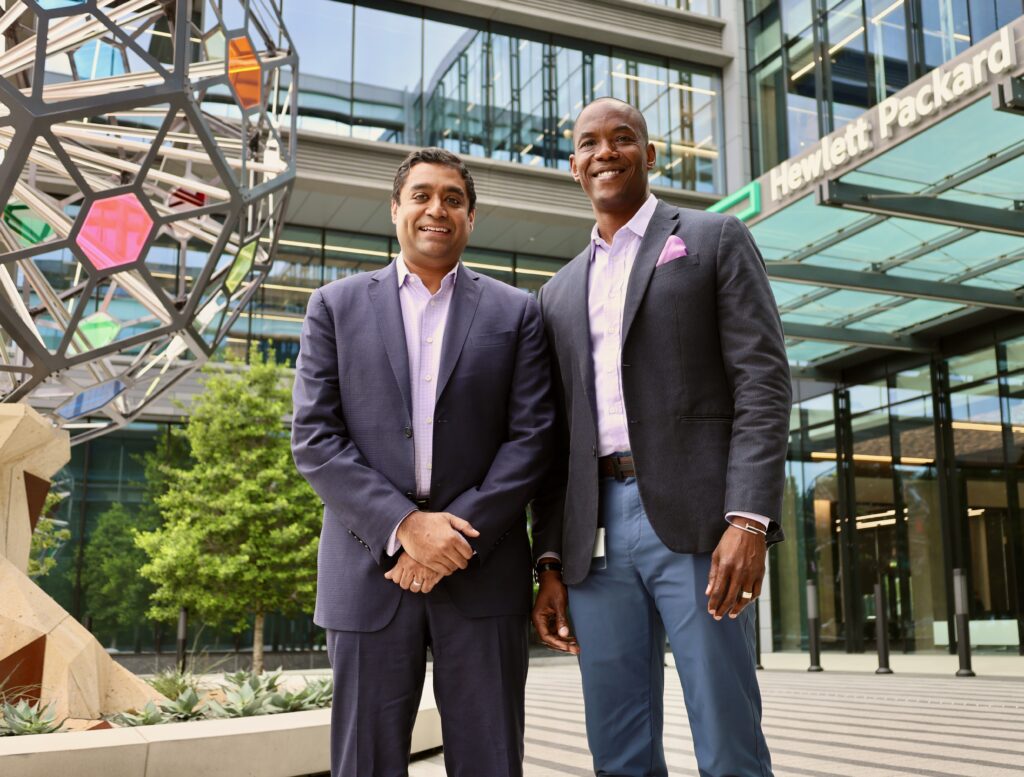 (From Left) Rishi Varma and Jude Andre
As a young child on vacation with his family, Rishi Varma watched his dad dress for a day at Disneyland in Anaheim, California. Instead of donning the ubiquitous "Vacation Dad" look — a tropical button-down, shorts, sneakers and perhaps a five o'clock shadow — Varma observed his father dress in professional clothing.
"I remember my dad getting up in the morning, shaving and putting on his button-down and putting on a jacket, and I was kind of laughing," Varma recalled. "I said, 'Why are you dressing like that?' He sat me down and explained [that] 'people who look like us have to make a concerted effort and appear a certain way so we're not ignored or discounted.'
"I knew it wasn't about going to an amusement park and looking a certain way," said Varma, a first-generation American and the son of Indian immigrants who is now general counsel and corporate secretary at Hewlett Packard Enterprise. "I knew the lesson he was imparting on me was, 'Look, you're going to be growing up in an environment where you are not like the others, and you need to always put your best foot forward so that you're not ignored or discounted.' That conversation really sticks with me in a lot of ways that I never really appreciated until I became the general counsel and realized how very few people in this role looked like me."
Off a different coast and in a different decade, Varma's now-colleague, Jude Andre, froze as a member of the Haitian Armed Forces held an assault rifle to his face. The second-year college student from Port-au-Prince, Haiti, had tried to leave his school's campus as the military regime that had overthrown Haitian President Jean-Bertrand Aristide stood guard to prevent students from joining demonstrations on the streets.
The Lawbook got thoughts from Varma and Andre on retaining diverse associates, fixing the pipeline, the role diversity plays into hiring outside firms and more.
For a Q&A with Rishi Varma Click Here
For a Q&A with Jude Andre Click Here
"I thought of Archimedes' demise at the hands of a Roman soldier and realized how cheaply I could have lost my own life," said Andre, who is now a senior director and associate general counsel at HPE. So after I got home that evening, I told my parents that I was ready to leave to attend college in the U.S. — as they had been begging me to do."
These life-changing experiences for Varma and Andre would shape their thinking on legal industry diversity and beyond. Today they both work at a corporate legal department known for its innovation, welcoming culture and commitment to advancing diversity, equity and inclusion in the legal profession.
The Association of Corporate Counsel's Houston chapter and The Texas Lawbook found both HPE's legal department and fellow finalist, Baker Hughes global litigation counsel Amy Blumrosen, exceptional in their diversity and inclusion work, and have decided to honor them both with the Achievement in Diversity and Inclusion award. The 2023 Houston Corporate Counsel Awards ceremony will be held May 4 at the Four Seasons.
At HPE, Andre chairs the legal department's diversity, equity and inclusion committee, which is also a priority for Varma as GC. Beyond several initiatives that the committee has rolled out in the last four years, the legal department itself is diverse. Women make up 57 percent of HPE's global legal department, while 40 percent of the members of the U.S. legal department are ethnically diverse. The 280 employees of the legal department — 188 of them attorneys, 92 of them support staff — office in 39 countries, and they collectively speak more than 30 languages.
For the last three years, the HPE legal department's DEI committee has held an annual inclusion and diversity forum, where all legal team members come together and talk openly about inclusion across the department. Varma says he has noticed a "more engaged workforce within legal on inclusion" after these forums. And last year, the committee launched its first-ever psychological safety survey, which invites members of the legal team to provide candid feedback about where improvement is needed to help people be their best selves at HPE.
Separately, HPE's legal department participates in multiple diversity pipeline efforts. It's a founding company involved with the Law in Technology Diversity Collaborative, which provides diverse first-year law students 10-week internships — five weeks with a participating tech company and five weeks with one of the company's partnering law firms. HPE also participates in Diversity Lab's OnRamp200 Fellowship, a re-entry platform that matches experienced lawyers returning to the profession (such as moms who took a hiatus to raise their children) with law firms and legal departments for a yearlong paid position.
On the equity end, Varma played a leading role in implementing an annual pay equity review for several countries to ensure true gender and race-based pay equity. HPE has 100 percent pay equity among male and female team members in the U.S., the UK and India, as well as underrepresented ethnicities in the U.S.
John Quattrocchi of Baker McKenzie, one of HPE's regular outside firms, said HPE is an organization that "just gets it" when it comes to embodying a culture where DEI is a priority — particularly because it's a core value from the top-down.
"You have to have buy-in from the senior leadership team; it comes from the board and the CEO, all the way down," said Quattrocchi, a corporate partner primarily based in Baker McKenzie's Dallas office who serves as a firm relationship partner for HPE.
"Because HPE has thoughtfully prioritized diversity and inclusion as a strategic imperative, it is farther along its DEI journey than many other organizations," he said. "DEI, in all of its forms, really is 'second nature' to HPE, and they are an exceptional example for other organizations to emulate."
Learning to Talk About Diversity
Varma was born in Boston after his mom and dad, both physicians, immigrated there in the late 60's from Lucknow, India, to do their residencies at Harvard. The family moved to Lubbock in the early 70's, when Varma was still a newborn, after his parents were offered positions to work at the brand-new Texas Tech University Health Sciences Center and were told that Lubbock was a great place to raise family.
Varma is the only lawyer in his family; his older sister, an internist, followed their parents' footsteps into medicine. Now in their early eighties, Varma's parents are still working. His father is a pediatrician and director of a graduate medical program at Tech, and in the last several years has introduced diversity, equity and inclusion programming in the medical school. His mother practiced as an OB-GYN and now serves as a Telehealth medical advisor to the local community and consults young pregnant teenagers.
"I remember getting a phone call from [a famous] musician, and they were screaming at the top of their lungs…All I kept thinking was, 'Wow, I can't believe I'm talking to this person.' "
"With my parents, there's this work ethic that I was instilled with … this sort of constant ethos in them to not only serve the community, but to constantly do as much as you can," Varma said.
Varma grew up in Lubbock until leaving home at 13 to attend boarding school in New Hampshire. He stayed on the East Coast for the next couple decades — attending college and law school at Georgetown University in Washington, then was off to New York City for the beginning of his legal career.
He said he decided to become a lawyer in college because living in Washington, D.C., fostered an inspiring setting to entertain a career in the law.
"It is a great arena to understand the power of the law … what it means when the Supreme Court is taking decisions on interpretations of legislation, [and the] legislative body is crafting new laws and coming up with different words," Varma said. "You see how powerful it can be to use the right language."
"What impressed me the most about the law was the idea that language can be so impactful and drive action," he added. "I thought I would stay in D.C. and … either be a lobbyist or work on the Hill. But after seven years of being in Washington, it felt a little small and felt like it was time to try new things."
A career on the transactional side began looking appealing, especially since Varma enjoyed his corporate legal classes. He moved to New York after graduation to begin his career, practicing first at Rosenman & Collin and then at Brobeck, Phleger & Harrison. Those several years — the late 90's and early 2000s — were years Varma recounted fondly: "Lots of long days and nights" in the office. Being full of "vibrant energy." Meeting his wife. Getting to know colleagues. Taking companies public. Learning so, so much.
"Sarbanes-Oxley was very early in its stages of implementation [at that time]," Varma said. "It was a really great time to be an early career corporate attorney … because you weren't just trying to learn what was and what had been done before. You were really trying to create new ways of doing things."
As a first-year associate, Varma worked on his first big deal. His firm represented an entertainment company acquiring another entertainment company with "a lot of famous people" involved. Some of the assets of the target company were catalogs of music. Varma took a closer look during due diligence, which back then involved going through "boxes and boxes of documents."
"I come across a document that looks odd to me," Varma said. "I've never seen it before. As I'm reading it, it sounds like it's a declaration of bankruptcy by this one particular musician."
Varma took the document to the supervising partner, and they got opposing counsel on the phone, who confirmed that was the case. Immediately, that asset became significantly devalued.

"I remember getting a phone call from that particular musician, and they were screaming at the top of their lungs — just angry that I was somehow jeopardizing the value of the deal," said Varma, who declined to name the musician. "All I kept thinking was, 'Wow, I can't believe I'm talking to this person.'"
Then came the day that changed everything — for Varma's family, for every New Yorker and for everyone else around the world.
Varma remembers Sept. 11, 2001, was a beautiful day in New York City — sunny and 70 degrees. Varma was in the office. His wife was at home on maternity leave with their oldest, 6 months old at the time. Varma's Midtown office on the 47th floor had a clear view of the World Trade Center.
"I remember hearing somebody say that a plane hit the World Trade Center. So we went to the conference room and you could vaguely see puffs of smoke," Varma recalled. "Then maybe 20 minutes later, we did see the other plane fly in. Seconds later, you could see the impact. That's when we knew this was not normal."
Varma and his wife had been planning for a move to California, but after 9/11, they changed course and decided to move closer to home. Lubbock "did not have the same corporate opportunities," Varma said, so they moved to Houston, his wife's hometown, in 2003.
Varma served as general counsel and chief operating officer at Trico Marine Services for several years, then spent nearly two years as GC at TPC Group. In 2013, Hewlett-Packard came calling. He joined as deputy general counsel of HP's (and later, spinoff HPE's) corporate securities and M&A. He became HPE's general counsel in 2017.
Varma said diversity became a front-and-center issue for him once he became general counsel because as many congratulated him on the new role, they told him that it was an "important step" for diversity and that they would love for Varma to "help get more ethnically diverse people into these roles," he said.
At first, it wasn't comfortable for Varma to think about weaving that into his GC role.
"There was so much of my life that I thought of as assimilation," Varma said. "All throughout high school, college, law school, my early career, I would never really talk about my unique differences. I would talk more about how I'm similar to everyone else."
But then Varma realized the dialogue around diversity was an important aspect of his role.
"It's an important voice that I can lend to help others see how I'm successful and how they can be successful and how there's a reason that you should look at your pipeline differently: broaden it. Create more opportunities for diverse candidates to be in the legal departments," he said. "That was probably the biggest inflection moment where I suddenly started to see [that] assimilation is not bad, but it can also be this form of code-switching — making it hard for you to see your own unique differences because you don't want people to see them."
From Port-au-Prince to Houston, from Engineering to Law
Andre joined HPE several months before Varma became general counsel, but Andre's arrival followed a previous career and even two previous jobs at HPE.
Growing up in Haiti's capital, Port-au-Prince, Andre first resisted the idea of becoming a lawyer because talk of the law by his father and one of his older brothers, both lawyers, inundated the household.
"I had been away for about nine years, so many of the people that I knew had moved on. However, the culture, environment and overall positive attitude had remained."
"I pursued engineering in order to run away from a career in the law! How ironic!" Andre said. "I heard so much about 'the law' growing up that I wanted a career in a completely different field. I loved math and science because the rules make sense and because I like solving problems."
After moving to the U.S., Andre attended college at Stony Brook University in New York, where his got his bachelor's degree in electrical and electronics engineering. He stayed in New York after graduation and began his career at IBM and started grad school. A job at Compaq brought him to Texas, and he decided to continue his graduate studies at the University of Houston. While Andre was at Compaq, HP acquired the company for nearly $19 billion.
A career in the law began to look more appealing after Andre began collaborating with attorneys for a couple of patent applications that he was listed on as the inventor.
"I was talking to the partner [working on the application] and he told me how much [patent attorneys] made, and I'm like, 'What? Those guys aren't any smarter than I am. Why am I doing this?'"
He saw the potential to continue using his engineering background if he went into IP law.

"I realized that it was a niche area that offered more flexibility in the long run," he said. "I can do pretty much anything with a law degree, and my engineering background provides a dimension that not all lawyers readily have access to."
He returned to U of H for law school. While there, he worked as a law clerk at HP.
"U of H participated in a program that exposed first year law students from historically underrepresented groups to the corporate environment over a few weeks during the summer," Andre said. "But because I had worked there as an engineer for three years before going to law school, I was asked to interview to see if I would be interested in clerking as a patent attorney."
After Andre graduated law school in 2008, he moved back to New York to begin his career as an IP litigator at Fitzpatrick, Cella, Harper & Scinto. Because his wife and kids remained in Houston, Andre flew back on weekends to see them. After four years, Andre found a job in Winston & Strawn's Houston office. He moved back and spent another four years at Winston.
As his kids got older, he considered his options for his future: "Do I take the partnership track and stick it out and do Big Law," Andre pondered, "Or do I find an alternative — slow things down a bit, still get to practice, have better work-life [balance]? I chose the latter."
Andre joined HPE in June 2016 as a senior counsel — but to "the surprise of many," not as an IP attorney. He joined as a commercial business attorney since he ultimately wanted to be on the business side. Though it was now a different company, a familiarity remained at HPE that Andre had appreciated earlier in his career.
"By the time I joined the legal department … HP Co. had split into HPE and HP Inc., so the legal department also split," he said. "I had been away for about nine years, so many of the people that I knew had moved on. However, the culture, environment and overall positive attitude had remained. I met new colleagues and internal clients that reminded me that I had made the right choice by joining (again)."
In 2021, Andre moved into his current role as senior director and associate GC of HPE's storage, compute, high-performance computing and AI, and intelligence edge global business units. He manages a team of attorneys who provide strategic legal advice to those four business units, and he is often the first point-of-contact for executive-level escalations involving customers and partners. He also acts as lead counsel to the general managers of the businesses he oversees.
"The role requires an in-depth understanding of our product and service offerings, as well as the business model, customer and partner base, and company strategy," he said.
Making DEI Core Corporate Values
When escalations intersect with the C-suite, Andre and Varma will cross paths. But a significant part of their collaboration started several years ago when Varma nominated Andre to become a member of the HPE legal team's diversity and inclusion committee (now called the diversity, equity and inclusion committee). A few years ago, Andre became chair of the committee after the former chair left.
The DEI committee includes seven other lawyers in HPE's legal department: Casey Nakata of Portland, Oregon; María Eugenia Montero head legal counsel for HPE's Latin America operations and based in Argentina; Drushya Sridhar of Houston; Jim Vibert, general counsel for HP Canada; Sabrina Lyon of Houston; Isabella Toth, who leads HPE's Italian legal department from Milan; and Lakshmi Menon Nair, director and associate general counsel in Bengalaru, India.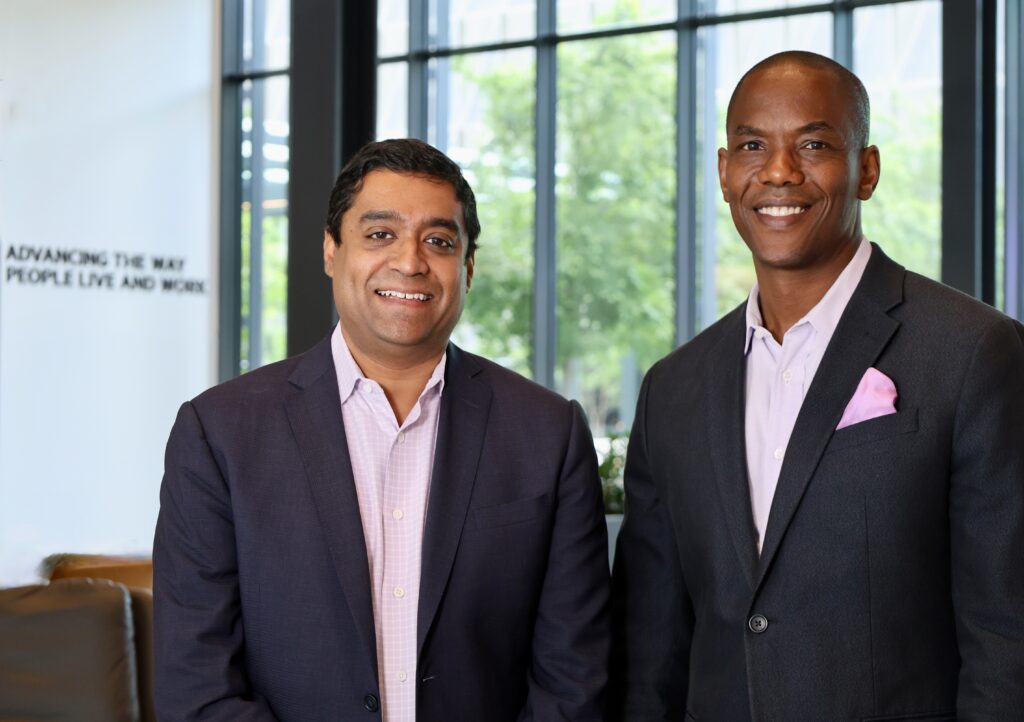 In addition to the inclusion and diversity forum and psychological safety survey, the committee has launched an "Inclusion Every Day" quarterly newsletter, which highlights areas where individual members of the HPE legal department have created a more inclusive environment; quarterly DEI roundtable discussions throughout HPE's global offices; internal educational videos; numerous community-focused projects; and a "Celebrations that Matter" monthly series, which educates the legal department on various religious, customary, cultural and social festivities celebrated by their colleagues around the world. Featured celebrations have included Eid al-Fitr, Ferragosto, Oktoberfest, Mooncake Festival, Diwali and more.
Beyond the initiatives themselves, Varma said Andre "pushes for a global understanding of DEI" among the legal department — namely, that diversity transcends ethnic diversity, particularly in the U.S. This can be reflected in the roundtable discussion topics, which have included mentorship and gender equity, generational differences and ageism, linguistic biases and how to become anti-racist.
"We have had such creative topics as [the challenges behind workers speaking] English as a second language [who are] working in a global company headquartered in the U.S.," Varma said.
Asked what the most noticeable effect has been since the DEI committee rolled out these initiatives, Andre said he's noticed an increased engagement and participation.
"I think they've helped increase confidence and trust with the department," Andre said. "As a result, when we're hosting events or launching anything, [there] is increased participation, and people want to tell their story."
But it was more difficult for him to answer which initiative he was most proud of.
"It's like asking, 'Hey, who's your favorite child?'" Andre said.
HPE's DEI work also touches law students. In the summers, through the Law in Technology Diversity Collaborative, the legal department hires diverse first-year law students for a split-summer internship: five weeks in HPE's legal department and another five weeks at a partnering law firm. In the few years that HPE has been a part of the program, they have selected at least one student from a historically Black college.
Gibson, Dunn & Crutcher has partnered with HPE on this program since 2020. This summer will be their fourth to partner together. John O'Hara, Gibson Dunn's chief recruiting officer, said last summer their selected intern worked in HPE and Gibson Dunn's Houston offices, and the intern for this year will do the same. (This year's intern comes from American University). In previous years, Gibson Dunn and HPE have hired interns to work in their Palo Alto offices, O'Hara said.
"Working with HPE has shown me how a law firm-client relationship that is built on communication and collaboration can amplify both sides' impact when trying to expand opportunities for diverse students," he said. "Through our partnership, we are able to offer a unique summer experience to diverse law students that enhances their substantive skills, offers an inclusive and supportive environment, and builds their networks and knowledge of the legal industry as a whole."
O'Hara has worked closely with Andre on the partnership since 2020 and said he "genuinely cares about diversity, both from a macro perspective and at the individual level."
"Jude brings a genuine interest in advancing D&I that is most evident to me when we're talking to and discussing our law student candidates" O'Hara said. "He is very thoughtful in his selections, looking beyond students' credentials to their life experiences, presentation and legal goals. Once we hire our intern, Jude is very thoughtful about how we can best set them up to succeed in the summer and long-term, whether that's through pre-summer mentorship, substantive and constant feedback and communication during the summer, or post-summer conversations and advice."
DEI work aside, HPE's legal department has also recently been recognized for its pro bono work. In November, the Texas General Counsel Forum honored HPE with its Outstanding Pro Bono Award as part of its annual Magna Stella Awards.
Varma says the legal department is able to excel in both DEI and pro bono because both are valued by the CEO and other top-level executives at the company.
"It's in the founder's DNA to be part of the communities in which we work," Varma told The Texas Lawbook at the time HPE received the award. "From day one it was not only encouraged, but expected. It's been a bedrock principle of the legal department that everybody should take the time to serve others. That's the great mindset for pro bono: When it's expected of you, you treat it as importantly as everything else you're working on, which [leads to] more frequent participation and ultimately reaps the benefit of being able to do more things for your community."
In Varma's free time, he serves on the board of the Tahirih Justice Center, a nonprofit that serves immigrant women fleeing gender-based violence, and also serves on the Scales of Justice steering committee of Equal Justice Works, a nonprofit that brings together an extensive network of law students, lawyers, legal services organizations and supporters to promote a lifelong commitment to public service and equal justice. And for almost 10 years, HPE has sponsored an Equal Justice Works fellow, helping pay the salary of the fellow to conduct a two-year project focusing on serving marginalized and underrepresented communities.
Separately, Varma took on a pro bono case to expunge the record of a peaceful Black Lives Matter protester in Harris County in 2020.
"He really walks the walk," Quattrocchi said of Varma. "You hear a lot of people talking about these types of individuals … of [paying] lip service to them, but Rishi really pushes the agenda in a way that a lot of GCs don't."