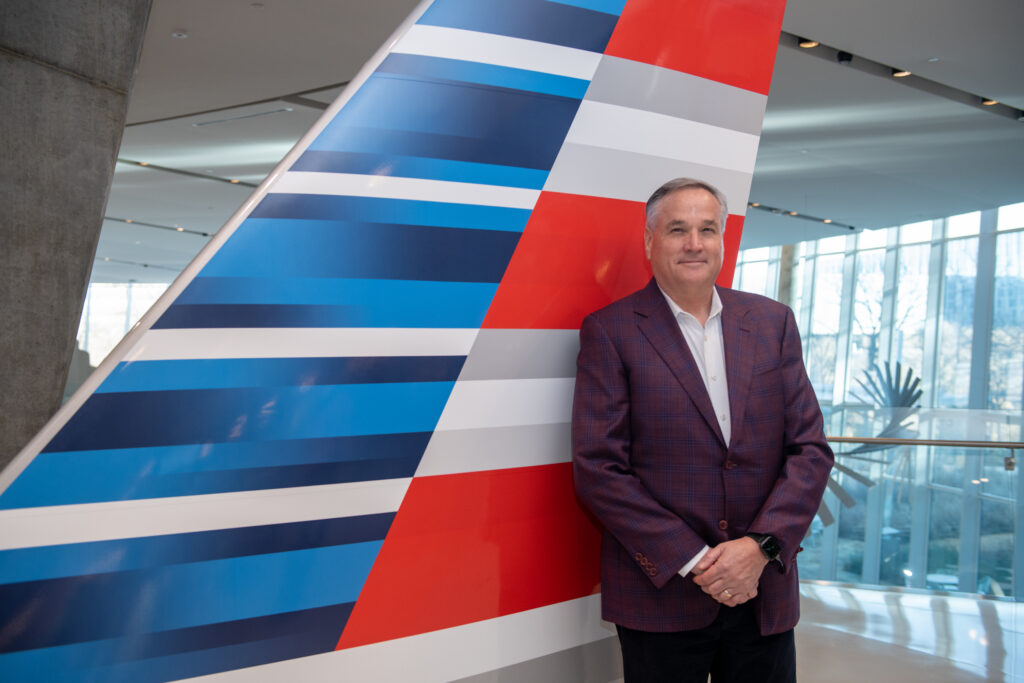 Bruce Wark, Deputy General Counsel American Airlines
For their work at American Airlines, colleagues Charlene Wandrisco and Bruce Wark are recipients of the 2022 DFW Corporate Counsel Award for Senior Counsel of the Year for a Large Legal Department. For details about their nomination, click here.
Bruce Wark is 62 and was born in Pueblo, Colorado. His father, Jim Wark, father was a Navy pilot and later a mining engineer at CF&I Steel, which was the first steel company west of the Mississippi. He went on to become an award-winning aerial photographer. His mother, Judy Wark, was a housewife and mother of four boys.
As a boy, Wark rode in smaller prop planes with his father.
"My first flight in that type of aircraft was in a Citabria, a plane designed for aerial acrobatics," he said. "At that time, my father was resurrecting skills he learned in the Navy, and shortly thereafter bought a Pitts biplane for aerial competitions and shows. He later sold that plane for a Husky, a bush plane that became the platform for his aerial photography."
Wark received a degree in economics at the University of Denver in 1983, but he wanted a postgraduate degree.
"The choice in my mind was between law school or a doctorate degree in economics," he said. "I decided law school was the more practical choice. At that time, I did not know you could make so much money being an expert witness."
After earning his law degree from Georgetown University Law Center in 1986, he spent two years practicing litigation at Mayer Brown and then five years at the Denver firm Davis Graham & Stubbs.
A friend from his time at Mayer Brown had joined the American Airlines legal department and encouraged Wark to apply for an open position.
"I was not looking but decided to check it out," he said. "Thirty years later, the rest is history."
Wark's first case for American was defending a case brought by Marriott, Hilton and Budget Car Rental. The airline entered into a joint business agreement with those companies to build the reservation system like Sabre for the hotel and car rental industry.
"The JV was a huge failure, no working system was ever built and the hotel and car rental companies sued AA for failing to deliver," he said. "It was a huge case with big potential exposure and big-name firms. We were represented by Fulbright and Williams & Connolly. I was able to contribute quickly and was hooked on what an exciting place AA was to work."
During Wark's three decades in the American legal department, there has been no shortage of litigation.
"The work has been constant and deeply engaging, but also challenging," he said. "I have no shortage of stories about trying times, hard fought cases and a few disappointments. The company has always given me the resources to succeed. The best part of my job has been being able to hire and work with world-class lawyers and law firms."
Wark has worked on aircraft disasters, several class actions, two U.S. Justice Department investigations, competitors' legal challenges to American's partnership with British Airlines and multiple international regulatory probes related to price fixing in the cargo business. When industry competitors tried to kill an AA expansion plan at the Miami airport in 2002, Wark spearheaded the successful litigation.
"Every time I go to Miami, I take pride in knowing that I contributed to our operation there is some small, and increasingly distant, way," he said.
'Getting on the Plane … the Most Emotional Day of My Career'
Then there was the legal work surrounding the terrorist attacks on Sept. 11, 2001. American flight 11 that was hijacked and slammed into the North Tower of the World Trade Center in New York at 8:46 a.m. There were 81 passengers and 11 crew on board.
Exactly 51 minutes later, American flight 77 crashed into the Pentagon. It was carrying 58 passengers and six crew members. In all, al-Qaeda terrorists killed 2,977 people that day.
"The hardest, most emotional work was the work that followed the events of Sept. 11," he said. "I was part of team that lobbied for the federal legislation that saved the industry, met with Ken Feinberg to discuss the government compensation fund and handled the resulting litigation."
Feinberg was a litigation mediator appointed by the federal government to head the victims' compensation fund related to the 9-11 attacks.
Exactly two months after the Sept. 11 attacks, American suffered another blow when Flight 587 carrying 251 passengers and nine flight crew members lost its tail and crashed into the Belle Harbor neighborhood of Queens shortly after taking off from New York's JFK International Airport.
"Getting on the plane as part of the team being deployed to New York so soon after 9/11 was the most emotional day of my career," he said.
Wark's biggest success came in November 2013 when he led American's litigation against the Justice Department's antitrust lawsuit seeking to stop the historic $16 billion merger between US Airways and American.
American filed for bankruptcy in November 2011. The next year, US Airways openly made an offer to merge with American — a proposal that AA leaders initially rejected but later accepted. But the combination of the two airlines meant the new American would control more than two-thirds of the landings and takeoff slots at Reagan National Airport in Washington, D.C. The DOJ sued to stop the merger.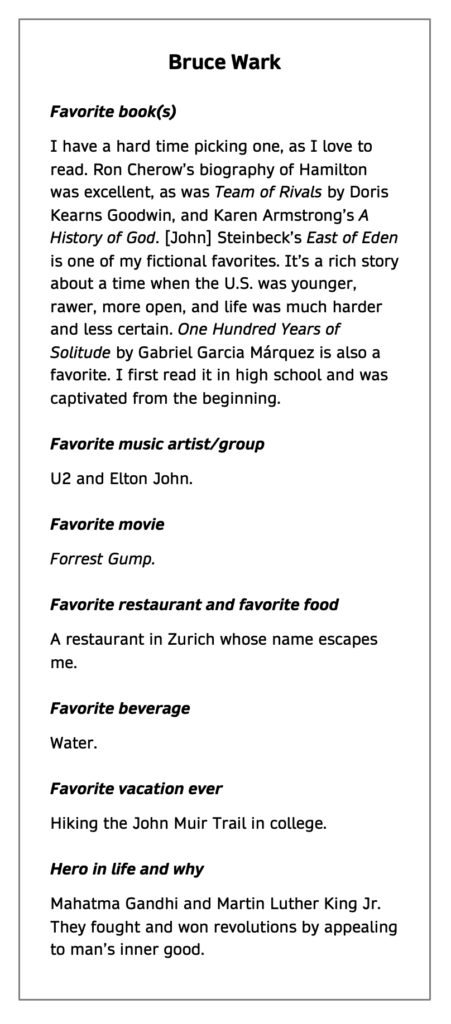 "The entire merger agreement rested on the outcome of this litigation, and Bruce Wark was the antitrust lawyer that we trusted to win the day," then American Airlines General Counsel Gary Kennedy told The Texas Lawbook in an interview in 2013. "Bruce put together a fabulous team of lawyers, and win the day he did."
As trial neared on the DOJ's antitrust allegations, Wark worked with Stephen Johnson, then US Airways senior vice president of legal and current executive vice president at American, to negotiate a settlement. On Nov. 12, a deal was struck that meant fewer landing and take-off slots at Reagan National Airport and New York's LaGuardia Airport.
Wark is quick to point out that there were many lawyers involved in the US Airways merger and antitrust litigation.
"But the reality is that merger was desperately needed for AA's long-term success, and it has delivered benefits to our employees and customers in ways that are quantifiable and significant," he said. "Data shows that no merger has been more successful in creating consumer benefits."
Dee Kelly, a partner at Kelly, Hart & Hallman in Fort Worth, has worked with Wark for his entire career.
"Bruce has led American through many significant legal battles over his career, but very few years had the volume of huge matters to deal with like 2022," said Kelly. "I saw no change in Bruce's approach despite the enormous pressure on him in 2022. He absorbed himself in the details of each case, and his composure kept his entire team calm and on point.
"Bruce is a steady leader who sees clear of the distractions and keeps his outside counsel focused on what is most important in each case," he said.
'Plenty of Battle Scars' Against Sabre
Litigation matters came and went, but Wark said the courtroom battles with Sabre seemed endless.
"Sabre was revolutionary when it was created — it was e-commerce before the internet," Wark said. "There has always been a sibling rivalry between us, and we always depended on each other. But it became more and more about Sabre keeping the leverage over AA and the costs they were charging us."
The dispute against Sabre has a long history and more than a decade of litigation. In fact, the antitrust lawsuit was originally filed by US Airways in 2011 prior to its merger with American.
"Over the last two decades, Sabre used a variety of tactics to maintain this market power — technology lock-in, contract restrictions, retaliation and more — while also snuffing out competitors and punishing airlines that oppose its dominance," said Yetter, who has worked with Wark in a few of the disputes with Sabre. "Ultimately, this has stymied innovation in airline ticket distribution and increased the costs of air travel for airlines and consumers."
The case originally went to trial in 2016. A New York federal jury ruled unanimously in American's favor, but a federal appeals court reversed and ordered a new trial.
The new trial was rescheduled multiple times because of Covid but was finally set for trial in April 2022.
Wark selected lawyers from O'Melveny and Yetter Coleman as outside counsel for the antitrust trial against Sabre.
"Bruce recognized a pure retrial would not be enough — rather, he focused the team on not only shifting to account for changes in the law but also on sharpening the case story," Yetter said.
Wark said it was important that he be in the courtroom for all four weeks of the trial.
"These cases were not just high stakes, they were strategic for the company," he said. "I have a lot of experience and an understanding of the company that can only come from being part of the organization. When you are in trial, decisions are being made in real time."
"If you want to contribute, you have to be there," he said. "Seeing the trial also gives me firsthand knowledge when I am telling senior management how it is going and what to expect."
A key decision Wark had to make during the trial was whether to call Sabre CEO Sean Menke as a witness. Menke was not even at Sabre when US Airways sued in 2011. But he was a senior executive at Air Canada and Frontier Airlines, and those airlines had similar complaints about Sabre.
"It was a big risk because we had not deposed Menke prior to trial," Wark said. "It was a calculated risk that could have backfired. You have to make real-time decisions."
The decision paid off. Yetter did a fantastic job cross-examining Menke, Wark said.
The jury deliberated for five days before announcing its verdict that Sabre was a monopolist and had abused its monopoly power to the detriment of airlines and travelers. The jury, however, awarded damages of $1.
"We went to trial to get a judge and jury to issue a verdict that was a key indictment of Sabre's business practices — not to get umpteen millions of dollars," Wark said. "Because of this, we signed a new agreement with Sabre that gives us freedoms we didn't have before."
But the litigation is not completely over. American has asked the judge to award $100 million in legal fees.
O'Melveny's Andrew Frackman said Wark "provides real value" to the litigation team.
"In our recent case against Sabre, Bruce actively participated in the economist preparation," Frackman said. "His insights were excellent, but he did not try to overmanage the process. He is at the very top of inside counsel in providing value while respecting the role of trial counsel."
While the decade-old lawsuit against Sabre awaited trial, a new dispute arose between the two companies when Sabre in 2021 announced a new electronic ticket distribution product for travel agents called New Airline Storefront.
American officials believed that the new Storefront product displayed American's available flights in a competitively disadvantaged way as compared to Delta Airlines. At the same time, Sabre announced a new value-based distribution arrangement with Delta that compounded this alleged bias against American's flights and in favor of Delta's during this critical time of recovery in business travel after the pandemic.
Once again, American executives turned to Wark, who quickly assembled an outside legal team — Kelly Hart, Yetter Coleman, and O'Melveny — to sue Sabre in Tarrant County district court.
The goal was to stop the display and value-based agreement with Delta by seeking a temporary injunction.
While the judge declined to issue the injunctive relief, according to Yetter, lawyers for American "uncovered and highlighted compelling evidence of the pervasive discriminatory effect of the new Storefront display and Delta incentive program."
American appealed but Sabre dropped its new Storefront product, which was a significant achievement by and benefit to American in the marketplace. American dismissed the lawsuit in October 2022 when the airline announced its new distribution agreement with Sabre.
"I hope it is a new day between American and Sabre," he said.
Defending the 'Northeast Alliance'
Wark is also leading American's defense team in a case brought by the U.S. Department of Justice and six state attorneys general seeking to stop American's "Northeast Alliance" with low-cost carrier JetBlue Airways.
The partnership, announced in 2020 just before the Covid pandemic, allows American and JetBlue to share customers, jets and revenues in flights out of airports in New York and Boston, which both airlines claim is needed to help them compete with Delta Airlines and United Airlines.
The prosecutors argued that the alliance is anticompetitive and increased prices for customers. Wark and American hired Latham & Watkins partner Dan Wall to lead its defense in a four-week trial this past fall.
"We would not have done the deal if we did not believe it was both profitable for our shareholders and good for our customers," Wark said. "The company had a lot of experience in making joint businesses work internationally, and we took lessons from those experiences and applied them to a domestic alliance focused in the Northeast.
"From the beginning, we knew the DOJ staff would be opposed to the Northeast Alliance," Wark said. "We believed we were right and they were wrong, and we are now waiting to see how the judge decides the case."
Wark's boss, Aiyar, is pleased with his efforts.
"Just in the past year, Bruce was able to build on litigation victories to achieve a transformation in how American distributes its product, a huge priority for our business," said Aiyar. "He is also a key architect of American's network strategy and our successful joint businesses with foreign airlines as well as our partnerships with Alaska and JetBlue. And he has managed American's large and diverse litigation portfolio with extraordinary skill and success, consistently putting wins on the board."