I was born into a low-income, single-income Mexican American family. As children, my parents traveled to different parts of the country every summer. Not for vacation, but for migrant work. From the sugar beet fields of Wyoming and the tomato fields of Michigan to the cotton fields of West Texas, they spent their summers performing farm labor.
Between them, their siblings and my grandparents, they would earn enough money to afford a couple of outfits per child for the upcoming school year. Though neither of my parents graduated from college, they were determined to give me a different life.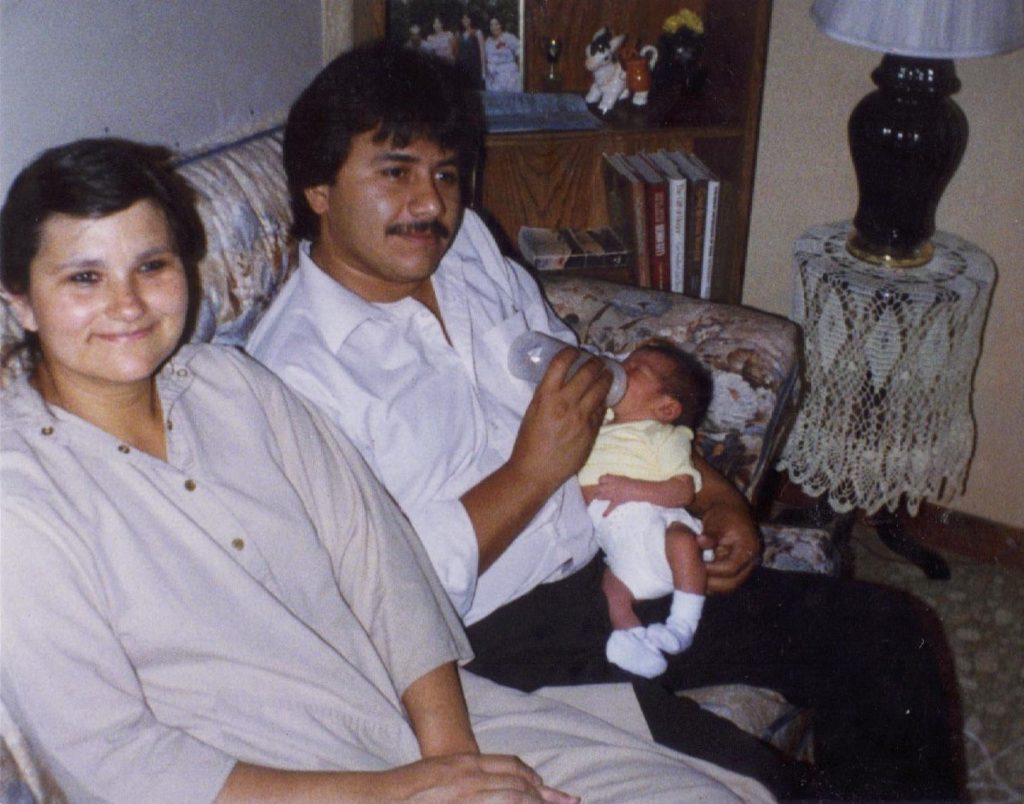 Galván as a baby with his parents
As adults, my dad worked a low-paying state job, and my mom was a homemaker. They struggled to make ends meet – so much so that my dad supplemented the family income by taking a graveyard shift at a local motel just to afford diapers for me. While my dad was working two jobs, my mom handled the home, raised me and somehow also managed to sew clothing.
Though their financial situation improved over the years, my parents unreservedly sacrificed comfort and convenience to send me to a small private school and pay for early college classes that helped me earn a college scholarship.
What they lacked in funds they made up for in grit, laying the foundation for me to become the first college graduate and attorney in my family. But it took me moving away to appreciate the significance of my story and that of my parents.
Galván's mother outside of their home
Candidly, my "otherness" didn't register until I left the Rio Grande Valley for law school in West Texas. I experienced culture shock.
I also experienced prejudice based on my ethnicity for the first time. This threw me into a tailspin, and I quickly found myself trying to hide my upbringing.
I recall attending a networking event where people were discussing childhood vacation memories, and ashamedly feeling like I had nothing to contribute. I felt embarrassed sharing that my family vacations were annual three-day trips to San Antonio, and that we alternated between SeaWorld and Fiesta Texas each year.
Over time however, I have realized that my upbringing and experiences are not disadvantages, even if my small talk is a little different. Realizing this truth has allowed me to embrace my roots. More importantly, it has emboldened me to share my story and esteem my heritage.
There's a scene in the 1997 film Selena where Abraham Quintanilla (played by Edward James Olmos) expounds on the complications of being Mexican American: "[W]e gotta prove to the Mexicans how Mexican we are, and we gotta prove to the Americans how American we are … it's exhausting!"
I've been blessed with mentors who, like me, live in this dichotomy, understand where I've been and where I endeavor to be, and are uniquely equipped to show empathy and guidance along that journey. Similarly, I've been blessed with mentors who have not lived these experiences but nevertheless advocate tirelessly for me and value my perspectives.
Just as my parents and other lawyers paved the path for me, I now have the honor of doing the same for others. Why? Because visibility matters. And I've received a gift I can't keep to myself.
Josué Galván is a trial & appellate lawyer in the San Antonio office of Jackson Walker.
Publisher's Note: The Hispanic Heritage Month articles are published outside of our paywall courtesy of Androvett Legal Media & Marketing's support for this special series.