A few years ago, a narrative dominated the marketplace for corporate lawyers in Texas: There simply weren't enough of them to handle the legal workload of the state's big and fast-growing economy. The result: An intense war for talent in Texas, marked by high-stakes recruiting, widespread job-hopping, soaring salaries and ever-bigger bonuses.

New data from The Texas Lawbook 50 headcount survey confirm the process accomplished what it should – more corporate lawyers in Texas.
The latest Lawbook 50 headcount rankings, released yesterday, shows the leading firms in Texas corporate law employed 7,990 lawyers at the end of 2022 – a net gain of 290, or 3.8 percent, over the previous 12 months.
The 2022 gain nearly matched the Lawbook 50 record of 301 lawyers, or 4.1 percent, set the previous year. And what a year it was – a true blockbuster. Lawbook 50 revenues jumped 17 percent, and all 50 firms increased revenues per lawyer. Profits per equity partner at the 15 leading firms averaged almost $4 million – up 20 percent.
The hiring spree in 2021 had been portrayed as bit of a fluke, red hot only because the previous year's global Covid-19 pandemic disrupted hiring by firms and job searches by lawyers with itchy feet. In this context, the surge of net hiring, and the business activity that prompted it, was to a great extent a shift forward in time of pent-up labor mobility.
It might not be repeated.
And yet it was, give or take a dozen lawyers. A second straight year of surging net hiring, taking place after the pandemic's economic pain had faded, may call for a reassessment of the narrative of a shortage of corporate lawyers in Texas.
Not enough lawyers? Somehow or somewhere, the Lawbook 50 firms found an additional 587 lawyers in two years. We can up that to 738 lawyers by including net hiring at the 20 or so firms that submitted data but fell below the headcount ranking's 50-firm cutoff.
Demand does call forth supply.
Following the Money
In Texas, the factors that ramped up demand for corporate legal services and the lawyers who provide them have been around for at least a decade – a booming state economy, the in-migration of businesses, the restart of civil jury trials and an influx of out-of-state law firms.
"The law firms are following the money, and more money is flowing to Texas," said Kent Zimmermann, a principal at the Zeughauser Group, a strategic advisor to law firms.
The increasing legal workload in Texas didn't immediately spark a hiring spree. From 2010 to 2018, the Lawbook data show, net hiring by the 50 largest law firms in Texas rose by just 107 lawyers, an annual average of only 12 (chart 1). Net hiring declined in three of those nine years.
Chart 1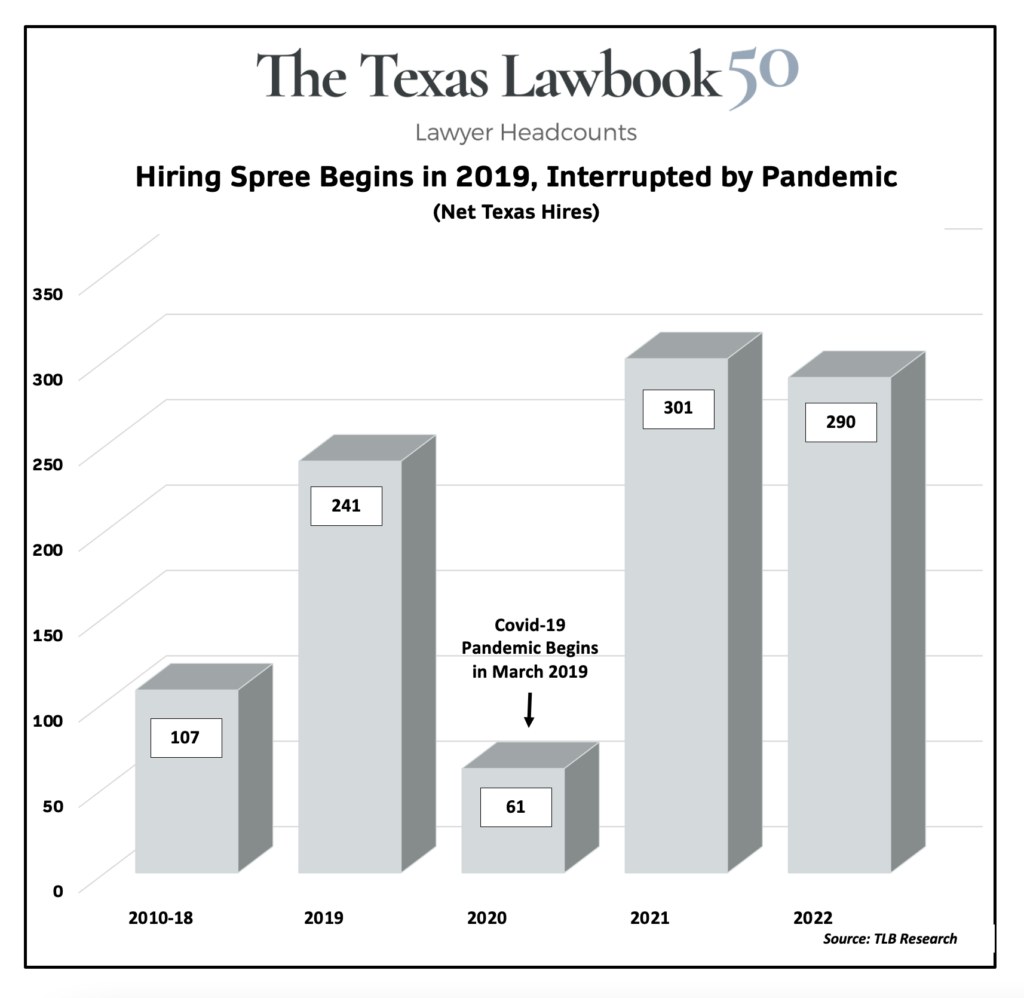 In those years, the labor market dynamic largely consisted of out-of-state firms expanding by poaching lawyers from the legacy Texas firms – basically, a game of musical chairs for nearly a decade.
The 2019 headcount survey offered a clue that times were starting to change. The Lawbook 50 firms broke out by adding 241 Texas lawyers – a jump of 3.5 percent in a market that had averaged around 1 percent a year. No prior year topped 125.
Would a boom with little net hiring become a boom with a lot of net hiring? It took some time to figure that out.
Corporate law started 2020 on a torrid pace, but the pandemic crippled the economy in March. During the rest of the year, law firms learned to conduct their business remotely, avoiding a potentially disastrous year for business.
Toward the end of 2020, Texas corporate law came roaring back, with the Lawbook 50 even managing to increase revenues and eke out a small net gain of 62 in the Lawbook 50 headcount. That set the stage for 2021's blockbuster, followed by the continued expansion in net hiring in 2022.
We can now assess the market for legal talent on four years rather than just two. Even with the monkey wrench of the pandemic, Lawbook 50 firms added 889 lawyers from 2019 to 2022, an average of 222 a year. The broader sample's employment grew by 1,142 lawyers.
A relative handful of experienced lawyers migrated from other states, but most new hires were first-year law school graduates. And the pipeline of rookie lawyers comes through summer clerkships at the law firms.
Vinson & Elkins, the No.1 firm in the new headcount ranking, had 141 law students in its summer associate program last year, up from 119 in 2021. The firm has 163 law students in its summer associate program this year. Kirkland & Ellis has 390 attorneys in its Dallas, Houston and Austin offices, and the firm has scheduled 70 first-year lawyers to start this fall, the firm's largest rookie class since opening in Houston in 2014.
Haynes & Boone added 36 new associates in 2022, with another 36 set to arrive this October, managing partner Taylor Wilson said.
Why didn't firms ramp up hiring sooner?
No one can say for sure, and each firm might be different, but confidence in the Texas legal boom might have taken a while to solidify, especially amid the flux of the new competition for talent from out-of-state firms.
Until recent years, firms might have been reluctant to make the financial commitment to increase lawyer headcounts because getting it wrong risks diluting key financial metrics, such as revenues per lawyer and profits per equity partner.
Even Underperforming Lawyers Were Needed
While it was another year of solid headcount growth, 2022 presented some subtle differences. In interviews, firm leaders and industry experts told The Lawbook thathiring shifted away from associates needed to handle the existing workload toward partners who could bring business with them.
"Both have slowed to be honest with you," said C. Timothy Fenn, office managing partner for the Houston office of Latham & Watkins, which added 45 lawyers in Texas in 2022 – more than any other law firm. "The associates slowed because of demand. For partners, it's partly demand and partly supply. We would always look at opportunistic hires, even in a segment that's down."
Dallas-based legal recruiter Kate Cassidy said law firm leaders shifted their hiring focus in 2022 to "strategic partner hiring that produce immediate returns and bring portables."
"In past years, firms were more willing to invest in younger partners to help them grow their business," Cassidy said. "Now, they are focused on keeping their profits per equity partner steady and not diluting the math."
In addition, the insiders said, hiring was brisk early in the year, but the pace slowed in the final months of the year.
"We are still hiring, but we are seeing some slowing down and not the crazy growth at the pace of a year ago," Winstead Chair David Dawson said.
As the talent market calms down a bit, firms are hoping to avoid a repeat of last year's big raises and bonuses. The industry, Zimmermann said, is "picking up the pace" on cleaning up ranks – "upgrading by getting rid of people contributing less and bringing in those who contribute more."
Zimmermann, Cassidy and other legal industry experts say firm leaders were hesitant to push out underperforming associates during the pandemic.
Corporate transactional practices were so hot and stayed so busy that even underperforming lawyers – those billing 2,000 hours or less – were needed. As practice groups focused on M&A and capital markets slowed in 2022, firm leaders returned to more rigorous evaluations and started weeding out less productive associates.
"Firms are just getting back to the basics before the crazy hiring years of 2019 to 2022 when even underperforming associates were valued," Cassidy said.
The Lawbook 50 headcount results suggest corporate law remained robust in Texas last year. In a few weeks, the Lawbook will examine the financial side more directly with its annual review of firms' Texas revenues, profits per partner and revenues per lawyer. With employment up so strongly, the financial data will likely show significant gains overall in 2022.
The Texas Lawbook 50
April 6 – Susman Godfrey Turns 40, 'Best Year Ever'
April 10 – The Big Three: Baker Botts, Fulbright and V&E: Different Journeys, Different Results, Still Big
April 19 – In Texas, Firms Add Corporate Lawyers at Near-Record Pace