Joe Davidson
Joe Davidson was considering his life and career options in 1994.
A 1987 graduate of the University of Chicago Law School, Davidson spending several years practicing corporate securities and real estate law at Paul Hastings and then Dewey Ballantine in Los Angeles – all while living on a 34-foot sailboat in Marina del Ray.
Growing up with a father who had been in the U.S. Air Force, Davidson attended nine schools in five states and three countries. He was anxious to make a move.
Davidson, freshly married, thought about moving to The Netherlands to practice law. Maybe buying a small hotel on Maui in Hawaii.
The thing was, Davidson knew exactly the job he wanted: to be a lawyer for his alma mater, Rice University in Houston.
Rice had a new general counsel, Shirley Redwine, but she wasn't returning his calls. And he called a lot. He even traveled to Houston just to meet her. Still, no luck.
"Thinking that was a long shot, we made plans to move to Seattle, open a bar with a couple friends and be a part-time lawyer with a firm to be sure we could pay the bills," he said. "And then I received the call from Shirley Redwine, and here we are."
Twenty-eight years later, Davidson is the senior associate general counsel for Rice University and general counsel of Rice Management Company, the entity that includes Rice's $7.8 billion endowment, which provides about 40 percent of the university's operating revenues.
"My biggest accomplishments have been to be able to facilitate and support the big visions and thinking of Rice's faculty, students and administrators — supporting them in obtaining research funding, conducting fieldwork, publishing their results and licensing them for further research and commercial development," Davidson told The Texas Lawbook.
Premium Subscribers: For an exclusive Q&A with Joe Davidson Click Here.
"I have had so many rewarding days, it's really not possible to pick just one," he said. "It's really all about each one of those moments when you know you have a positive impact in the life of the university, its people and its operations."
The Association of Corporate Counsel's Houston Chapter and The Texas Lawbook agree and honored Davidson on May 4 with the 2023 Houston Corporate Counsel Award for General Counsel of the Year for a Nonprofit Institution.
"Joe Davidson has been a proud Rice Owl since his collegiate days," said Greenberg Traurig shareholder Denis Braham, who nominated Davidson for the award. "Joe truly has unmatched expertise and plays a critical role in a variety of complex matters, both domestic and international. Joe's innovation, tenacity and legal knowledge affords Rice the ability to expand its campus and its resources."
"Most recognizable are the improvements made to the campus under Joe's guidance, as well as to areas of the greater Houston community, such as the Ion District, a transformational project that will introduce a new kind of urban district to Houston," Braham said. "Joe was also part of the vision that allowed the university to become known as a leader in nanotechnology. He worked tirelessly to develop the licensing and commercialization of the intellectual property needed for developments that progressed the technology."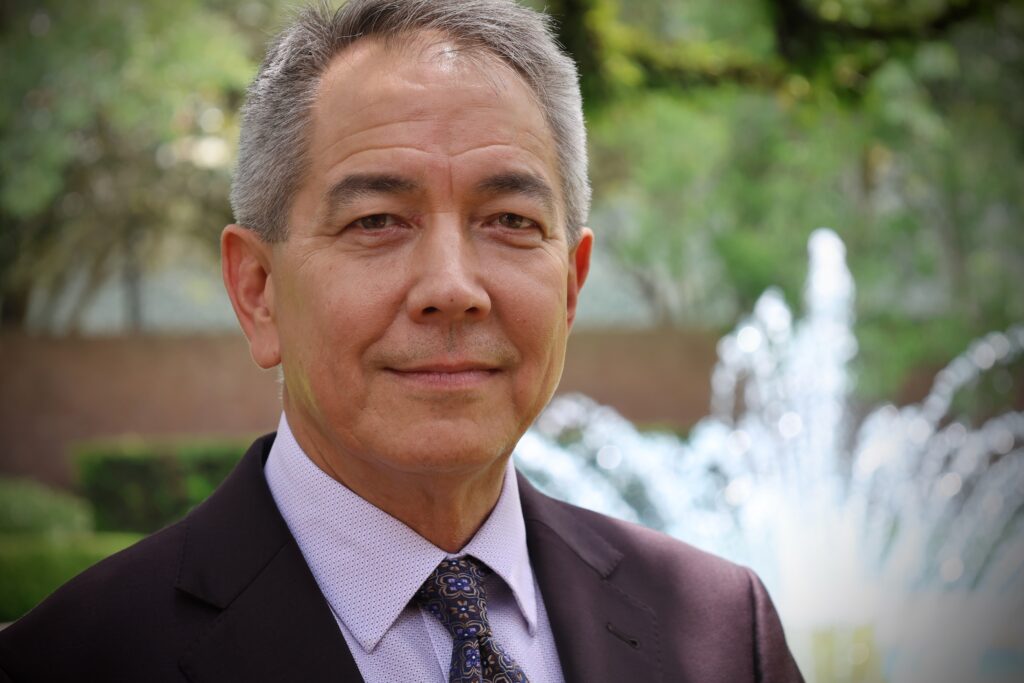 "My three years in Japan were the most impactful. The ability to travel freely and safely by train as a youth back then was a tremendous experience."
Photo: Sharon Ferranti
Kurt Nondorf, a partner at Jackson Walker, said that Davidson "is an overachiever" who truly "loves his client."
"I don't know if I have ever worked with in-house counsel as intelligent and technically adept as Joe," Nondorf said. "Despite his ability to understand and digest a myriad of difficult concepts, he is able to receive counsel in those areas of expertise for which outside counsel was hired, listening, asking good questions and moving forward in reliance on that advice. He can delegate without losing control and get into the weeds when necessary."
Davidson was born in Ogden, Utah, where his dad was a young first lieutenant stationed at Hill Air Force Base.
From kindergarten through high school, he attended schools in California, Alabama, Hawaii, Texas, Ohio, Germany and Japan. His three years in Japan — from the eighth grade through his sophomore year of high school — were the longest he stayed anywhere. His father graduated from West Point and joined the Air Force, but because he was colorblind he could not become a fighter pilot. Instead, his father became a "space and missiles guy."
"My three years in Japan were the most impactful," he said. "The ability to travel freely and safely by train as a youth back then was a tremendous experience, especially as an active backpacking scout and avid outback and downhill skier."
Davidson's mother ran the household. The family spent most summers with relatives in Hawaii.
"My grandfather, Sadao Haitsuka, restored ancient Hawaiian fishponds used for ocean life management on Oahu and the Big Island," he said. "I learned a lot about the ocean, and wildlife and plants from my grandparents."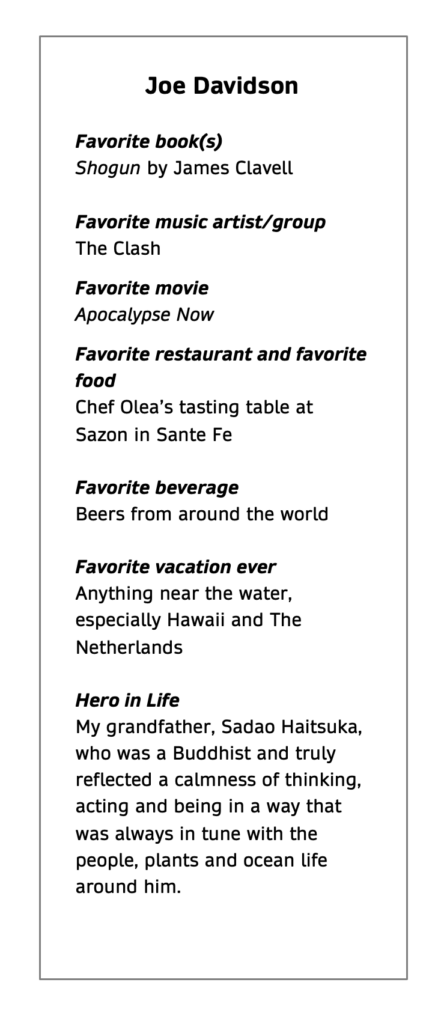 Davidson is close to both sides of his family. His dad's father, Joe Davidson, was a wildlife conservationist who worked to restore wildlife populations and create sustainable ecosystems.
His grandfather did wildlife conservation projects for Houston businessman Alvin Moody, who graduated from Rice University and Yale Law School in the 1930s. He said his dad's stories about Moody's career and travel sparked his interest in attending law school.
"Mr. Moody became a wonderful mentor to me through my years at Rice and the University of Chicago Law School," Davidson said. "We talked politics and policy and the world. My memories of our conversations together continue to influence my thinking today."
Davidson and his longtime girlfriend married in 1994 and wanted to start a family.
"I knew the law firm life was not the most conducive for how we wanted to do it," he said. "I saw an ad in a legal newspaper for an in-house lawyer at another university."
Davidson set his sights on Rice. After much pursuit, he finally convinced Redwine to hire him in 1994.
"Shirley Redwine brought me on board with an initial focus on contract support for sponsored research, facilities and engineering and athletics," he said. "I thought we would be caught [up] on the backlog and proactive in our outreach within six months. Twenty-eight-plus years later, I still feel like I am always working hard to stay caught up and to be proactive."
"I could not have asked for a better boss than Shirley Redwine," he said.
Davidson's work with Rice evolved over the years to include technology transfer and licensing, export controls, copyright and fair use, trademarks and licensing, study abroad programs, student organizations and activities and real estate development.
About half a dozen years ago, Davidson transitioned to primarily supporting Rice Management Company regarding endowment investments. He was recently promoted to general counsel of the management company as well as senior associate GC at the University.
Davidson said his favorite part about his job is "coming back to my alma mater and being able to work closely with the exceptional faculty" who were once his mentors, while also "working closely with the next generations of brilliant, energetic and accessible researchers and teachers [and] helping students like Engineers Without Borders doing vital water projects in remote locations in Central America."
During the past 18 months, Davidson has worked on some remarkable projects, including:
Supporting Rice Management's real estate team in developing Rice Village for customers to enjoy new and existing shops and restaurants;
Supporting the real estate team to activate The Ion, a 16-acre innovation district in midtown Houston with the mission of bringing meaningful change to Houston and its communities;
Working on Rice Management's direct investments in the Burrell College of Osteopathic Medicine and the Idaho College of Osteopathic Medicine and serving on the board of trustees at each of those institutions.
"What a great intersection of investment, education and healthcare," he said. "Delivering medical educational opportunities and returning medical professionals to rural communities and regions in need."
On the Ion District project, Davidson did the legal work to reacquire property leased to Sears in the 1940s with additional surrounding acreage for a total hub of about 15 acres.
"I knew the law firm life was not the most conducive for how we wanted to do it. I saw an ad in a legal newspaper for an in-house lawyer at another university."
Photo: Sharon Ferranti
Davidson is quick to give credit to others. He said he partnered with Greenburg Traurig shareholder Frank Jones to negotiate and implement the economic development agreement with Midtown neighborhood and the community benefits agreement with the City of Houston. And he worked with the real estate group at Jackson Walker to "re-envision and rebuild the old Sears building as The Ion and as a catalyst for the Ion District."
Another critical player in the The Ion District, according to Davidson, was Rice's investment director, Alan Arnold, who died in 2020 at the age of 46 after a short battle with cancer.
Davidson said the "biggest legal challenge" he faces is "the ever evolving and expanding regulatory landscape" for Rice University and the breadth of its operations.
"Higher ed is one of the most regulated industries in the U.S., mainly by the U.S. Department of Education and Texas state regulatory authorities," he said. "Plus, there are political and other considerations regarding our research institutions."
"Joe has a pivotal role in the stewardship of the University's financial resources," said Greenberg Traurig's Braham. "By leading Rice's legal investment strategies, Joe is impacting the lives of Rice students and faculty. At the end of the day, for Joe, it's all about the return going to the university, admitting more students who couldn't otherwise afford to attend college and making positive contributions to the community."
In 2013, tragedy struck Davidson's family. His nephew, Chance Davidson, succumbed to a form of brain cancer and died at age 13.
"We were told that there was an 80 percent [chance] the medical treatment would work, but that also meant there was a 20 percent it wouldn't work," he said.
"My brother, Scott, and his wife, Andrea, saw a need in the pediatric cancer community," he said.
The family established the Chance for Hope Foundation, which provides six rent-free fully furnished apartments for families needing housing while their children are being treated at Texas Medical Center. The foundation also provides meals to families at the pediatric cancer unit and funding for critical research related to pediatric cancer.
"Chance was a wonderful young man [and] we miss him dearly," Davidson said.