Place 7 on Houston's Fourteenth Court of Appeals is on the ballot this election season. It's a race between Republican incumbent Ken Wise and Democrat challenger Tamika "Tami" Craft.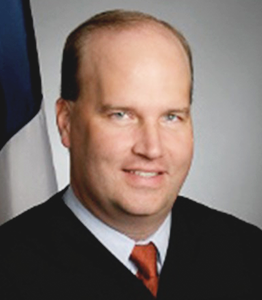 Wise is a seven-year veteran of the court who initially thought he'd be pursuing a career with the FBI. He first joined the Fourteenth Court through an appointment by Gov. Rick Perry and won the election the following year. Before his tenure on the appellate court, he spent a decade as a district judge in Harris County.
He spent his couple of years on the trial bench as the local administrative judge, a position in which he was the leader of 59 district judges in Harris County. Wise is popular with the legal community that has matters before him. In a poll of lawyers released Tuesday by the Houston Bar Association, Wise garnered 917 votes in favor of his reelection, which is about two-and-a-half times the 369 votes for Craft to win.
Craft seeks to be the first African American justice to be elected to the Fourteenth Court. She maintains a practice that over the years has ranged from criminal defense to plaintiffs' civil rights work, and she currently serves as an administrative judge for the Texas Education Agency and an appellate attorney for the Texas Workforce Commission.
She pursued a career in the law after undergoing a tragic personal experience. In the 1980s, her cousin and his two children were murdered, and she interviewed everyone involved with their case to ensure her family reached the truth and that the woman convicted was the true murderer before she was executed in 2005.
Craft did not respond to multiple requests for an interview or to complete a questionnaire sent out by The Texas Lawbook, but Wise's responses are below.
Ken Wise
Q: What led you to practice law?
A: After my first year of law school, I had the opportunity to clerk at Liddell, Sapp, Zivley, Hill & LaBoon in Houston. I found a mentor in former Chief Justice John Hill and he inspired me to enter the practice of law. I had originally planned to join the FBI.
Q: What led you to decide to become an appellate judge?
A: After a decade as a district judge, I had served in just about every capacity available to a district judge. I was local administrative judge of the third largest county in the nation, I had been civil administrative judge, a member of the Harris County Juvenile Probation Board, and had been in charge of completing and moving 59 district courts, the district clerk and county clerk into the first new civil courthouse built in Harris County since 1910. I felt like it was time and two justices left at the same time, so the governor asked me.
Q: What are one or two opinions/decisions you authored that you consider your best work?
A: I hope they are all my best work. I devote my full attention to each opinion that comes out of my chambers. While some may seem more significant than others; to the parties on a particular case, that case is the most important case and deserves my best efforts.
Q: What makes a good appellate judge?
A: Experience. Decisions of an appellate court affect cases around the state. The experience to interpret and analyze the issues and law is so critical at the appellate level.
Q: What is the most important decision or ruling that you have made since being on the bench and why is it important?
A: While I can't pick just one case that is most important, I will say that it is critically important that justices interpret and apply the law as it is, not as one might wish it to be. Therefore, it is especially important that justices have the experience and integrity to apply the law correctly, even if he or she might not like the result.
Q: Have you written an opinion or joined a decision that you now regret?
A: No. I do my best every day to honor the confidence that Texans have placed in me by applying the law as written by the legislature.
Q: If you could make one or two changes on how the courts are handling the COVID-19 pandemic, what would they be?
A: I'd like to get back to regular oral argument and an environment where my staff and I can be together. However, that is not up to us and I am proud of the way the Texas court system has handled the pandemic. My chambers has continued to produce opinions and orders without missing a beat.
Q: Who is an appellate judge (current or retired) you consider a role model and why?
A: I have to mentioned Chief Justice John L. Hill, Jr. again. I learned so much about being a lawyer and about politics from him. How to prepare, how to treat clients, judges, court staff, opponents. I also learned to set very high standards for myself because he certainly did!
Q: What separates you from your opponent?
A: My opponent has no judicial experience whatsoever, much less my extensive record of service and achievement. I hope the voters of the 14th Appellate District choose a proven record of service to Texas.
Q: No matter what you say here, some voters will vote against you simply because they're straight ticket voters and you're on the wrong side of their ballot. There is another group of voters who are inclined to do the same but could be convinced otherwise. What would you say to them? Why should they vote for you even if your political party doesn't match their values?
A: There is no such thing as "Republican justice" or "Democrat justice." The judiciary is the branch of government with which the average citizen is most likely to interact. The voters should want a justice who will interpret and apply the law strictly, as written by the legislature, no matter what the result. That provides the consistency that our system demands. I have a record that proves I am that justice, regardless of party label.
Q: Is there anything else you would like voters to know?
A: I have dedicated my entire career to serving Texas. I have lived my entire life in the Fourteenth Appellate District and love this community. I will continue to dedicate myself to diligent and careful judicial decision-making. If the voters want a justice they can count on, they should vote for Ken Wise.
The answers submitted by candidates may be edited to comply with Texas Lawbook style guidelines. 
Publisher's Note: This coverage of the 2020 judicial elections by The Texas Lawbook is being made available outside our paywall courtesy of Thompson Coburn and Carter Arnett.