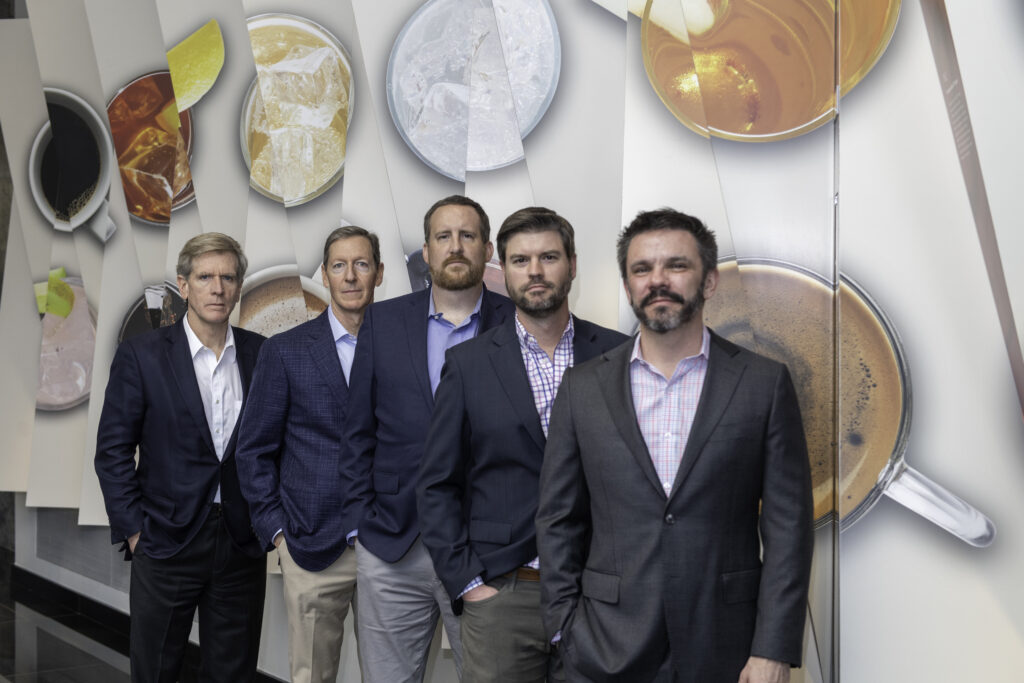 Three days before Christmas 2021, Delaware Superior Court Judge Abigail LeGrow logged into Zoom for a morning remote court hearing. The faces of more than a dozen lawyers appeared on the screen.
"This might make a record for me in terms of squares," she said.
One by one, the lawyers — all of them billing well north of $1,000 an hour — introduced themselves. They represented three parties in a billion-dollar dispute in which American Bottling Company, a subsidiary of Plano-based Keurig Dr Pepper, sued Coca-Cola and its recently acquired subsidiary BA Sports Nutrition, also known as BodyArmor, for breach of contract and tortious interference.
American Bottling and BodyArmor actually had a highly successful bottling and distribution partnership from 2015 to 2018, but then BodyArmor walked away to do a separate deal with Coca-Cola after Dr Pepper Snapple announced its $18.7 billion merger with Keurig Green Mountain in the summer 2018.
From fall 2018 through December 2021, the corporate giants of the soft drink industry — No. 1 Coca-Cola and BodyArmor versus No. 3 Keurig Dr Pepper and American Bottling — battled through lawsuits, motions, depositions and hearings. Judge LeGrow constantly referred to Keurig Dr Pepper as American Bottling's "great-grandparent."
But Christmas came early in 2021 for Keurig Dr Pepper's legal team.
Judge LeGrow told the lawyers that Wednesday morning that she would, at the end of the hearing, issue her summary judgment ruling. The 48-page opinion found that BodyArmor's 2018 action constituted a breach of contract as a matter of law. The judge said that a jury would be empaneled to determine how much BodyArmor should pay Keurig Dr Pepper in damages. The jury would also determine if Atlanta-based Coke illegally interfered in the business partnership between American Bottling and BodyArmor.
The judge told the lawyers that the case would go to trial in five weeks — on Jan. 31, 2022 — in the same seventh floor Wilmington courtroom where Elon Musk had testified five weeks earlier in a Tesla shareholder lawsuit over his compensation.
Judge LeGrow, however, had a warning for the defendants regarding its key witness, BodyArmor cofounder Mike Repole (pronounced Ree-pole-ee).
"I am clear about my expectations — there will be no curse words," Judge LeGrow said emphatically. "The number of times that the F-word appears in the index at his deposition alone is appalling. There will be no disrespect shown to opposing counsel or the court or anybody else."
As the remote hearing was winding down, lawyers for BodyArmor and Coke asked the judge to push Keurig Dr Pepper lawyers to get more serious about settlement negotiations.
Listening quietly off camera, Keurig Dr Pepper senior counsel Stephen Cole and recently retired general counsel Jim Baldwin were almost giddy.
"That hearing, the Repole deposition and the summary judgment ruling add up to the best days of my career," Cole, who heads litigation for Keurig Dr Pepper, told The Texas Lawbook. "I was calling Anthony [Shoemaker] giving him live updates from the hearing."
Shoemaker, who had just replaced Baldwin as KDP's new chief legal officer, knew victory was in sight.
By the end of the second week of January, Body Armor and Coca-Cola had paid more than $925 million to Keurig Dr Pepper.
"Without question, the day we won the summary judgment decision against BodyArmor was my best day on the job," Shoemaker said. "Getting to share those pieces of news with our executive team was about the best possible thing a new general counsel could ask for."
"It is not often that a corporate legal department is a nearly $1 billion profit center for a business," Shoemaker said.
Citing the remarkable success of the litigation, the Association of Corporate Counsel's DFW Chapter and The Texas Lawbook have named Keurig Dr Pepper's Shoemaker, Cole and Baldwin, as well as the company's lead outside counsel at Gibson, Dunn & Crutcher, as one of two finalists for the 2022 DFW Corporate Counsel Award for Business Litigation of the Year.
The finalists will be honored and the winners announced Jan. 26 at the 2022 DFW Corporate Counsel Awards ceremony at the George Bush Institute. The Business Litigation of the Year award is one of three honors that recognizes the in-house lawyers and their outside counsel.
"It is not every day that a case comes along that gives in-house counsel the opportunity to add nearly a billion dollars of value to their client's business," echoed Gibson Dunn partner Russ Falconer, who co-led the litigation for KDP with partner Rob Walters.
No one was more pleased with the outcome than Baldwin, who had retired in September 2021 after 25 years in the legal department but still advised Shoemaker and Keurig Dr Pepper.
"This was an incredibly important and well-thought-through litigation," Baldwin told The Texas Lawbook. "BodyArmor was our business partner and we were an investor in BodyArmor. We have relationships with Coca-Cola, as we bottle each other's brands in some parts of the country.
"We talked in-depth about the possible repercussions of bringing a lawsuit against business partners," Baldwin said. "We knew there was real risk filing the lawsuit, but we also were convinced that this was the right thing to do for our business and that we were right."
The Association of Corporate Counsel judges who selected the two Business Litigation of the Year finalists praised Baldwin's decision to hire Shoemaker and Cole—– both lawyers with a background in sports broadcasting when they were in college — during the early days of the Covid-19 pandemic and then to trust them with critical decision-making in this historic case.
"The recruiter that brought me to KDP really impressed on me how great the leadership was in the KDP legal department," Cole said. "Jim was an exceptional GC who really established the collaborative and collegial environment that the department maintains. And it's been a pleasure to watch Anthony step into the role, maintain that incredible environment and really work to expand the legal department and our influence within the organization as a whole."
Jim Baldwin's Grand Exit
Baldwin was born and raised in Dallas. His father was an ear, nose and throat doctor. His mother was a middle school teacher. His parents wanted their son to go to medical school, but he followed his older sister, who became an estate planning lawyer.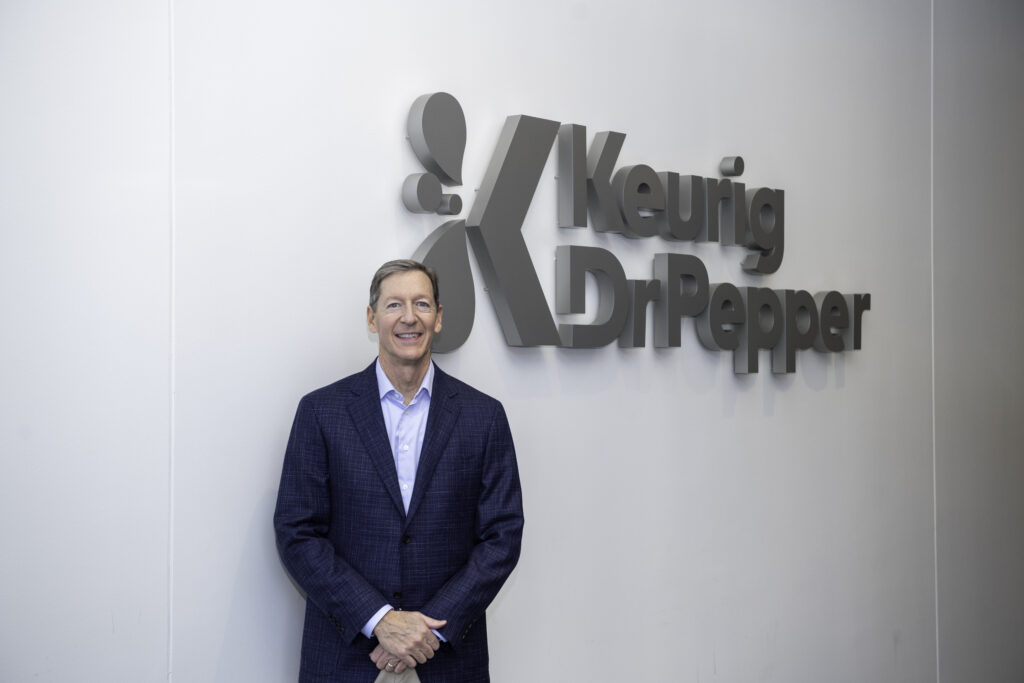 With a degree in English from Washington & Lee University in Virginia, Baldwin returned to Dallas where he earned his law degree from the SMU Dedman School of Law in 1986.
He joined Berman, Mitchell, Yeager & Gerber, a litigation boutique in Dallas where, only a couple months after passing the bar exam, he got his first taste of the courtroom — a two-day medical malpractice trial involving a back injury.
"I was so excited to be in court and to get to cross-examine witnesses," he told The Lawbook in a 2018 interview. "I think we won the case. We represented the doctor, which made my parents very happy."
In 1988, Baldwin moved his practice to Hutcheson & Grundy, a 75-attorney law firm based in Houston. Dr Pepper was a client of the firm and Baldwin handled several litigation matters for the soft drink maker, including an antitrust dispute with the Federal Trade Commission in 1995.
"Because of the case, I learned a lot about the bottling and soft drink industry," he said.
In 1997, Dr Pepper/7 Up hired Baldwin as an assistant general counsel to handle the negotiations of bottling agreements, supply chain issues and employment litigation.
"It is a significant change going in-house because you are constantly surrounded by your client," he said. "Great things about being in-house are that you are able to go deep into a business matter and you have the very same goals as those you are representing."
Dr Pepper promoted Baldwin to general counsel in 2002.
"Today's GC must be part of the business," said Baldwin, whose favorite drinks are Diet Dr Pepper and Original Donut Shop Coffee. "It is not enough to just be a legal advisor; GCs must provide strategic and business advice. GCs are much more deeply involved in corporate compliance and risk management. We are required to know the business and the industry and to see around the corner to foresee roadblocks."
Baldwin guided the company through several major transactions, including Dr Pepper Snapple's 2008 spinoff from Cadbury Schweppes and the subsequent IPO and Dr Pepper Snapple's acquisition of Bai Brands, maker of antioxidant-infused, low-calorie beverages, in 2016 for $1.7 billion.
In 2015, he led Dr Pepper Snapple's subsidiary American Bottling in forming a bottling and distribution partnership with BA Sports Nutrition, the maker of BodyArmor, which was a fledgling competitor of Gatorade. Dr Pepper Snapple even invested in BodyArmor, reportedly buying 15 percent of BA Sports for about $45 million. The partnership was widely viewed as highly successful.
Baldwin's biggest M&A deal came in 2018 when he guided Dr Pepper Snapple through its $18.7 billion merger with Keurig Green Mountain, known for its single-serve coffee system.
"The Keurig transaction was fast-paced and required the focus of every member of the legal team," Baldwin said in 2018. "The negotiations over some very complex and significant issues were at an accelerated pace and time frame. We went from 52 brands prior to the merger to more than 125 brands."
As a downstream subsidiary of Dr Pepper Snapple, American Bottling was not a party to the Keurig merger, and Dr Pepper lawyers argued that the partnership agreement with BodyArmor was unaffected.
BodyArmor officials thought otherwise.
"BodyArmor, put off by the new controlling entity's perceived lack of interest in acquiring BodyArmor as a whole … took the position the merger triggered BodyArmor's right to terminate the distribution agreement immediately with cause and without paying the substantial termination fee" under the contract, Judge LeGrow wrote in her summary judgment motion.
Court records establish the timeline:
July 9, 2018: Keurig Dr Pepper closed its merger.
July 19, 2018: Coca-Cola's board of directors authorized management to negotiate an agreement with BodyArmor.
Aug. 13, 2018: BodyArmor terminated its distribution agreement with American Bottling.
Aug. 14: BodyArmor signed a distribution agreement with Coca-Cola and announced that Coke had purchased a 15 percent ownership stake in BodyArmor for $300 million.
March 11, 2019: American Bottling sued BodyArmor and Repole.
"I talked with our CEO about which law firm we should hire for this case," Baldwin said. "This was a different kind of litigation animal for the company and the industry, and we agreed that we needed a firm with fresh eyes."
Baldwin had used Gibson Dunn's transactional lawyers to handle a couple billion-dollar M&A deals. He knew Gibson Dunn partner Rob Walters, who had just won a huge victory representing AT&T in an antitrust lawsuit against the federal government over the Time Warner acquisition.
"Rob is known far and wide as a great trial lawyer," Baldwin said.
Walters put together a small team of lawyers that included Gibson Dunn associate Megan Hulce and partner Russ Falconer. The team slowly grew to add associates Sophie Rohnke, Andrew Bean, and Emily Jorgens to handle document production and review, witness prep, motions practice, expert work and depositions.
"The liability case turned on the interpretation of one sentence of a contract, and it immediately seemed to me that we had the better reading of that provision," Falconer said. "Initially, I thought one of the challenges of the case would be the complexity of the merger and other facts relevant to the question whether BodyArmor had breached the agreement. But as the case went on, I felt more and more like our case was ultimately pretty simple and would present well to a jury."
Falconer said the decision to seek summary judgment "is a substantial undertaking, and it is an uncertain proposition — especially for a plaintiff in state court.
"The safer, easier course for a judge is almost always to deny the motion for summary judgment and set the case for trial," he said. "Ultimately, we made the assessment that, given the way the evidence had come in during discovery, our legal arguments were strong enough to be worth pursuing. That decision point was a critical moment in the case."
Back in Keurig Dr Pepper headquarters in Plano, Baldwin was also making changes.
Son of a Steel Worker Leads Keurig Dr Pepper's Legal Team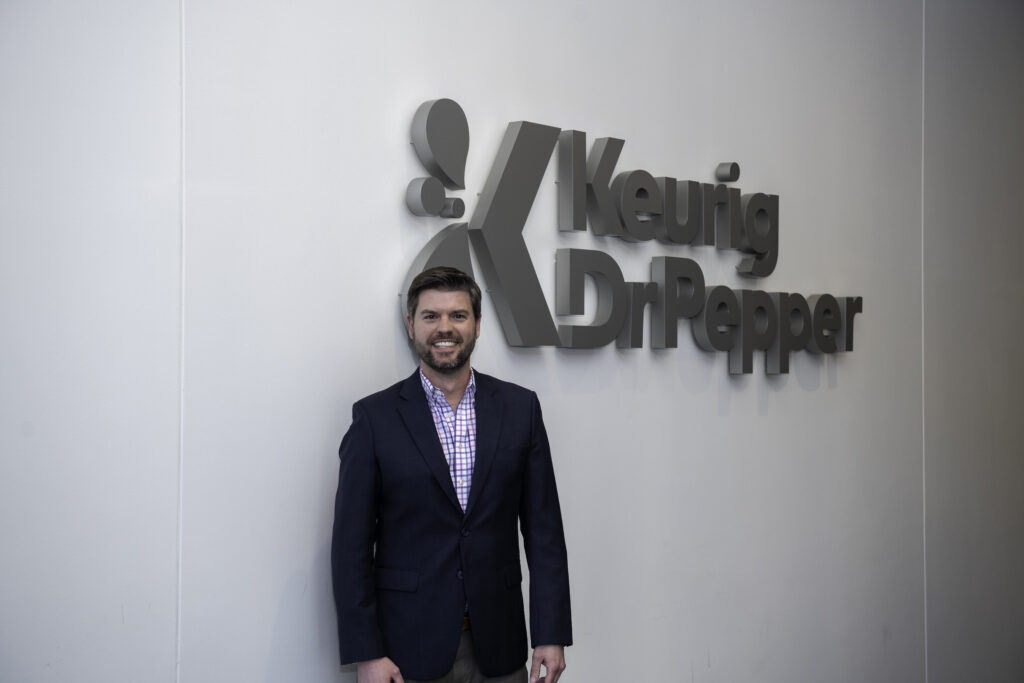 In April 2020, just as the Covid-19 pandemic was closing down most businesses, Baldwin hired Anthony Shoemaker as assistant general counsel over the soft-drink maker's corporate and securities legal functions. Shoemaker had developed a reputation as a rising in-house star during his more than five years in Tenet Healthcare's legal department.
Shoemaker was born and raised in the Houston suburb of Spring. He said he grew up in "a very standard suburban world." His father spent four decades in the steel industry. He started working on the floor of a steel plant, then moved up to sales and management roles for companies that import steel from around the world. His mother was a caseworker for an adoption agency.
"I really didn't know any lawyers at all as a kid, so I really knew nothing of what practicing law was all about," Shoemaker said. "Growing up, people told me I should consider becoming a lawyer because I was good at arguing and using logic."
Shoemaker said he knew he wanted a graduate degree, and law school seemed like a good fit for his skillsets.
Premium Subscribers: Check out an expanded Q&A with Anthony Shoemaker here.
"I was also endlessly fascinated with stories of people who had law degrees but had gone on to interesting careers in other fields," he said, pointing to former NBA commissioner David Stern, former NBA player and college basketball analyst Jay Bilas and former NFL commissioner Paul Tagliabue. "It blew my mind when I learned that [major league baseball manager] Tony La Russa had a JD."
During college, Shoemaker worked as a production assistant for CBS Sports.
After graduating from the University of Chicago Law School in 2007, he spent six years in the corporate transactional practice at Gibson Dunn in Dallas.
"I loved working on capital markets deals and the intersections and insights you would get to a company's business in order to draft the disclosure and cover off all the legal issues present in a major securities offering," he said.
In 2010, Shoemaker worked on a series of strategic restructuring transactions for The Williams Companies in Tulsa. Two years later, he was the lead associate on the initial public offering for Indianapolis-based ExactTarget, an early SaaS marketing automation company.
"They invited me to be part of the bell-ringing ceremony at the NYSE, and I still have all the memorabilia from that day in my office," he said. "Later in 2012 we completed another equity offering for ET and then by Spring 2013 we were working on deal with Salesforce.com where ET was acquired for $2.5 billion."

By the end of 2013, Shoemaker was ready for a new challenge. He wanted to stay in Dallas but did not want to work for another law firm.
"I just didn't see myself continuing to get more and more specialized in one narrow practice area the way many people become at elite law firms, particularly in order to make partner," he said.
In December 2013, A.H. Belo, the parent company of The Dallas Morning News, hired him as senior counsel.
"It was an interesting opportunity to learn how a publicly traded news media company operated, and with only two in-house lawyers on staff I knew I would have to do a little bit of everything," he said. "I was also drawn there by a lifelong love of great journalism and newspapers in particular. In-house life has been a great fit for me because you get to be constantly curious about your industry and company."
Tenet Healthcare came calling in October 2014. Shoemaker spent more than five years handling Tenet's corporate transactional matters and corporate governance investor relations, holding the title corporate secretary for the final two years.
"It was a very tough decision to leave Tenet," he said. "But I knew the opportunity at KDP was special and just couldn't pass it up. Looking back, the timing couldn't have been any crazier. When I interviewed for the role [in January and February 2020], we had never heard of Covid-19. I gave my notice to Tenet in mid-March, right before the world shut down.
"During that interim period, it seemed like the world was falling apart, markets were in chaos, and I called Jim many times to reconfirm that the job was still there for me," he said. "In my final days at Tenet, we completed a major debt issuance designed to make sure the company had sufficient liquidity for whatever was coming. It was all surreal."
What Shoemaker didn't know was that Baldwin would retire in September 2021, that he would be named Keurig Dr Pepper's new chief legal officer and that he would become critically involved in the case against BodyArmor and Coca-Cola.
But Shoemaker quickly realized he had an ace in the hole: Keurig Dr Pepper senior counsel Stephen Cole, who was hired in October 2020 but had taken the in-house lead in the BodyArmor litigation.
'Dream of Sports Broadcasting Conflicted with Paying Rent'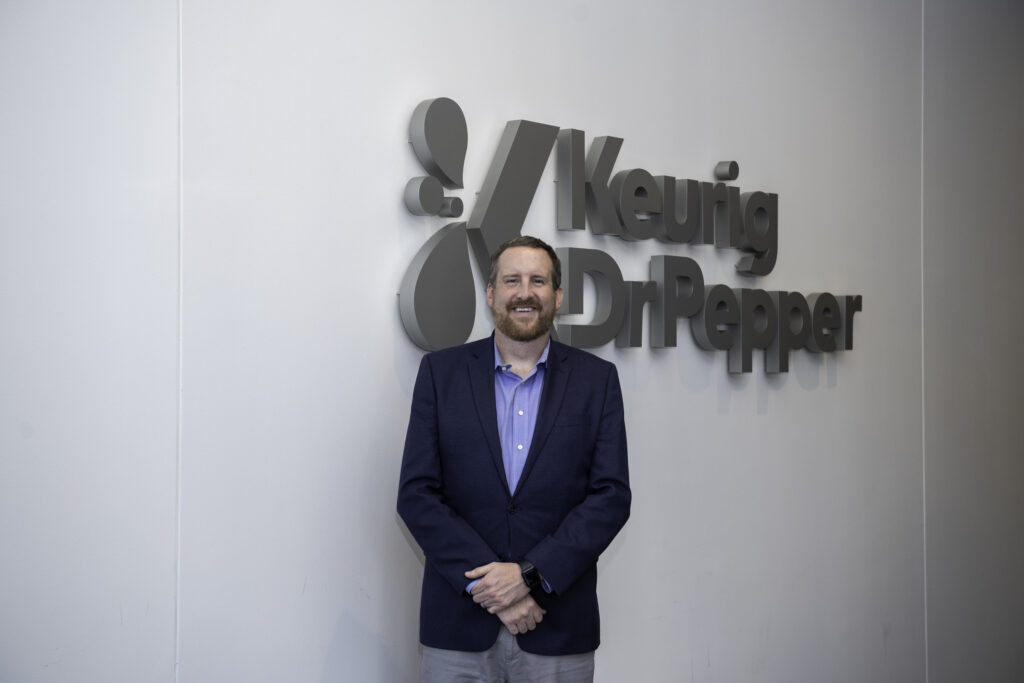 "Stephen was incredibly important to both the strategy and the tactical execution of the litigation," Shoemaker said. "He and the Gibson Dunn teamed worked seamlessly, and Stephen played an essential role in getting me up to speed, as well as 'translating' some of the more technical concepts into information a non-litigator like myself could understand."
"Stephen has a gift of simplifying complicated topics, and him doing that for me then allowed me to make sure our CEO and CFO were also coming along the journey with the right level of information," he said.
Cole was born and raised in Jackson, Mississippi. His father worked in safety for a road construction company, while his mother was a homemaker. His stepdad was a veterinarian.
During college at Mississippi State University, he worked for a radio station doing sports reports. With no lawyers in the family, Cole is frank about when the idea of law school first surfaced: "When I realized that my original dream of being a sports broadcaster conflicted with my goal of actually being able to pay my rent," he said.
"Entering my senior year of college, I had friends that were in law school, and what they were doing sounded interesting to me, and I didn't have many better ideas of how to make a living," he said.
Cole went to law school at Washington University in St. Louis, but he said his experience in sports broadcasting stayed with him.
"I love telling a story, and that's what sports radio is," he said. "There's no visual for a radio listener, so your voice is creating the entire picture for the audience. I think that translates directly to being a litigator, both when you're speaking to a jury or judge in court, and as an in-house litigator when I'm explaining complex – and not altogether intuitive – legal issues to our executives and business clients."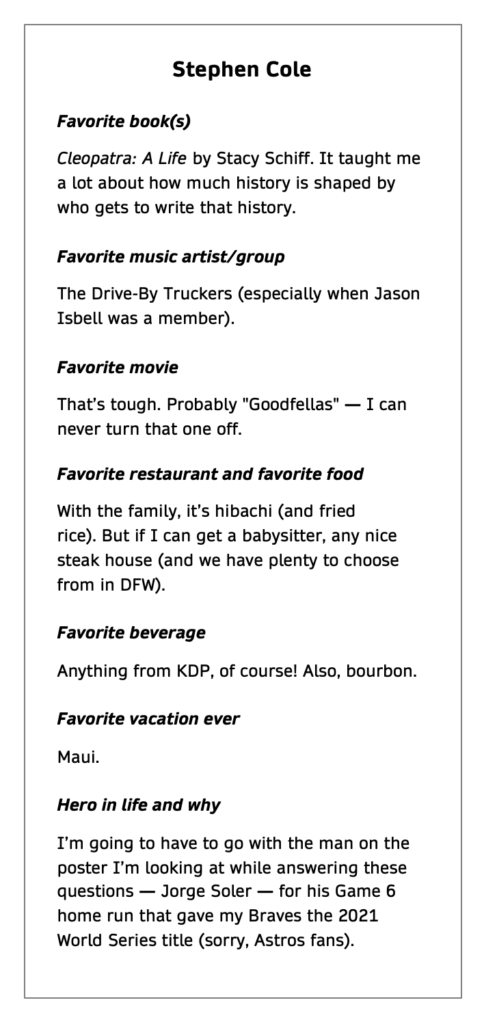 After receiving his law degree in 2011, Cole did clerkships with the Mississippi Supreme Court and the U.S. District Court in the Eastern District of Missouri. In September 2012, he joined the litigation practice at Locke Lord in Dallas for 18 months and then jumped to the litigation boutique Lynn Pinker Hurst & Schwegmann for three years.
At Locke Lord, he represented the Walt Disney Company in a trademark lawsuit involving one of the characters from Toy Story 3. At Lynn Pinker, he represented Southwest Airlines in the Love Field litigation with the City of Dallas, Delta Airlines and several other parties.
"In fact, I lost an argument in front of Judge Ed Kinkeade in that case to Russ Falconer," he said. "I was right, of course, but Russ was much more persuasive."
Lawyers who worked with Cole say he is even-keeled and calm under pressure.
"Stephen exudes credibility and thoughtfulness," said Lynn Pinker partner Chris Patton. "Stephen's strategic sense is top notch. He sees the big picture, which means that he focuses not only on winning the specific matter in front of him, but also on the broader business context surrounding that matter."
In May 2017, Cole made the move in-house — first to Remington Hotels for three years and then to Keurig Dr Pepper in October 2020.
"I was interested in focusing my practice on a single client whose business I could get to know from the inside," he said. "Also, as the husband to a practicing attorney who was an [assistant U.S. attorney] at the time and father to two kids, in-house practice certainly provides for a bit more of a predictable — if still very busy — work life."
The decision to go to Keurig Dr Pepper was a no-brainer.
Premium Subscribers: Check out an expanded Q&A with Stephen Cole here.
"It was an exciting opportunity to work for a company whose products I was familiar with and loved," he said. "I'll never forget my first experience, after joining KDP, of walking down the aisles at the grocery store and seeing products that I was involved with on a day-to-day basis."
Cole joined Keurig Dr Pepper in a hybrid litigation/transactional role, but quickly evolved toward the position of litigation chief, leading all the company's consumer litigation, employment class actions and response to any government investigations.
"Stephen is the right mix of fight and compromise, knowing when to push and when to give," said Lynn Pinker partner Andrés Correa, who practiced with Cole. "Stephen genuinely cares for whoever is in front of him, which allows him to be an empathetic problem solver. Stephen thinks beyond the situation immediately in front of him, looking for lessons to be drawn and wanting to learn more for the next time."
By mid-2021, Cole was deeply involved in the management of the case and legal strategy. He played a major role in the motion for summary judgment and the settlement negotiations.
He gives a lot of credit to Walters and Falconer.
"We had some complicated contract language that required careful explanation to be understood clearly — and this is one of the areas where the Gibson Dunn team truly shined," he said. "They took one of the toughest issues in the case for us — the change of control language in the contract — and turned it into the lynchpin of our summary judgment victory."
"The Gibson Dunn team brought a level of creativity and strategic foresight to this case that was unlike anything I had seen," Cole said. "They were several steps ahead of the opposition at every turn, and this showed up in the depositions they took, the briefs they filed and the hearings they argued. We had advantages in the litigation that simply would not have been there were it not for their creative and tenacious approach."
The Dramatic Final 10 Weeks
Two-and-a-half years into the litigation, things suddenly kicked into high gear in November 2021.
The month started with BodyArmor announcing that Coca-Cola was purchasing the 85 percent of the company it didn't already own for $5.6 billion.
The 15 percent of BodyArmor that American Bottling purchased in 2015 for $45 million was now valued at $576 million. But BodyArmor refused to release American Bottling's consideration unless Keurig Dr Pepper agreed to dismiss the litigation.
"They were holding our money hostage while we pursed our case and they had zero reasons to hold our money hostage," Shoemaker said.
The tide shifted dramatically Dec. 15 when Judge LeGrow informed lawyers on both sides that she was about to circulate a draft of her ruling on summary judgment. As Keurig Dr Pepper's lawyers awaited the judge's ruling, they received the news that BodyArmor had finally transferred the $576 million.
"It was an entirely surreal morning, because just minutes before the decision came down, BodyArmor finally released our share of the proceeds from Coke's acquisition," Shoemaker said.
Cole said his best day at Keurig Dr Pepper was that Dec. 15.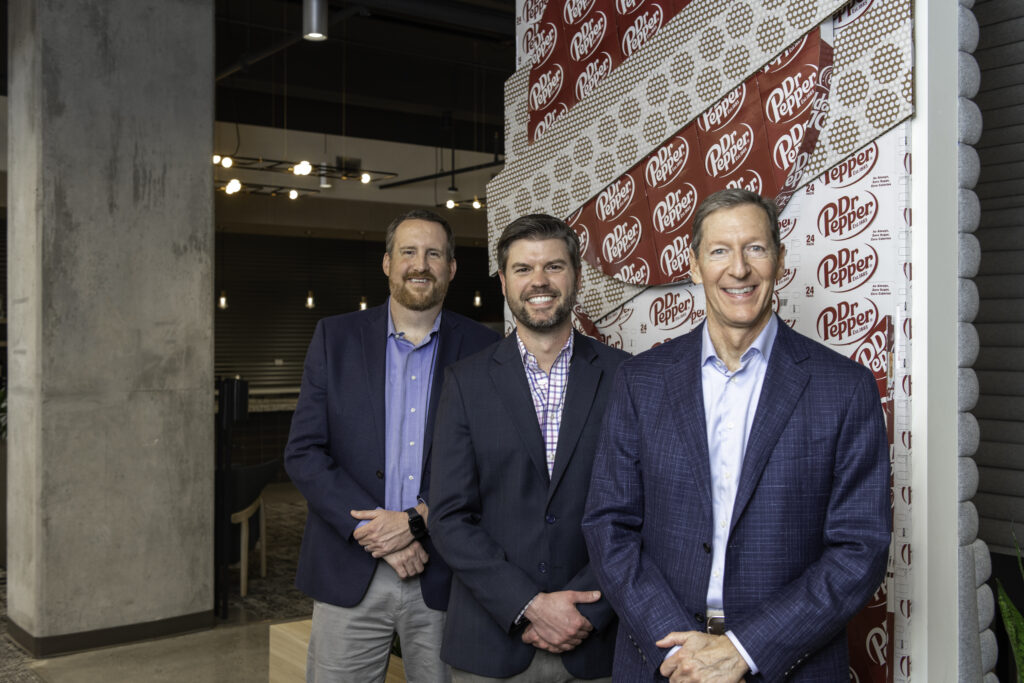 "I happened to be in the same room with members of our outside counsel team, working on trial preparation, when the order was issued," he said. "Let's just say that it wasn't a quiet room when that email hit our inboxes."
A week later, the lawyers made their appearance before Judge LeGrow, who indeed encouraged lawyers for both sides to get serious about settlement talks.
The second week of January, the lawyers informed the judge that they had reached an agreement and there would be no trial. The terms of the settlement were technically confidential, but Keurig Dr Pepper in a subsequent filing with the U.S. Securities and Exchange Commission reported a $350 million payment as a result of the litigation.
Cole said the huge victory is a great way for Baldwin to end his career at Keurig Dr Pepper and for Shoemaker to start his tenure as chief legal officer.
"Jim played a key role from the very outset of this case, including the initial decision of even bringing the lawsuit, as it's always a tough call to bring suit against another beverage brand," Cole said. "But Jim's leadership and decisiveness set us on the course that led to the result we were able to achieve.
"When Anthony stepped into the role, he had to get up to speed on all of KDP's pending litigation, not just this case," Cole said. "He did so seamlessly, and he immediately grasped even the most complex issues surrounding our claim. Anthony's fortitude to believe in our claim, trust in the counsel from the litigation team and then convince the business to keep pressing our claim when there were several off-ramps along the way is the reason we wound up with the result that we did."