Justice Russell Lloyd and Veronica Rivas-Molloy come from very different backgrounds.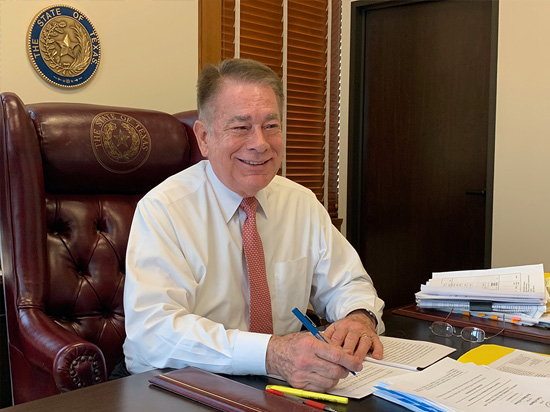 Lloyd is a sixth-generation Texan, a Vietnam veteran who launched his career as a prosecutor in the Harris County District Attorney's office and is a onetime George H.W. Bush nominee to the federal trial bench. Rivas-Molloy is a first generation immigrant to the U.S., was the first in her family to graduate from a four-year college and become a lawyer and has spent most of her legal career in Big Law practicing commercial and employment litigation.  
Their paths are currently crossing, however, as they both vie for the same aspiration: to get elected to Place 3 on Houston's First Court of Appeals.
Lloyd, a Republican, is the incumbent candidate and has served in the position since he won the general election in 2014. Rivas-Molloy, the challenger, is currently a special counsel at Jones Walker who won the Democratic primary by a landslide this spring. 
Both want your vote. Lloyd says he will continue to stand up for the values that have made Texas great and that he will continue to defend liberty while ensuring fair and equal access to justice.
Rivas-Molloy hopes to become the first Democratic Hispanic attorney elected to the First Court and says she will bring diversity to a court that currently has no persons of color serving on the bench. She says she wants to use her wealth of experience to make a meaningful contribution to the court while also giving back to her community and the legal profession. 
If the election were only up to members of the legal community, it might be hard to tell who would win. Lloyd got around 27% more votes than Rivas-Molloy from lawyers polled by the Houston Bar Association about their preference, but that's a far closer discrepancy than any races underway in the First Court's sister court, the Fourteenth Court of Appeals. The HBA's new judicial preference poll, which polled 1,645 lawyers, indicates that HBA members overwhelmingly prefer the incumbents in those races.
We asked both candidates to tell us more about themselves and why they have what it takes to fill the Place 3 seat. Below are their answers.
Russell Lloyd
Q: What led you to practice law?
A: I went to law school because I wanted to be part of something I thought was very important. The rule of law is one of the principal supports of our country. Law and lawyers have played a significant role in the development of the country, and the law is the great guarantor of our liberty. Also, I am drawn to public service, which explains my 20 years of military service, my service as an assistant district attorney and my 16 years on the bench as a district judge and a justice on the court of appeals.
Q: What led you to decide to become an appellate judge?
A: My diverse career in criminal law as a JAG Officer, prosecutor and defense attorney, in civil law as a civil defense attorney and plaintiff's attorney and my judicial experience as a district judge and appeals court justice, means that, to quote the Houston Chronicle, "Russell Lloyd won't find anything on the First Court of Appeals that he hasn't already handled at some point in his extensive career." With my background and professional experience, this is the place where I can be of greatest service to the community.
Q: What makes a good appellate judge?
A: Experience, integrity, fairness and courtesy to all who come before the court. My lifetime of civil and criminal litigation has been invaluable to me in my service as an appellate judge.
You must have a fundamental sense of fairness and the ability to look at both sides of a dispute. All people are equal before the law, and every member of our community, no matter what their condition, must have confidence that their disputes will be heard by fair and impartial judges. Equal access to justice is a primary concern. All citizens should have access to the courts. We must continue to increase legal aid to those who cannot afford it and indigent defense to criminal defendants to ensure that the justice system serves the entire community.
Q: What is the most important decision or ruling you have made since being on the bench and why is it important?
A: This is a difficult question since I have made thousands of rulings and presided over 300 jury trials as a district judge and written 600 opinions as an appellate justice. One of my most important cases was as presiding judge over the Polybutylene Pipe docket, where there were 63,000 plaintiffs and dozens of defendants. I personally presided over a trial with 1,500 plaintiffs, which required me to develop a creative trial plan with representative plaintiffs from each state and to instruct the jury on the law of three states. I supervised and regulated the settlement and distribution of proceeds and services and resolved this very large and complicated case in an efficient and fair manner.
Q: Have you written an opinion or joined a decision that you now regret?
A: It would be improper and unfair to the litigants for me to comment adversely on a decision I have written or joined.
Q: If you could make one or two changes on how the courts are handling the COVID-19 pandemic, what would they be?
A: I have helped to pioneer our court's response. We have instituted virtual conferences and oral arguments as well as in person filings for pro se litigants. I have helped institute remote access to hearings by video conferencing for defendants in criminal cases. We must continue to develop technological tools to keep the courts open and to maintain access to the justice system.
Q: Who is an appellate judge (current or retired) you consider a role model and why?
A: Oliver Wendell Holmes Jr. stands out as someone who entered the law after military service and became one of the most important figures in the development of American common law.
Q: What separates you from your opponent?
A: I bring 16 years of judicial experience and years of legal and appellate experience. I was nominated by President George H.W. Bush to be a U.S. district judge for the Southern District of Texas. My opponent has no judicial experience, limited trial and appellate experience and no criminal experience. Forty percent of the cases that come before this court are criminal cases. I have an extensive criminal law background as a JAG officer, a briefing attorney on the Court of Criminal Appeals, an assistant district attorney, and as a criminal defense attorney. Unlike my opponent, I have 13 years' experience as a plaintiff's lawyer fighting for injured individuals and working people. I have the perspective gained from seeing both sides of the civil docket. My 20 years of military service and my extensive legal career give me the life experience which makes me the best person to continue as a justice on the First Court of Appeals.
Q: No matter what you say here, some voters will vote against you simply because they're straight ticket voters and you're on the wrong side of their ballot. There is another group of voters who are inclined to do the same, but could be convinced otherwise. What would you say to them? Why should they vote for you even if your political party doesn't match their values?
A: The law is bipartisan. There is no Republican law or Democratic law. Politics do not belong in the courtroom. For our society to function as a fair and just place to live and work, the law must be applied in a fair and unbiased manner. I have a proven 16-year record of doing just that. Throughout my judicial career, I have always asked voters to vote for the most experienced candidate without regard to their political party affiliation.
Veronica Rivas-Molloy
Q: What led you to practice law?
A: From the time I was a young girl, I wanted to be a lawyer. I understood even then that lawyers have a gift of advocacy and that they can use that gift to promote equality, fairness and justice. I am proud to be the first attorney in my family and part of a profession whose purpose is to preserve and uphold the rule of law.
Q: What led you to enter the election for appellate judge?
A: I want to serve my community and give back to the legal profession that gave me a voice and the opportunity to advocate on behalf of others. I have a passion for what I do and want to use my skills and wealth of experience to serve our judicial system, for which I have profound respect.
On a personal level, I also want to set an example for my children and diverse youth who may be considering a career in law. I want them to grow up knowing the importance of service and that immigrants, mothers and diverse attorneys can be justices and serve our communities with integrity and distinction.
Q: Tell us a little bit about your career and how your previous career experiences would serve you well as an appellate judge.
A: I have significant experience and the skills set necessary to be an excellent justice on the First Court of Appeals. My record of success is a testament to the quality of work and commitment I will bring to the bench.
I am a wife, a mother of three young sons, an immigrant to this country and a practicing attorney of almost 20 years. I graduated magna cum laudefrom the University of Houston Law Center, where I served as an articles editor on the Houston Law Review. Following graduation, I secured a position as a judicial clerk working for the Honorable Ewing Werlein Jr. in the United States District Court for the Southern District of Texas, where I gained invaluable experience working on a significant number of civil litigation matters engaging in rigorous legal analysis and extensive brief writing.
Following my clerkship, I worked at Baker Botts LLP, where I continued to work on various litigation matters further refining my analytical, oral and written advocacy skills. I represented clients across different industries in matters involving general commercial litigation and complex business disputes. I also served as a volunteer prosecutor for the City of Houston, managing the docket of the court once a week (first-chair) and trying numerous cases to the jury.
For the last 10 years, I have worked at Jones Walker LLP, advocating for my clients and representing them on a diverse range of complex business disputes and appellate matters. I represent clients in state and federal courts across Texas and other jurisdictions in the United States, including district courts, appellate courts and arbitral tribunals.
In addition to my litigation practice, I work directly with Kids in Need of Defense (KIND) providing pro bono representation to unaccompanied minors in their immigration and asylum proceedings. I also serve as general counsel for Holy Trinity Episcopal School of Greater Houston, where I provide pro bono legal advice and representation to the school on various matters.
My experience is extensive and it has prepared me well for the position I now seek.
Q: How does the First Court of Appeals need to improve and what do you bring to the table to address those issues?
A: Our appellate courts hear significant cases that affect not only the parties before the court but our communities at large. It is important to elect justices who have a proven record of success, high qualifications for the job and a commitment to doing the hard work necessary to give each case the attention it deserves for the parties, our communities and the integrity of our judiciary and system of laws.
It is also important, however, for our courts to reflect the communities they serve. No attorneys of color presently serve on the First Court of Appeals, which presides over some of the most diverse counties and cities in our country. It is imperative that we improve the diversity of our appellate bench. Diversity not only enhances our judiciary by ensuring that different life perspectives and experiences form part of the decision-making process leading to more informed and balanced decisions, it also helps enhance the public perception and legitimacy of our judicial system.
I am running because I love what I do and because I want to bring my wealth of experience and diverse voice to our appellate bench, where I feel I can make a meaningful contribution.
Q: How are the judges handling the COVID-19 pandemic and what would you do differently?
A: The COVID-19 pandemic forced our profession to reinvent the way in which legal practitioners conduct business, challenging courts to implement new procedures and technologies to manage dockets and attorneys new ways of developing and presenting cases. Given the nature of appellate practice, the vast majority of cases are decided on written briefs, with oral arguments granted sparingly. Teleconference and videoconferencing technologies have allowed appellate courts to conduct remote oral arguments, avoiding the need for in-person hearings. The technology will continue to be useful in the near future, and I support its use to safeguard court staff, attorneys and personnel from any unnecessary risk during the pandemic.
Q: Name an appellate judge (current or retired) you consider a role model and why?
A: Although not an appellate judge, I have deep respect for United States District Court Judge Ewing Werlein Jr., for whom I worked following graduation from law school. Judge Werlein taught me the value of integrity, hard work and excellence because those are values he believed in and espoused each day as a judge. He taught me, by example, what it is to have respect for our system of justice and why respecting our judicial system and upholding its principles is at the root of our democracy. I learned from him that judges are public servants who occupy seats of trust. As such, they must treat everyone with dignity, equality, fairness and respect striving always to work with the highest ethical standards. I am grateful that I had the opportunity to start my legal career as one of his judicial clerks.
Q: What separates you from your opponent?
A: My significant experience in civil litigation makes me uniquely suited to be a justice on the First Court of Appeals. More than half of all appeals filed before that court involve civil matters, including complex business disputes like the ones I have been handling for years. It is important to elect justices who have a robust civil litigation practice and recent, hands-on experience in trial courts from which these civil appeals originate. I have that experience. In addition, it is important that we elect justices who have strong writing skills. As a litigator and former law clerk, a significant part of my practice has been devoted to rigorous legal analysis and extensive written advocacy.
Q: How many cases have you argued before the court of appeals?
A: I have worked on several civil appeals filed in appellate courts in Texas and Louisiana, and before the Fifth Circuit Court of Appeals. In addition, I have worked on administrative and tax-related appeals in Texas and Louisiana courts. Separately, I have worked on several litigation matters providing appellate counsel on matters such as briefing and argument of significant motions, error preservation and preparation of jury charges.
Q: Have you practiced before your opponent? If so, what was good and bad about the experience?
A: I have not appeared before my opponent.
The answers submitted by candidates may be edited to comply with Texas Lawbook style guidelines.
Publisher's Note: This coverage of the 2020 judicial elections by The Texas Lawbook is being made available outside our paywall courtesy of Thompson Coburn and Carter Arnett.