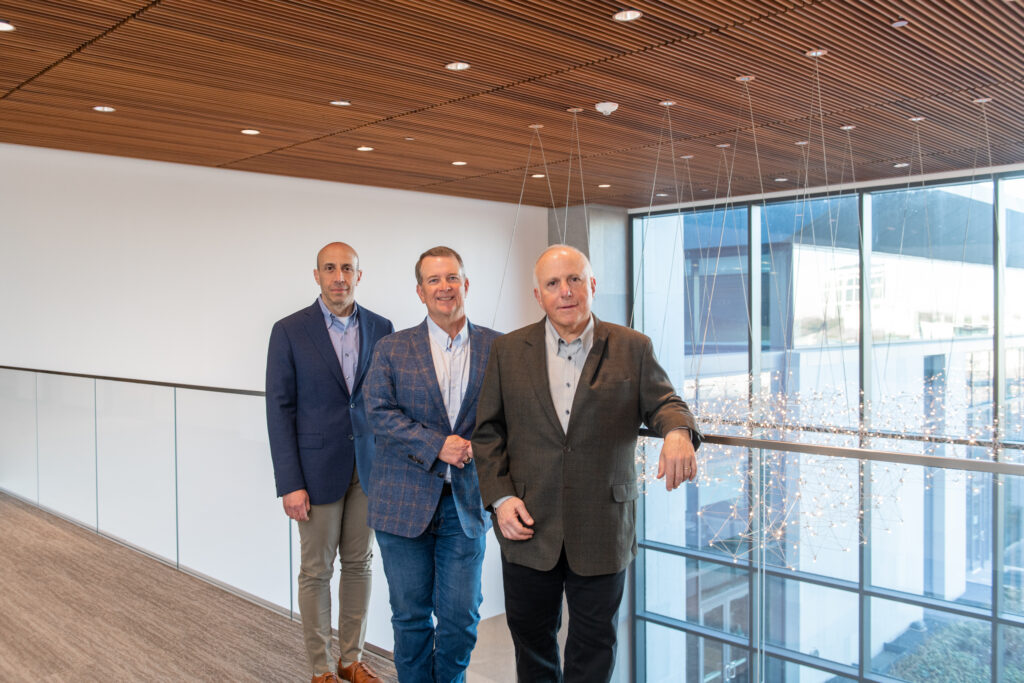 From Left: Mark Kleinman, Barry Thomas and Mark Berg
They didn't know it at the time, but Barry Thomas and Mark Berg both had formative experiences in their youth that would shape their futures as corporate lawyers and public service champions.
For Thomas, it was when he fell in love with the oil and gas industry at 5 years old during a ride-along with his geologist father as he met with landowners about leasing their property to drill for oil.
For Berg, there were two such experiences: the first when he interned for Dallas County District Attorney Henry Wade during high school; the second when he left for college and his mother helped found the organization that became Dallas CASA, the nonprofit network of court-appointed volunteers that advocates for neglected and abused children in Dallas.
Decades later, Thomas is the general counsel of the Permian Strategic Partnership, a nonprofit coalition of 20 oil and gas companies that has invested more than $125 million in the healthcare, schools, housing, workforce and roads of the Permian Basin area — the backbone of the very industry that Thomas has loved since childhood. Berg, following his mother's footsteps, is now on the board of Dallas CASA, where he has played a significant role in doubling the amount of Dallas CASA volunteers to equip the organization to meet its commitment to help every child in need of a court-appointed advocate. 
Mark Berg and Barry Thomas discussed with Natalie Posgate ways in which lawyers can lend their talents for pro bono and public service projects. To read her Q&As with them Click Here.
What connects these two men? Their day jobs are both as high-ranking lawyers and executives at Pioneer Natural Resources, which has backed both Dallas CASA and PSP financially and in manpower. Thomas is a senior counsel and heads oil and gas matters within Pioneer's legal department. Berg, who joined Pioneer as its general counsel, is executive vice president for corporate operations and oversees several departments.
What else do they have in common? Both are recipients of the 2022 DFW Corporate Counsel Award for Pro Bono and Public Service, which the Association of Corporate Counsel's DFW Chapter and The Texas Lawbook will present to them Thursday at the Bush Center.
Mark Kleinman, Pioneer's executive vice president and general counsel, said Berg and Thomas both approach their public service work "with the same commitment, enthusiasm and professionalism" that they bring to their day jobs.
"Mark and Barry both exemplify servant leadership, sharing their time, professional talents and dedication to ensure others' needs are prioritized," Kleinman said. "In this way, they serve as role models of service, sharing their passion for helping others in the community through action, not simply words or contributions."
"Throughout its 25-year history, Pioneer has been committed to improving the communities in which we live and work," Kleinman added. "From a social responsibility standpoint, that means encouraging our employees to participate in organizations that focus on areas such as improving education, addressing hunger, protecting children and providing affordable housing, and we give generously to support those organizations and our employees' involvement. The work Mark and Barry are doing to support PSP and Dallas CASA exemplify the best of these values."
Thomas and Berg work closely together at Pioneer and support each other's efforts. In fact, Berg and Pioneer colleague Susan Spratlen came up with the idea to start PSP and Berg, who is vice chairman of PSP's board, asked Thomas to be its general counsel. Thomas has participated in the annual Dallas CASA golf tournament that Berg significantly helped bolster in participation and in fundraising, and his wife — like Berg's wife — has served as a Dallas CASA volunteer.
At Pioneer, Berg and Thomas — both M&A lawyers by training — have worked on multiple matters together, including the company's $6.4 billion acquisition of DoublePoint Energy, $4.5 billion acquisition of Parsley Energy and the $3.1 billion sale of Pioneer's Delaware Basin assets to Continental Resources.
"Barry is a problem solver," Berg said. "He exercises excellent judgment and has a tireless work ethic. Barry always operates with integrity and is a trusted advisor. I always know if Barry is at the table, our team will make a better decision."
"Mark is a sage negotiator and a pleasure to work with," Thomas said. "He has an incredible memory and is a quick learner."
Finding Family Roots in Dallas CASA
Berg arrived at Pioneer in 2005 as executive vice president and general counsel after stints as an M&A partner at Vinson & Elkins and general counsel at American General. Berg was Pioneer's GC from 2005 to 2014, when he was promoted to a nonlegal role as executive vice president for corporate operations.
In his current role, he oversees multiple departments within Pioneer: business development, land, water management, ESG and facilities.
When Berg left home for Tulane University in 1976, his mother, Rose Marion Levine Berg, decided to help less fortunate children. Mrs. Berg and a group of like-minded women at the National Council of Jewish Women researched the treatment of abused children in Dallas County by the court system and Child Protective Services. They attended many hearings and even traveled to Seattle to meet with Judge David Soukup, the national CASA founder.
"Seattle was the first CASA chapter in the U.S., [and] Dallas was the second, based on the work of my mother and her colleagues," Berg said. "At the time, it was called FOCAS (Foster Child Advocate Services). I remember … my mother's passion for establishing this organization and creating its mission. It was a true startup that grew into a great organization."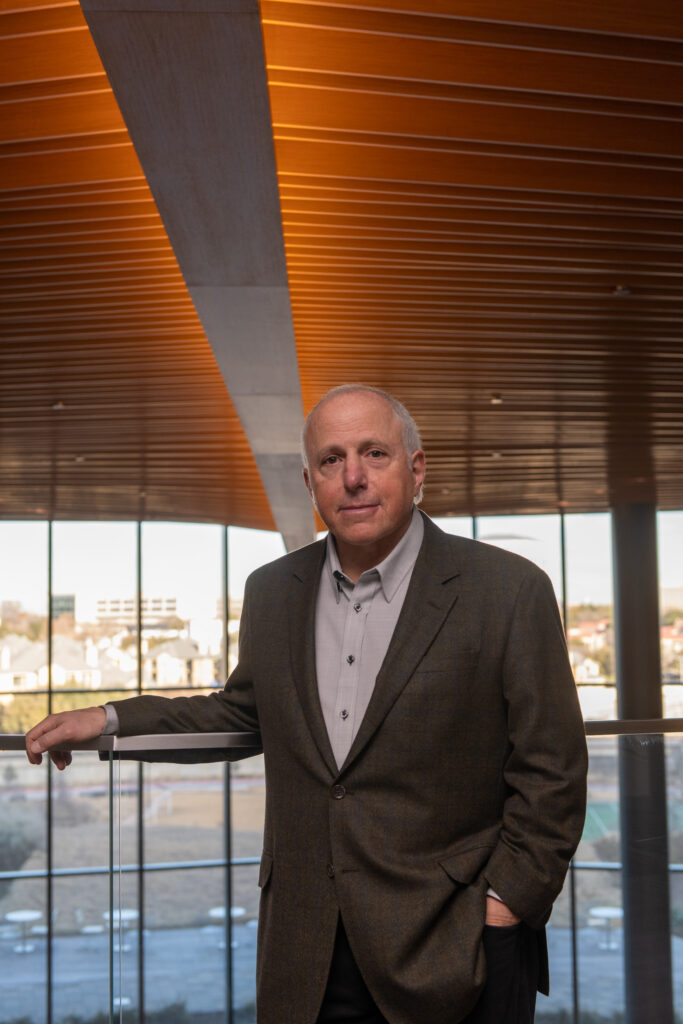 Mark Berg
FOCAS changed names to Dallas CASA in 1993, and Berg's mother passed away Oct. 10, 2006. A couple weeks later, Pioneer board member and retired ExxonMobil executive Frank Risch invited Berg to join him at the Dallas CASA Champion of Children award dinner. At the time, Berg did not realize the connection between FOCAS and Dallas CASA (which stands for Court Appointed Special Advocates).
"Throughout the dinner, many people approached me about my mother, which wasn't unusual due to her service in the community," Berg said.
The award recipient was Archon Group, a real estate advisory arm of Goldman Sachs. It was during Arcon CEO Jim Lozier's speech that a "lightbulb went on" for Berg: FOCAS was Dallas CASA.
"What was really funny was Frank was surprised I didn't even realize it," Berg recalled. "He looked at me and said, 'Why do you think I invited you?' It was like everybody in the room but me knew it. It was a really emotional moment for me because I was very close with my mother, and I had just lost her. It's something I will always remember."
Berg thanked Risch, also a Dallas CASA board member, for including him and offered to help the organization.
"Within a few weeks, I was on the board," he said.
Berg served as chairman of the board in 2012 and 2013. At the time, Dallas CASA was only serving between 30 and 40 percent of the neglected and abused children in need in Dallas County. During Berg's tenure, the board went through a strategic planning process and by the end of it Berg and the board committed to serve all children in Dallas.
This meant the Dallas CASA board first needed to raise funds to accommodate a growth in operations, staff and volunteers. To pull this off, the board launched a capital and growth campaign. The campaign concluded in December 2015 after reaching its goal of $37 million.
Berg said the funds allowed Dallas CASA to build a new building to house the increased staff and to "attract enough volunteer advocates to serve all the kids."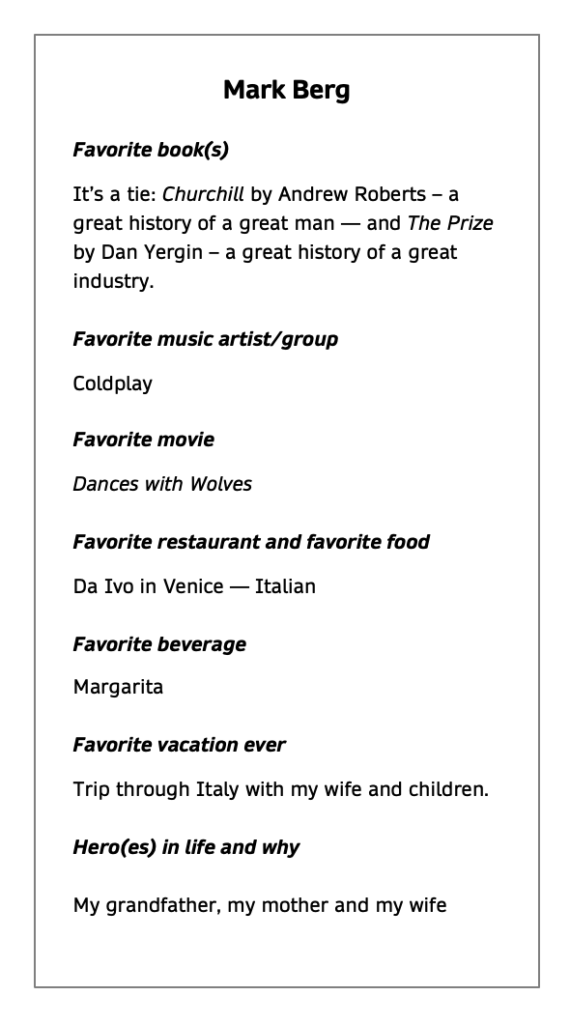 "We thought it would be a lot harder than it turned out to be," Berg said. "We had plenty of consulting advice but at the end of the day it required committed leadership to go to the community to seek support."
Berg said Dallas CASA gained support from "a number of foundations in Dallas," including The Rees-Jones Foundation and the Meadows Foundation.
Separately in 2012, Berg got Pioneer involved as a major partner in the annual Dallas CASA Classic — a golf tournament hosted each year at the Four Seasons Resort in Las Colinas. Also hosted by Goldman Sachs and AT&T, the tournament has raised nearly $23.5 million in its 25-year history, Berg said. Dallas CASA President and CEO Kathleen LaValle said the amount raised from the tournament since Pioneer became a co-host represents about 75 percent of the total funding over 25 years.
"The golf tournament has accounted for a significant portion of Dallas CASA's annual revenue, allowing the agency to serve more than 3,113 children with 1,539 CASA volunteers," V&E partner Robert Kimball, who nominated both Berg and Thomas for the award, said in his nomination.
LaValle said that for the past four years, Dallas CASA has been able to serve 100 percent of the children in need in Dallas County. Although Berg is quick to credit others ("the only thing I did was put a lot of great people together and … [watch] them do great work," he says), LaValle credits Berg as a vital component of Dallas CASA's successes.
"Mark is committed to taking on the toughest challenges, whether that's in business or public service," LaValle said. He's not afraid to make bold moves and be disruptive in a productive way if that's what it takes to bring about positive change."
"When Mark agreed to serve on the Dallas CASA board, including a term as chair, it was a strong endorsement that helped attract other impressive corporate leaders to our board," said LaValle, a former litigation partner at Jackson Walker. "When lawyers step up and make this kind of commitment to our community, their example encourages others to do the same."
While Berg has not personally served as a volunteer child advocate, his wife Fran has been one for more than 13 years. He said she recently completed the placement of three children who have been successfully adopted by two sets of caring parents. They were removed from their parents' home more than seven years ago.
"After the parental rights for these children were severed, Fran stayed with the children through multiple foster homes, multiple court hearings and multiple attempts at adoption," he said. "Over the past seven years, Fran has been the only constant, responsible, caring adult in the lives of these children."
Berg said his wife spoke about their case at least year's golf tournament awards lunch and "there wasn't a dry eye in the house."
"For Mark, the commitment is very deep and personal, and it shows in the tremendous energy he brings to help effect systemic change while helping the agency meet the individual needs of each child we serve," LaValle said. "[Mark] embodies the understanding that we live and work in a community, and we are called to make that community a better place today and for future generations."
PSP: More than 'Surface-Level Philanthropy"
Thomas joined Pioneer in late 2013 — right as Berg's term as chairman of the Dallas CASA board was coming to a close. In 2017, Berg heard from Spratlen, Pioneer's head of community affairs in the Permian. Berg said Spratlen had worked for years to address the social challenges in West Texas and was searching for ways to have a bigger impact.
Berg and Spratlen observed that while operators in the Permian were engaged in their own efforts to address these challenges, "more could be done."
"By this time, it was clear that the Permian Basin was among the largest producing regions in the world due to the advancement of horizontal drilling and the shale revolution," Berg said. "Unfortunately, the schools, hospitals and roads were falling behind. This was too large of a challenge for any one company."
Berg, Spratlen and a small team of Pioneer employees traveled to Houston to interview leaders at the Greater Houston Partnership and Central Houston Inc. to learn how they tackled similar challenges in Houston. Berg said he witnessed the improvements firsthand when he lived there in the 1980s, 1990s and early 2000s.
Berg got former U.S. Commerce Secretary Don Evans on board, who chairs the organization.
He also brought Thomas on board early, asking him to identify potential antitrust issues for "an organization of [at least] 10 competitors getting together," Thomas said.
Barry Thomas
After Thomas worked through those issues, he became "instrumental in getting the organization up and running," Kimball said in his nomination. Thomas helped set up the bank accounts, negotiated the lease for the building space and handled various other administrative matters.
Berg said Thomas' business experience was also instrumental in helping PSP set up "a treasury, accounting and budgeting function, hiring leadership and employees, meeting not-for-profit requirements and establishing mechanisms for funding multiple public and nonprofit initiatives."
At a couple of the initial PSP meetings, Thomas also was tasked with "putting a team together among the in-house counsel members to draft the bylaws," Thomas said. Then, Berg nominated Thomas to be PSP's general counsel. The remaining PSP leadership approved.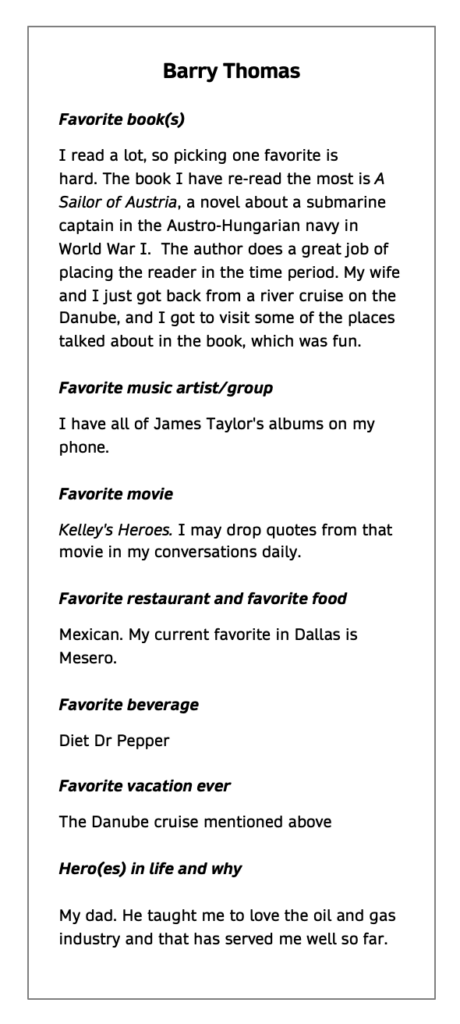 "The first thing that attracted me [to PSP] was just the idea itself and how much benefit I thought it could do in the community," Thomas said. "I always thought Midland [and the larger Permian Basin community] was a good town and it just struggles because they never know what tomorrow will bring as far as oil prices. It's hard to build a future when you don't know what the oil and gas prices are going to do. So, the members of PSP got together and said … 'Let's make it a good place to live.' Everybody is very dedicated to that."
Polsinelli shareholder Jonathan Blum, who worked with Thomas on some of the funding efforts, said Thomas immediately stood out through his "eagerness and passion about the work of PSP and his desire that the needed funding went to the various grantees quickly."
"Both PSP and Barry are strategic about their actions, going beyond surface-level philanthropy," Blum said. "The projects are long-term initiatives, intended to make a substantial difference over the long term to positively affect the quality of life in the Permian Basin. In addition, the efforts are collaborative, where PSP is working with governments, schools and institutions in the community to address the community's challenges."
PSP officially launched at the beginning of 2019. The nonprofit focuses on improving five parts of the Permian Basin community: education, road safety, healthcare, housing and workforce development. According to PSP CEO Tracee Bentley, the company members of PSP have invested $125 million of their own money into these initiatives, "but have levered our investments into nearly $1 billion of collective investment in the region."
She said this includes:
$53 million invested in healthcare projects, including new physician residencies, expanding a physician's assistant program, expanding a behavior health program, expanding two nursing programs and building a regional behavioral health center;
$47 million invested in education and workforce improvements, including bringing in new charter schools, a new career technical education high school, STEM centers and STEM curriculum, a pre-kindergarten teaching lab, principal and teacher leadership development, veterans support and employee resources;
$8 million invested in road safety, including first responder equipment, advocacy at the state and federal levels for more infrastructure investment in the region and an expanded commercial driver's license training program; and
$700,000 invested in subsidized housing for new teachers in the region.
Earlier this month, PSP announced its 20th member, drilling and solutions provider Helmerich & Payne. In addition to Pioneer, other members include Apache, Chevron, BP, Plains All American Pipeline, ConocoPhillips, Halliburton, Diamondback Energy, EOG Resources and XTO Energy. PSP has paid staff, and the member companies also donate employees to serve on various committees and help work on the core initiatives.
By 2025, Kimball said in his nomination, PSP expects to create 50,000 jobs, increase the percentage of U.S. domestic oil production coming from the Permian from 33 percent to 40 percent and increase annual severance taxes collected from roughly $2 billion to $10 billion, which will create a significant increase in state revenue for Texas and New Mexico.
Asked whether PSP is viewed from within as a model for ESG in the energy sector, Bentley said PSP is already a "perfect description of the 'S' in ESG."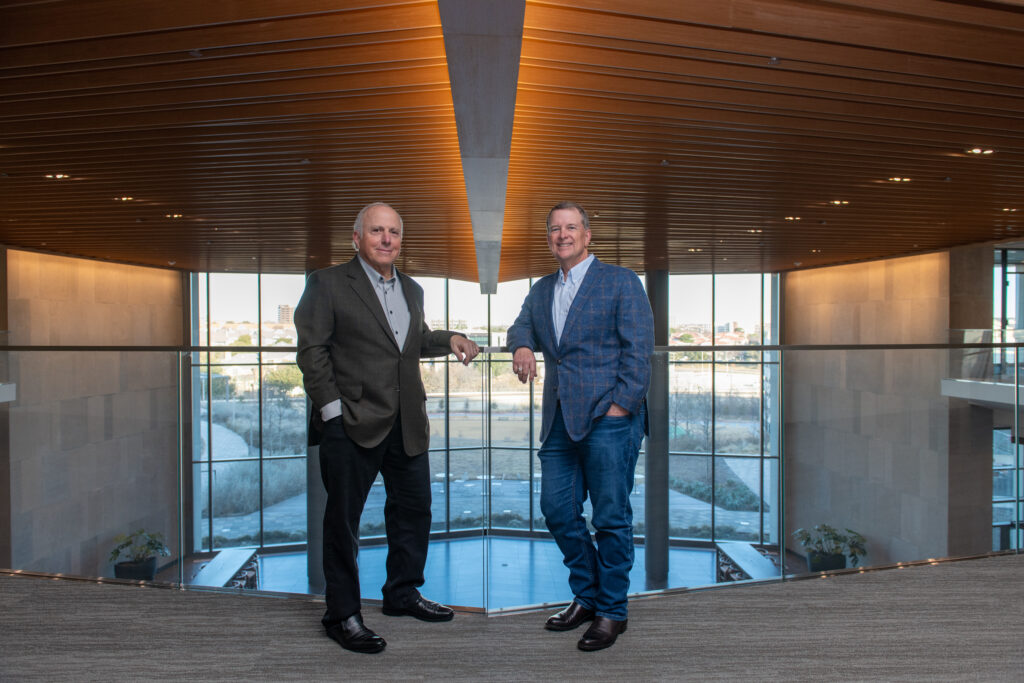 Mark Berg and Barry Thomas
"Our member companies are constantly looking at the 'E' and the 'G' in being responsible stewards of the environment and operating with a standard of equality at the forefront of mind," she said. "I am proud of our member companies for taking the charge and treating the 'S' with as much responsibility as the other pillars."
Thomas said it's important to PSP to develop oil and gas responsibly in the Permian while simultaneously improving the quality of life there.
"Oil and gas make the modern world possible, and the industry has done more to lift the world's people from poverty than any other institution," he said. "The Permian Basin is the largest oil and gas resource in the U.S. right now, and the U.S. remains the world's most secure place to produce oil. Making sure that we develop that resource responsibly while helping to make the Basin a better place to live warrants the time and effort."
Bentley said both Thomas and Berg are critical to PSP's success.
"Mark is the practical dreamer. PSP was truly an effort that he helped lead from the beginning," she said. "He is consistently thinking of what's next, how we leverage this partnership more, how we can grow more — all while remaining focused on specific objectives. Barry is the first to raise his hand and volunteer to help with the fine-tuning and details of all things PSP. He is engrained in all of our processes and procedures and is someone that we heavily rely on."
She said Thomas excels as PSP's general counsel because he "understands we are not a corporation."
"Having a nonprofit legal perspective can be challenging, but he does it with grace and compassion," Bentley said. "Each partner of ours must meet a 'deliverable' in order to maintain our grant funding cadence. Barry has been instrumental in making sure that the benchmarks are achievable, but also challenging [us] enough to keep us striving to be the best and achieve more for our communities."
(Editor's Note: Both Berg and Thomas have been profiled in prior years of The Lawbook and ACC-DFW's Outstanding Corporate Counsel Awards. For more of Thomas' story, read this profile from 2020, and for more of Berg's story, read this profile from 2019.)