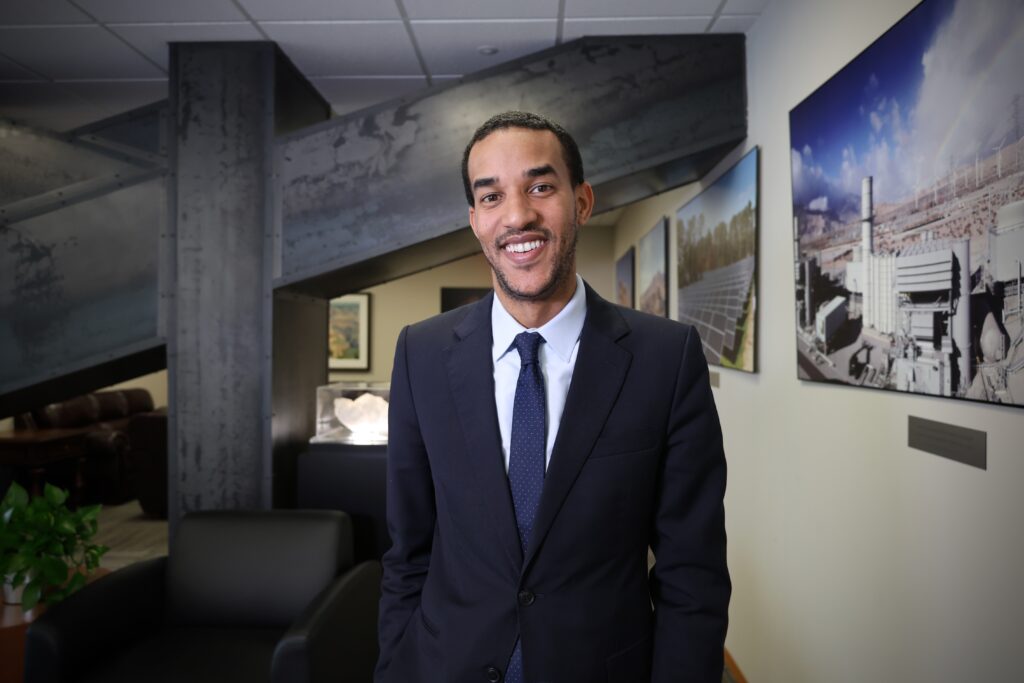 Hakim Effiom-Dauw
When a huge global conglomerate such as Mitsubishi Corporation undertakes a whole new line of business, executives want to be kept updated on progress and processes, potential risks and conflicts, and simple explanations on roles and responsibilities.
One year ago, Mitsubishi entered into a joint venture agreement with two other energy giants — Sempra Infrastructure and TotalEnergies — to develop and build a project that captures, transports and stores carbon dioxide to help produce cleaner liquefied natural gas for Mitsubishi's business partner Cameron LNG.
Lawyers involved in the monumental multibillion-dollar initiative say Mitsubishi's point person for all things legal and compliance has been the company's rising star corporate counsel Hakim Effiom-Dauw.
"I have been lucky enough to be involved with this project from the beginning on the Mitsubishi side," Effiom-Dauw told The Texas Lawbook. "This is a novel project for our company and so our biggest challenge so far has been keeping management in the U.S. and Japan appropriately briefed on the project and the potential risks as the project moves toward FID."
Premium Subscribers: For an exclusive Q&A with Hakim Effiom-Dauw Click Here
"There are a number of moving parts in a project of this size and one of our key roles in legal is to ensure management is appropriately briefed on the potential risks inherent in the project," he said. "As a result, it is very important we not only provide accurate and correct advice, but that we provide an unbiased view of the risks associated with the project."
The development of Hackberry Carbon Sequestration is only one of several successes for Effiom-Dauw during the three years that he has been with Mitsubishi's legal department in Houston.
The Association of Corporate Counsel's Houston Chapter and The Texas Lawbook are pleased to honor Effiom-Dauw with the 2023 Houston Corporate Counsel Award for Rookie of the Year, which goes to lawyers who have been in-house for three years or less and is designed to recognize future leaders in corporate law in Texas.
"It is very important we not only provide accurate and correct advice, but that we provide an unbiased view of the risks."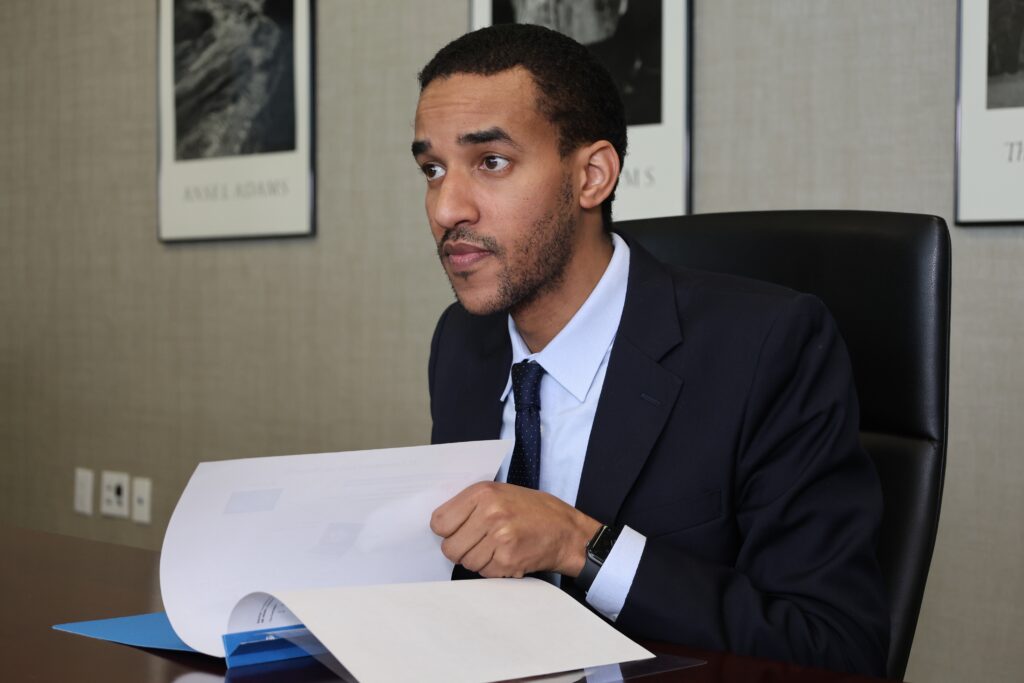 Photo: Sharon Ferranti
"Hakim is an extraordinary deal lawyer [with] a natural ability to identify the issues that are critical for his client and distinguish them from those that are less important," said Vinson & Elkins partner Shay Kuperman, who nominated Effiom-Dauw for the award. "This skill enables him to manage transactions efficiently by ensuring that his outside lawyers and internal team focus on the key issues and find solutions to the most complicated problems while not wasting time and energy on the less important issues."
"This also allows his client to obtain the best outcomes on the issues that are most important to them and to reduce risks in areas with significant legal exposure," Kuperman said.
Kirkland & Ellis partner John Furlow, who worked with Effiom-Dauw in the firm's Houston office, said his former colleague brings "an unmatched intellectual curiosity when addressing complex issues on transactions" and creative thinking "to find the optimal solution."
"No matter how high-pressure the situation, Hakim maintains a uniquely cool confidence and solutions-oriented, positive outlook that kept the team members he is working with motivated and focused and earned him widespread respect and admiration from his colleagues — lawyers and non-lawyers alike," Furlow said.
Jeff Dobbs, a partner in the Houston office of Mayer Brown, said Effiom-Dauw is "an ideal model" for young in-house counsel.
"Hakim possesses both the requisite strong underlying substantive legal skills and the softer communication skills needed to interface with in-house clients, opposing counsel, regulators and other constituencies," Dobbs said. "His knowledge base is incredibly broad — hearing him speak so authoritatively about litigation risks and negotiations, antitrust compliance or environmental regulations, you might not deduce his private practice background as a deal lawyer.
"Hakim understands Mitsubishi's wide-ranging operations and the legal implications and risk inherent in those businesses," he said.
Born and raised in Saint Petersburg, Florida, Effiom-Dauw had no lawyers in his family growing up. His dad was a public school teacher. His mom a software programmer.
His first thoughts about becoming a lawyer surfaced during high school speech and debate classes when his debate coach, Margaret Emelson, encouraged him to consider law school.
Effiom-Dauw earned his bachelor's degree in political science and economics at the University of Florida and his law degree at Harvard University in 2015.
In 2013, he was a Skadden 1L Scholar in the New York office of Skadden Arps, where he drafted certificates for a $1.6 billion refinancing and helped draft a shareholders' agreement in a private equity fund formation.
In January 2014, he did a four-month internship with the Federal Trade Commission, where he drafted memorandums summarizing issues and cases pending before the commissioners.
Skadden hired Effiom-Dauw in August 2015 and gave him the option of working in the firm's London office — an opportunity he took.

"After graduating from Harvard Law, Hakim told a bold step and moved to London where he spent three years in London working on highly sophisticated international and cross-border transactions," Furlow said. "He then took another bold step and moved to Houston, bringing that unique experience and a global perspective to his work at Kirkland and Mitsubishi."
While working for Skadden in London, Effiom-Dauw worked on several huge transactions, including a $130 billion merger between DuPont and Dow Chemical in 2016 and Nokia's $16.6 billion acquisition of Alcatel Lucent in 2015.
In July 2018, he decided to move back to the U.S.
"Brexit changed a lot on the legal market in London and after a few years, I was ready to move back to the states to continue my career," he said. "I strongly considered returning to Skadden's New York office, but the opportunity in Kirkland's Houston office offered the chance to continue working on energy-related matters."
"As a native Floridian, the warm weather in Houston was a nice bonus," he said.
Effiom-Dauw spent 18 months with Kirkland in Houston, where he represented the private equity firm KKR in its acquisition of an equity stake in Burning Glass, a real-time labor market data source, and ArcLight Capital Partners in the acquisition of retail gas station owner Thorntons, which also involved BP Products North America.
"Everyone knows that Hakim is a brilliant lawyer. You can pick that up in less than five minutes of conversation," Furlow said. "What many people may not know about Hakim is that he also has a great sense of humor, which he always managed to deploy at just the right moment, and it provided welcome relief when sleep was in short supply and we were deep in the trenches on a transaction together."
In 2020, a legal recruiter contacted Effiom-Dauw about a position with Mitsubishi.
He took the position and is one of 140 lawyers in Mitsubishi's global legal department. The Houston attorneys support the company's natural gas business, which has Cameron LNG as a customer and partner.
Shortly after Effiom-Dauw joined Mitsubishi, the company asked him to review its compliance policies related to regulations applicable to federal subcontractors.
"Certain business units wished to pursue federal subcontracting opportunities, and I was tasked with evaluating the compliance burden of becoming a federal subcontractor so the company could evaluate if it wished to pursue new opportunities as a federal subcontractor," he said. "We ultimately made the decision to pursue the federal subcontracting business, and I was able to work across a number of corporate departments in order to assist the company with putting in place an affirmative action plan and meeting the remaining requirements applicable to federal subcontractors."
Mitsubishi also tapped Effiom-Dauw to work on the company's announcement last April regarding its participation in the Breakthrough Energy Catalyst program. Mitsubishi plans to invest $100 million in the Catalyst fund in pursuit of accelerating innovative climate technologies.
"Fund investments are relatively rare for our company, and so it was extremely rewarding to work with our business teams in the US and Japan in order to finalize this significant investment for the company," he said.
"Brexit changed a lot on the legal market in London and after a few years, I was ready to move back to the states to continue my career."
Photo: Sharon Ferranti
Because the Hackberry Carbon Sequestration project in Cameron Parish, Louisiana, is still a transaction in motion, Effiom-Dauw is limited in the comments he can make about it.
Lawyers involved say that he played a critical role, including negotiating and reviewing documents with the commercial team at Mitsubishi, while simultaneously working with outside counsel on liability issues.
Effiom-Dauw also focused on identifying and quantifying risk and liabilities associated with the project and kept management fully briefed.
Because Hackberry was the first carbon sequestration project for Mitsubishi in the U.S., Effiom-Dauw said "it was critical to have the support of counsel with past experience advising on carbon capture projects."
"In sectors where the company has significant prior experience, we are a bit more comfortable [that] we are asking the right questions and concerning ourselves with the big issues," he said. "For sectors entirely new to the company, like [carbon capture sequestration], we want to ensure outside counsel is able to provide expert advice on the questions and big issues we have identified, but we also want to ensure our outside counsel has the expertise and experience to identify questions or issues we may not be thinking about."
Effiom-Dauw and Mitsubishi chose V&E partners Shay Kuperman and Doug Bland to lead their part in the transaction.
"When working with Hakim, you know he will be familiar with all the details in a transaction document, and that he will be well prepared for all meetings and discussions," Kuperman said. "He also always does this calmly and with a smile, and in a way that keeps all parties moving towards a resolution of all transaction issues."