There's a saying in law firm economics: When times are good, corporate law firms do well. But when times are bad, those same firms do even better.
Boosted by a huge burst in complex commercial litigation in 2022, many of the largest corporate law firms operating in Texas predict they scored another record year of revenues and profits, according to a new survey of law firm leaders by The Texas Lawbook.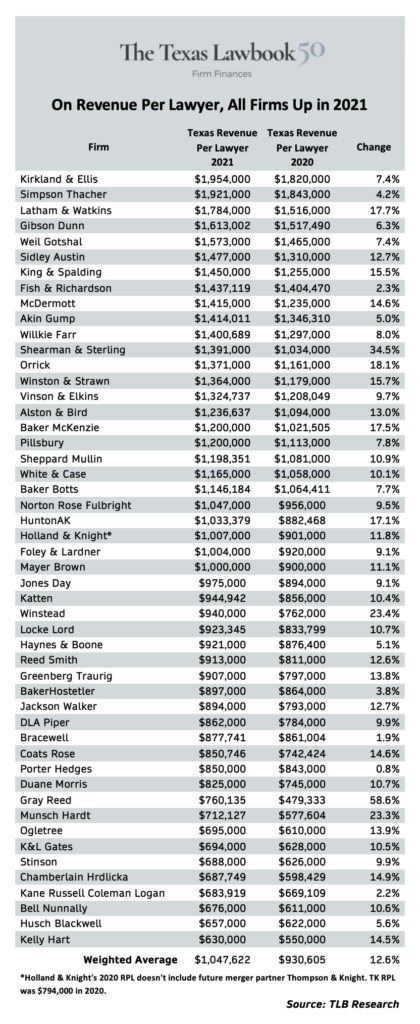 The gains come as firms and their clients had to navigate an uncertain year for the broader economy – with slowing growth, 40-year-high inflation, rising interest rates, wobbly stock markets, recession fears and disruptions around the globe. Firms operating in Texas still managed to grow.
The new survey builds on other recent evidence of the successful year for corporate law firms in 2022. Several large, full-service firms promoted a record number of lawyers to partner. Year-end bonuses ranged from $25,000 for rookie lawyers to $200,000 for more senior associates.
"We are expecting year-over-year increases in revenue and profits per partner," said Jeff Cody, who is U.S. managing partner of Norton Rose Fulbright in Houston.
Cody joined nearly two-dozen Texas law firm leaders in attributing a significant jump in revenue to an increase in litigation work as courtrooms returned to normal after two years of disruption due to the Covid-19 pandemic.
According to the survey, conducted in mid-December, 17 of 22 Texas law firm leaders expect 2022 revenues to beat the money generated in 2021. Another five expect to match 2021 revenues, while only one firm anticipates lower 2022 revenues.
Firm leaders responded to the survey with the understanding that firm names and responses would be confidential. The actual revenue and profit numbers will not be final or released until March.
Even so, a handful of firm leaders tipped their hands by publicly predicting their projected results.
"Another record revenue year for us," said Rob Reedy, co-managing partner at Houston's Porter Hedges.
Wade Cooper, the Austin-based managing partner of Jackson Walker, said the Texas firm "expects to have our best year to date."
"This has been another year of continued growth, both in demand and in number of attorneys," he said.
Added Bell Nunnally managing partner Chris Trowbridge, "We are on pace to have our best year ever, even after setting new records for the past several consecutive years."
Munsch Hardt CEO Phil C. Appenzeller Jr. said his firm "is set to have another record-breaking year in 2022, with projections surpassing our annual revenue goals."
The Lawbook flash survey also found that 12 of the 22 law firms expanded their Texas presence in 2022, increasing lawyer headcount by hiring lawyers away from other firms or recruiting more rookie attorneys straight out of law school. Five firms reported that they kept their 2022 headcount even, and four firms confirmed they trimmed their lawyer ranks in 2022.

Hiring might have been stronger if not for persistent supply constraints. In recent years, corporate law firms operating in Texas have struggled in a "war for talent"– an intense competition in recruiting and retaining the top lawyers needed to keep up with the market's growth.
"Recruiting has been a challenge," said William A. Munck, managing partner of Munck Wilson Mandala. "It is a competitive market, but we succeeded in hiring 20 new attorneys this year, including four strong lateral partners."
Five large firms, including Dallas-based Haynes and Boone and Houston-headquartered Vinson & Elkins, promoted a record number of lawyers to partner. Most law firms announce their promotions to partner in January.
Top corporate law firms have been setting Texas revenue records regularly for more than a decade, so the 2022 gains amount to business as usual. Texas corporate lawyers even managed to increase revenues in 2020, the first year of the pandemic.
The last time Texas corporate law firms faced declining revenues was in 2010. The financial crisis and recession of 2008-09 led many firms to cut lawyer jobs, creating staffing issues that crimped revenues as the state's economy bounced back.
Closing the books on 2022 will invite comparisons to 2021, which was a blockbuster year for total revenues, revenues per lawyer and profits per equity partner for corporate law firms in Texas.
The Texas Lawbook 50, an annual review of the business side of firms operating in the state, showed total 2021 revenues of more than $7.8 billion, up 17 percent from 2020. Before 2021, revenue growth had been steady but was running in the low single digits.
Business was so brisk that Lawbook 50 firms added 300 lawyers in 2021 – the largest headcount expansion ever. Even so, firms complained about the difficulties of hiring lawyers.
"It remained a historically tight market across the country for hiring, especially in Texas," said David Taylor, chair of Dallas-based Locke Lord. "The legal industry wasn't immune to the hiring challenges faced by nearly every industry. It's also no secret that out-of-state firms continued to infiltrate well-entrenched Texas firms for homegrown talent. While other firms can simply plant a flag in the state, our firm has played a part in its emergence as a key player on the world stage."
In the revenue rankings, 49 of the 50 largest law firms operating in Texas achieved annual revenue increases in 2021 over the prior year, with Kirkland & Ellis adding $125 million in new business to hit a record-shattering $725 million in revenues from its Texas operations.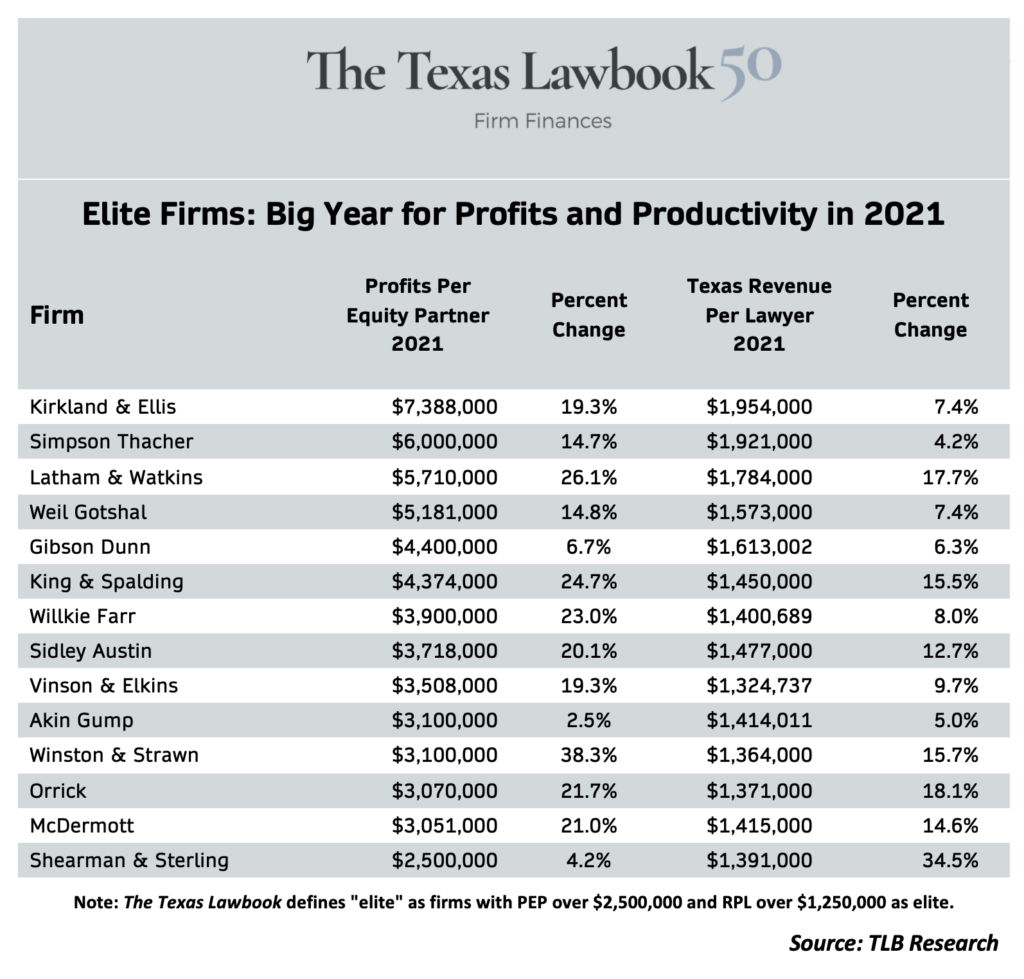 All 50 firms posted gains in 2021 revenue per lawyer (RPL), with a record 30 topping $1,000,000 a year.
Kirkland and Latham & Watkins increased profits per equity partner (PEP) by more than $1 million, and nine firms gained at least $500,000. Four additional firms achieved elite status – PEP of at least $2,500,000 and RPL of at least $1,250,000.
Half of the law firms in the survey predict that their PEP increased in 2022 over 2021, when profits per equity partner ranged from $1.4 million at Houston-based Bracewell to $3.5 million at V&E to $7.4 million at Kirkland.
Eight firms contend their profits per partner stayed even in 2022 with their 2021 figures. Three firms report that they expect their PPP to decline in 2022.
In interviews, several law firm leaders said their revenues in Texas are likely to increase by single digits compared to the double-digit growth in 2021.
The reduced growth is mostly attributed to a slowdown in mergers, acquisitions and securities offerings, such as initial public offerings.
Seven law firms in Texas predict their revenues related to corporate M&A will be less in 2022 than the year prior, according to the survey. But nine firms say their corporate transactional practice was busier in 2022 than in 2021, which they attribute to higher oil and natural gas prices and alternative energy deals.
"Demand for the corporate practice is down a couple percentage points, as there was a lull in the summer," said V&E chair Keith Fullenweider of Houston. "But the last two months have really picked up."
"2021 was the busiest year on record for global M&A, and we saw more and more clients needing sophisticated M&A, finance and regulatory advice on both sides of the Atlantic," said Bill Nelson of Shearman & Sterling. "The current market uncertainty, as well as the growing economic and geopolitical headwinds, have impacted many sectors in 2022, including legal. However, despite a slowdown in transactional work and rising challenges, our business is well-positioned and prepared for the current market conditions."
The big surprise in 2022 was litigation. Seventeen law firms said their trial teams were busier this past year than they had been in 2021. Only two firms said their litigation practices were slower.
Dozens of Texas law firms have been billing record numbers of hours in the litigation related to Winter Storm Uri. In addition, intellectual property disputes, such as patent infringement and trade secrets theft, continue to remain hot. And scores of major trials that were delayed in 2020 and 2021 because of Covid-19 returned to court dockets.
"We had more cases set for trial and more cases went to trial than in the entire history of the firm," said Vineet Bhatia, co-managing partner of Houston-based Susman Godfrey. "We have been tremendously busy, and we don't see a slow down for 2023."
Crosstown Houston rival Ahmad, Zavitsanos & Mensing had a similarly busy year. "We are blowing and going – 14 trials this year, including the one I'm doing right now," said AZA managing partner John Zavitsanos. "We lost 10 [intellectual property] lawyers this year and our revenues will still beat last year, and we are definitely having a record year for profits."