Ten weeks ago, Chief Judge Orlando Garcia of the Western District of Texas stunned the patent litigation bar when he ordered that new patent infringement lawsuits filed in the Waco Division be evenly divided among the WDTX's 11 federal trial judges instead of being assigned solely to U.S. District Judge Alan Albright.
Many legal experts predicted the end had arrived for the hottest patent rocket docket in the U.S., which averaged about 70 new infringement cases a month over the past two years — more than any other district.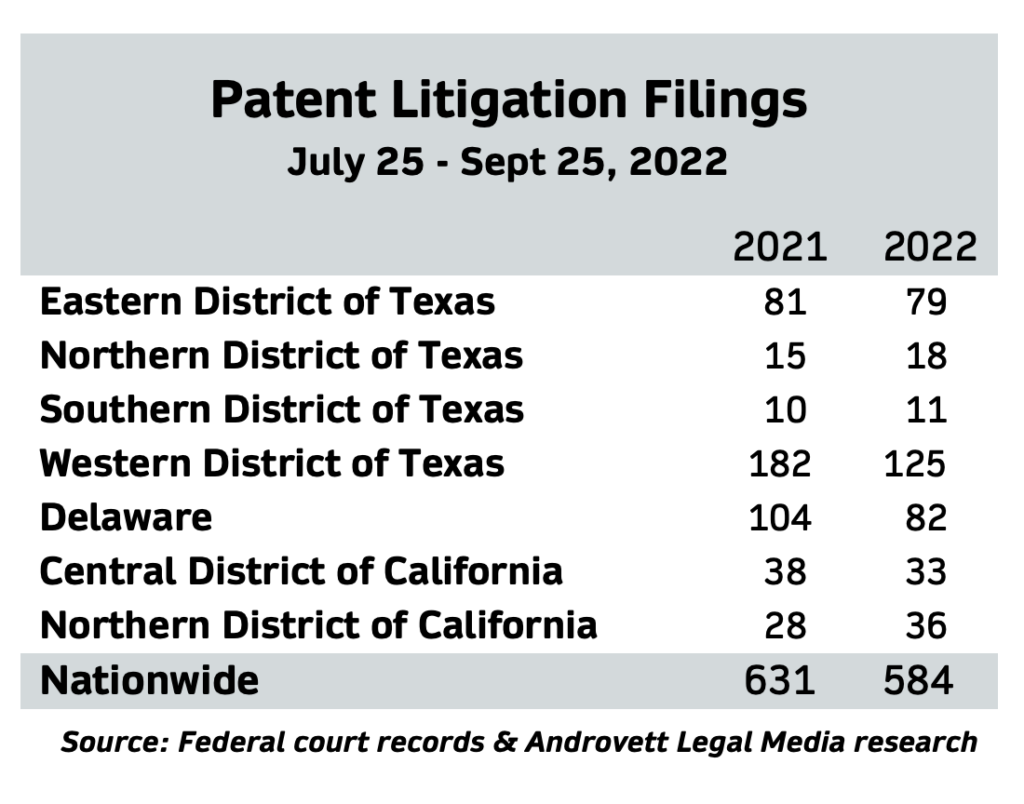 New federal court data, however, shows that while new patent lawsuits in Waco have certainly slowed since Chief Judge Garcia issued his order on July 25, they certainly have not stopped.
In fact, the raw numbers show that the Western District of Texas has remained the favorite jurisdiction for patent lawyers to file new lawsuits. And Judge Albright still landed five times more patent cases than any other judge.
But those raw numbers may be deceiving.
Between July 25 and Sept. 25, 125 new patent infringement complaints were lodged in the Western District — more than 80 percent of them in the Waco Division — compared to 182 cases during the same time period in 2021, according to new data compiled exclusively for The Texas Lawbook by Androvett Legal Media.
The WDTX's 31 percent decline in new patent lawsuits is significant but far less than most intellectual property experts predicted.
"It's too early to predict the long-term impact, but in the short-term, the Western District of Texas seems to have taken a lesser hit than anticipated," said Aimee Fagan, a partner at Sidley Austin and an expert on intellectual property law. "The continued pace of new filings has been surprising. Many patent litigators, myself included, expected the order would drastically cut new patent case filings in the Western District, shifting much of that caseload back to the Eastern District of Texas, where venue could be established, and Delaware."
The Texas Lawbook found that 37 new patent infringement lawsuits were filed last week (Oct. 3-7) in the Western District. Thirty-six of them were filed in the Waco Division.
Aimee Fagan
Aimee Fagan participated in a Texas Lawbook CLE webcast focused on patent litigation in Texas and the developments in the Western District this summer. She was joined by Brad Caldwell of Caldwell Cassady & Curry; Steve Ryan, vice president of global litigation at TechnipFMC; and Michelle Eber, portfolio counsel at Validity Finance. You can view the webcast here.
"The numbers show that the Waco Division is still being considered as a favorable place to file patent disputes," said Baker Botts IP law partner Jose Villarreal. "But the full story of the Western District on this has not completely unfolded. It has been only a couple months, and this is an incomplete story."
Federal court data shows that new patent lawsuits dropped 7.5 percent nationwide during the same two-month period in 2022 compared to one year earlier. The Delaware federal courts saw a 22 percent decline in new patent cases during those two months, while EDTX witnessed just a two percent drop in patent cases — from 81 during those two months in 2021 to 79 this year.
"The true impact of the order is still unknown, so no final conclusions can yet be reached," said Kelly Kubasta, a patent law partner at Ferguson Braswell Fraser Kubasta in Dallas. "At this stage, it's quite possible that some patent plaintiffs are sitting back and waiting to see how things shake out in the Western District of Texas."
Under Chief Judge Garcia's order, new Waco patent cases could be assigned to judges 100 miles away in Austin, 320 miles away in Midland or more than 600 miles away in El Paso.
Of the 125 new patent disputes filed during the past two months in the WDTX, half or 62 were assigned to Judge Albright, according to the Androvett data. Eleven of the 125 lawsuits were sent to U.S. District Judge Lee Yeakel. Federal judges Alias Moses, Fred Biery and Robert Pitman each landed eight new patent cases.
But those numbers are deceiving, according to Karl Rupp, an IP law partner in the Waco office of Sorey & Hoover.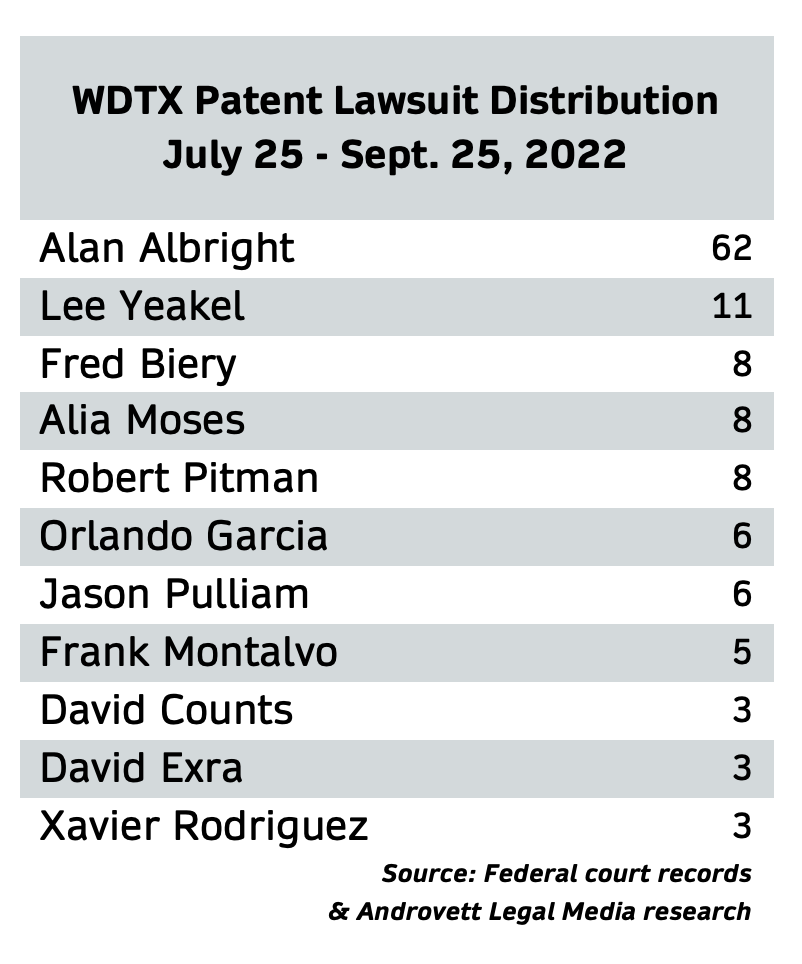 "All of the new complaints assigned to Judge Albright were marked as a 'related case' to another pending case, which under Western District rules automatically goes to the judge handling the earlier cases," Rupp told The Texas Lawbook. "The purpose of this rule is judicial efficiency — so that judges aren't duplicating one another's work — and avoidance of conflicting rulings as between two or more judges on related matters."
Filed on May 28, 2003, the Western District's "Amended Plan for Random and Direct Assignment of Cases" requires the clerk to give new lawsuits marked "related case" on the civil cover sheet to the judge who is presiding over the earlier case.
Rupp also points out that more than a dozen of the 125 new patent infringement lawsuits were filed in the Austin Division and assigned to judges Yeakel and Pitman. Chief Judge Garcia's order only applied to new cases filed in the Waco Division.
"To my personal surprise, plaintiffs have continued to file new patent cases in the Waco Division, even in non-related patent infringement cases, after July 25," Rupp said. "I do not know what the reasoning behind those filings would be."
Jason McManis, a partner at Ahmad, Zavitsanos & Mensing, said that "serious litigants are holding back a bit to see what happens."
"The serial litigants, though, are just filing away like they always have," he said. "The only Waco filings I'm really seeing are more stereotypical 'troll' cases. If I have the options between Eastern District of Texas and Western District, I'm choosing the Eastern District 100 times out of 100. It's not even a question. There's still too much judge uncertainty [in WDTX] by comparison."
Miranda Jones, a partner at Porter Hedges in Houston, agrees.
"The real issue is the cases that are filed to obtain early, nuisance-value settlements," Jones said. "The Waco order is unlikely to curtail those actions because those litigants do not intend to go to trial."
Jones said Chief Judge Garcia's order will "deter the legitimate cases filed by patent owners who have every intent to go to trial.
"If a patent owner has a high-value case, they're unlikely to file in Waco after the order because they could very well end up before a patent-novice judge who hasn't adopted patent rules," she said. "Most patent owners don't fear a fair trial. What they fear is a patent-novice judge, who may dread patent cases generally; the absence of patent-specific rules, which [increases] disputes, costs and time to get to trial; and slow-moving cases that take years to get to trial."
To date, two federal judges in the Western District — Judge Kathleen Cardone in the El Paso Division and Judge David Counts in the Midland Division — have officially adopted Judge Albrights patent rules and procedures.
Jones, McManis and others say plaintiff's lawyers have to do an analysis regarding the decision on where to file.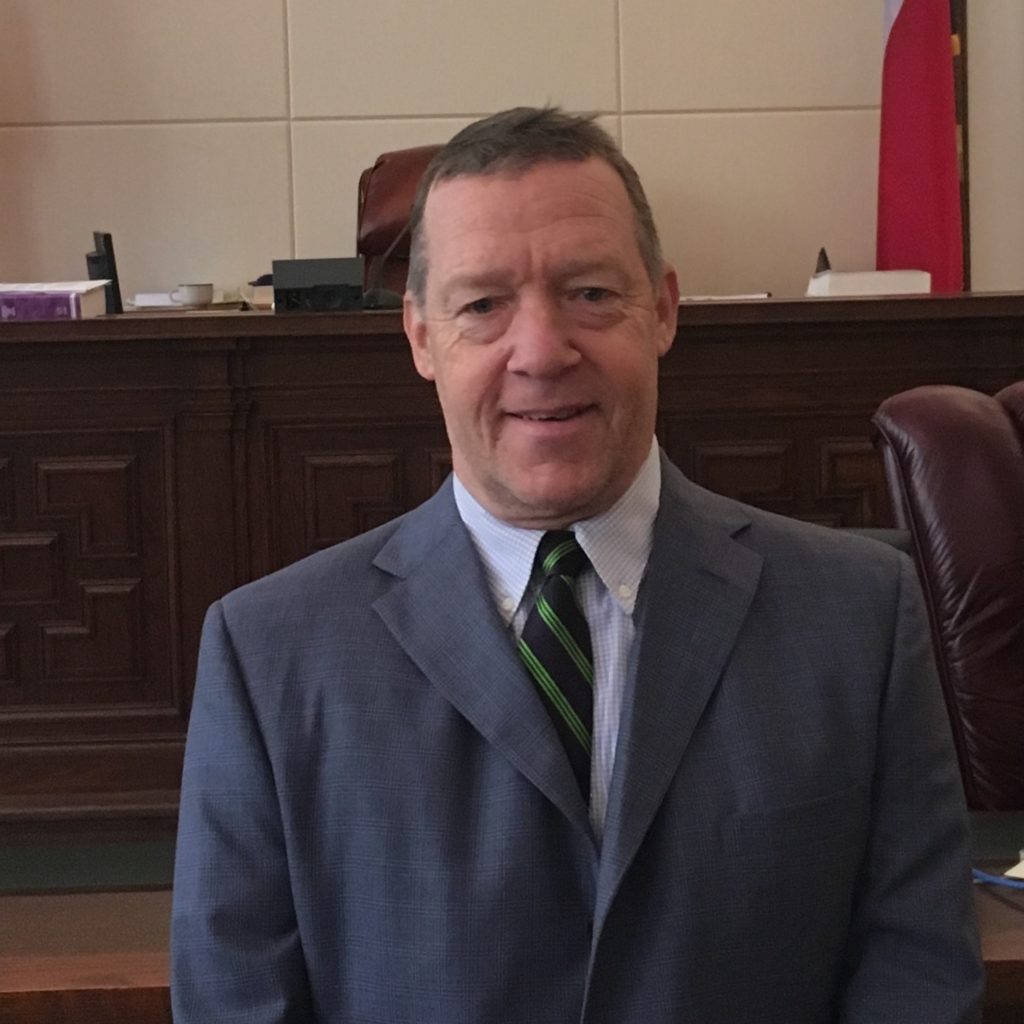 Judge Alan Albright
"Will more [Western District] judges adopt Judge Albright's rules? Will they follow Judge Albright's precedent, or will they shy away from it given some of the notoriety? Can you get a quick time to trial in courts other than Judge Albright's?" McManis said. "Until we have answers to these questions, I can't see choosing the Western District over the Eastern District, if you have both options. If the Eastern District is not an option, then it might become a closer call."
Kubasta said plaintiff lawyers may look at other districts or simply postpone filing the lawsuit for a few months.
"Others may be simply testing the waters by filing cases in which the assigned judge in the Western District of Texas may not be particularly important," he said. "Every case filed in the Western District is another data point that may help future patent plaintiffs to better assess strategy for filing new cases."
Two major data points were added in September with two major jury verdicts.
On September 21, an Austin jury awarded $174 million to messaging app developer Voxer, which claimed that Meta Platforms (Facebook) over patent infringement allegations. The interesting twist in this case is that Meta lawyers asked that the case be transferred out of Judge Albright's court in Waco to Austin, where Judge Lee Yeakel presided over the trial.
Two days later, a Waco jury slapped Laboratory Corporate of American, a North Carolina-based medical diagnostics company, with a $272.5 million verdict for violating the patents of Maryland-headquartered biotech business Ravgen Inc.