Once, sometimes twice a day, Mike Lynn walks the hallways of the 27th and 28th floors of 2100 Ross Avenue — previously known as San Jacinto Tower — and pokes his head into the offices of the lawyers at the litigation boutique that bears his name.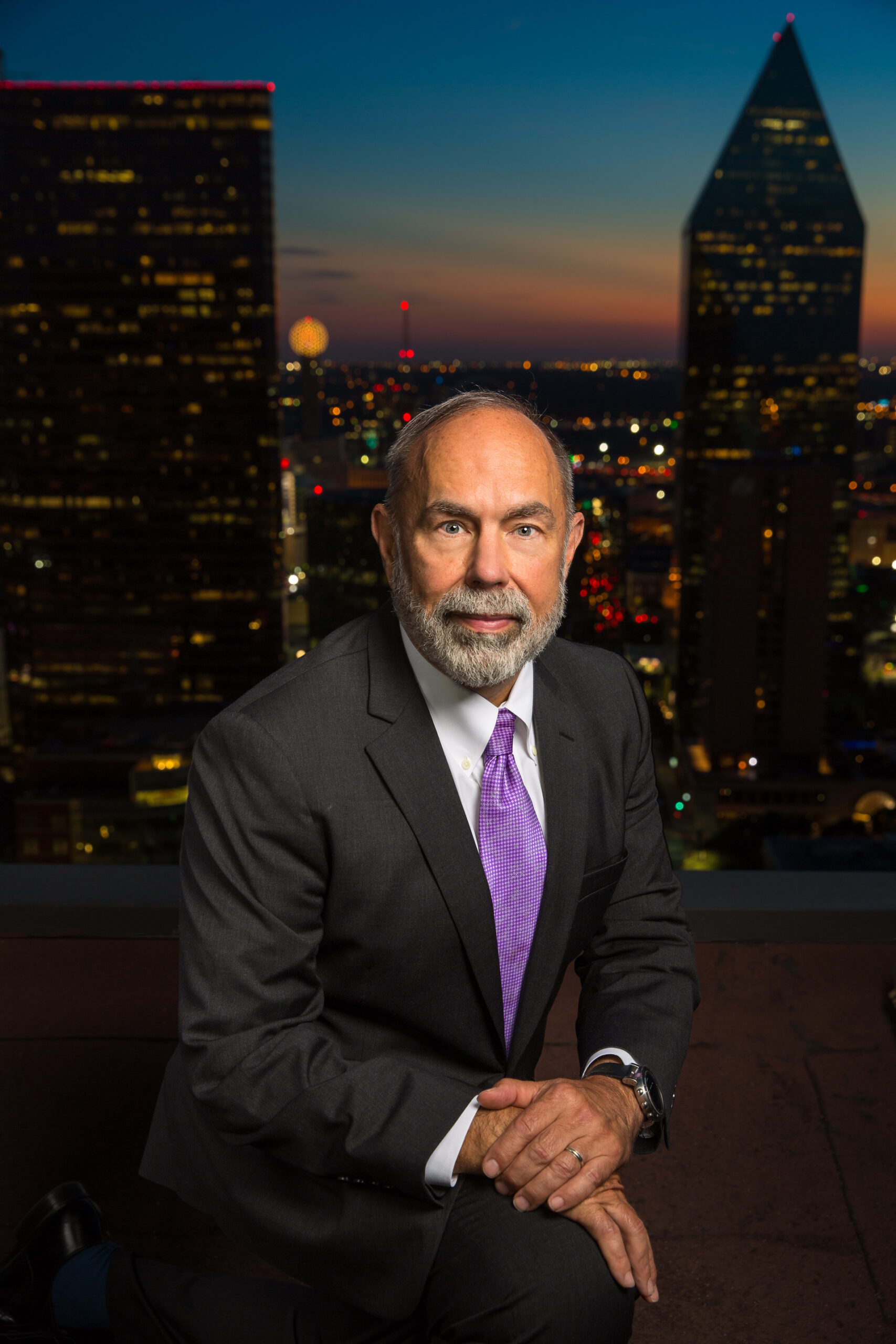 "Mike asks about our personal life and about cases that we are working on and asks how he can help us," said Sam Hardy, a former partner at Lynn Pinker Hurst & Schwegmann. "Mike often adds some wisdom or constructive criticism or story about an experience he had. To Mike, the lawyers at the firm are family."
In 1993, Lynn left the comforts of national corporate firm Akin Gump to start a trial-focused shop with two other lawyers. They used a wooden door on cement blocks as a desk. The paralegal was also the office manager, who worked at a table in the hallway.
Thirty years later, Lynn Pinker is one of the largest and most prominent litigation boutiques in Texas, boasting 47 lawyers and blue-chip clients such as IBM, Energy Transfer, Neiman Marcus and Xerox — and even a Saudi prince.
"This is a story that could only happen in Texas," said Lynn, who is now 73. "Three guys and a secretary with a name none of us could spell start a law firm with no money in the bank and a handful of potential clients. We were motivated by the sheer terror of having to meet payroll every two weeks."
"Turned out, we had more work and more business than we could handle right from the beginning," he said.
Last month, more than 500 clients, alumni and friends of the firm gathered at Carbone Dallas, an upscale Italian restaurant in the Design District, to celebrate three decades of survival and success.
"The firm has grown and grown. It has added partners and lost some partners and changed names a few times. But Mike is the constant. He is the glue that keeps the firm together," said Lynn Pinker managing partner Chris Schwegmann (pictured left), who recently signed a lease for the firm to add 15 more lawyer offices on the 26th floor of 2100 Ross. "We need the space. I have lawyers sitting in conference rooms."
"Each year since 2016, the firm has done better in revenue and profits than it did the year before," Schwegmann said. "When I came here in 2005, our client base was mostly midsized [and] North Texas-based and we tried most of our cases in Texas. Now, we have national clients, such as IBM and General Electric and Eli Lilly, and we are trying cases all across the country."
"The firm is just now hitting its stride," he said.
With 47 lawyers, Lynn Pinker ranks in the top five firms with the most litigators in Dallas — slightly more than Norton Rose Fulbright, McKool Smith, Jackson Walker and Baker Botts, which each have between 40 and 45 attorneys — and less than Gibson Dunn (68) and Holland & Knight (62).
A dozen different partners generated $2 million or more in revenues during the past year, Schwegmann said.
"We are like every 30-year-old," Lynn said. "We are young, aggressive and looking to the future. The biggest trouble for most litigation boutiques is that their law firm gets old as the founding lawyers get older. We have been determined to not make that mistake."
Lynn said the current and future success of Lynn Pinker rests less with him and more with younger lawyers, such as Schwegmann, Britta Stanton, Michael Hurst, Andrés Correa and Chris Akin.
"I view myself now as a transitional player — helping guide and support these great younger lawyers into leadership roles," he said. "About 25 percent of the partners in this firm are in Band 1 of Chambers rankings. We have some great young lawyers."
Like all successful law firms, Lynn Pinker has experienced growing pains and suffered some significant talent losses, including partners lateralling to blue-chip corporate firms such as Gibson Dunn, Kirkland & Ellis and Weil Gotshal. Some lawyers left to start their own firms.
A few attorneys departed only to return.
"There was nowhere else I wanted to work," said Stanton, who joined Lynn Pinker in 2003 and became the firm's first woman partner in 2008. Stanton left Lynn Pinker in 2019 to join a trial consulting practice but returned to the firm in 2022.
"The firm feels the same as it did when I joined in 2003 and we had less than 15 lawyers," Stanton said. "The same closeness. The same aggressiveness and hunger. The same commitment to getting its lawyers in the courtroom and trial experience."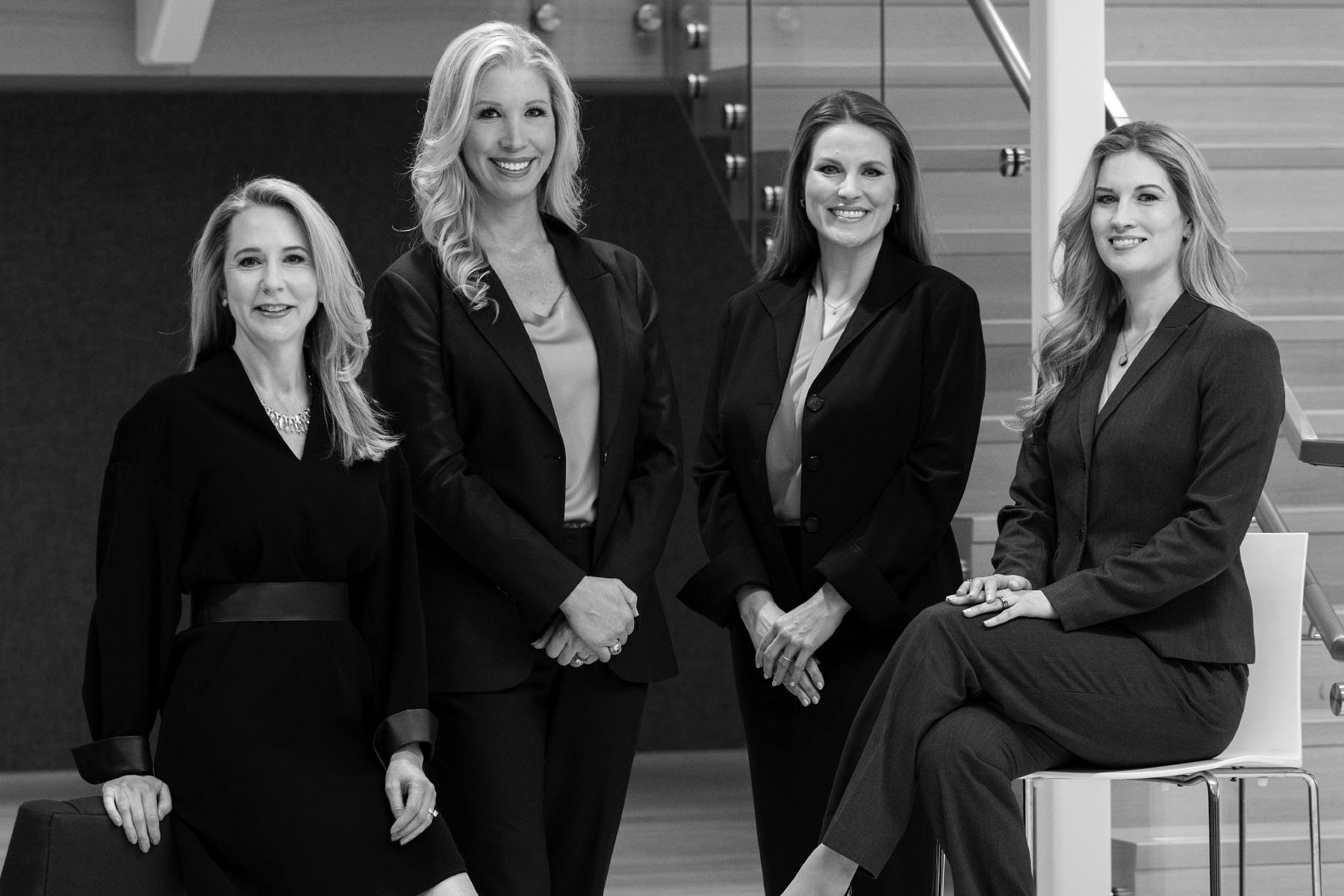 "We now have four women partners," said Stanton, noting that 17 of the 47 lawyers at Lynn Pinker are women and 13 of the 47 are attorneys of color.
Lynn Pinker is also reaping the rewards of maturity, including placing some of its lawyers in-house with clients such as Keurig Dr Pepper, Energy Transfer and Southwest Airlines. Hardy, for example, left Lynn Pinker in 2022 to become the associate general counsel and head of litigation at pipeline giant Energy Transfer.
The 30-year-old firm also has some incredibly loyal clients.
"It comes down to results, and they have helped us achieve some significant victories," said Preston Hollow Community Capital General Counsel John Dinan. "They are zealous advocates but they do it in a professional and respectful way, unlike so many other members of the profession. They are our go-to law firm."
Anniversaries provide a time to step back and examine a law firm's history of decision-making. Last month, The Texas Lawbook told the story of Bill Munck and Munck Wilson celebrating its 25th anniversary. Earlier this year, The Lawbook did an in-depth article on Susman Godfrey and its 40th anniversary. Next week, White & Case goes under the microscope as it marks five years of operation in Texas.
The stories of nearly all law firms are defined by critical or business-threatening events, enormous courtroom victories, lawyers joining and leaving and strategic decisions on practice groups or business sector focuses. Almost all successful firms in Texas have stories that revolve around one or two legal stars — be they Leon Jaworski or Steve Susman, John Zavitsanos or David Beck, Mike McKool or Paul Yetter.
Lynn Pinker is no exception.
In three decades, the firm's lawyers have scored multiple nine-digit courtroom victories for plaintiffs and defendants.
While the firm has evolved and grown under multiple flags — Lynn Melsheimer, Lynn Tillotson and now Lynn Pinker — legal industry insiders say the firm's three decades of success is best understood or explained by the first two names on the door: Mike Lynn and Eric Pinker.
"Mike and Eric are the Ego and the Id," said Schwegmann, referring to Sigmund Freud's 1923 paper on the human psyche. "Mike is an explosion of ideas: some crazy, some brilliant. Eric decides if those ideas are doable. Mike has the passion and energy and drive. Eric is the one who makes us draw within the lines."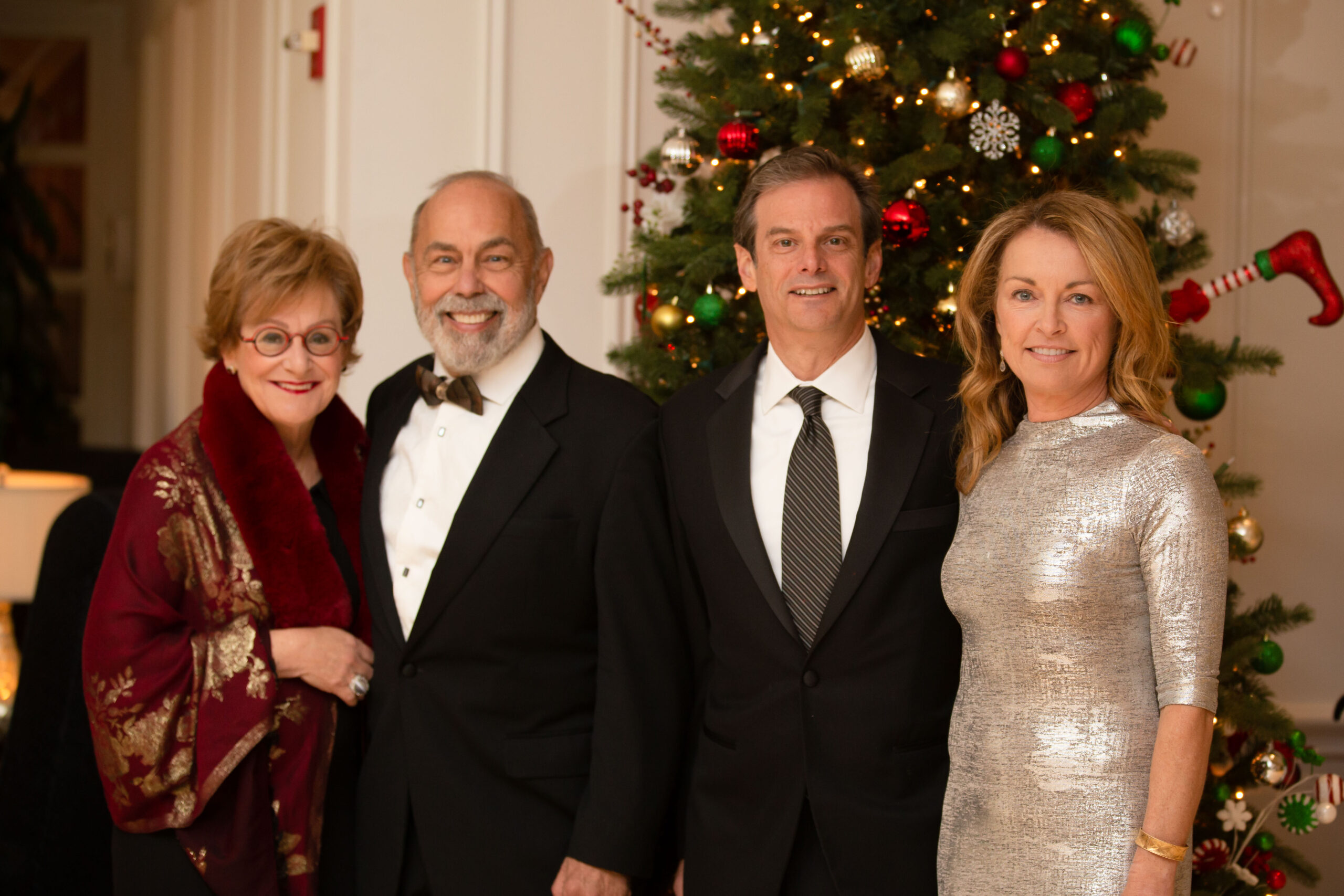 The Lynns and the Pinkers
"This is Mike's law firm, but this law firm doesn't exist as it does today without Eric," he said.
Lynn Pinker partner Michael Hurst, who joined the law firm in 2016, says the firm's top leaders could not be more different.
"Mike is the grandiose general who has some crazy ideas, including the brilliant vision to build this law firm into the litigation powerhouse it has become," Hurst said. "Eric, by contrast, is the most methodical, black-and-white, by-the-book person that I have ever known. Mike is full of ideas and optimism, and Eric has a healthy dose of skepticism. And the two of them together just works."
Lynn, the firm's founding partner, and Pinker, the firm's first associate, agree that their personalities differ significantly.
"Eric is very logical in his problem-solving," Lynn said. "Eric tells me all of the things that can go wrong. He is not afraid to tell me no."
"Well, that is certainly true," Pinker responds, laughing. "Mike and I come at things very differently. He's a big-picture thinker. I'm a details guy."
But all good stories are best told from the beginning.
Jim Coleman: 'Leave and Start Your Own Firm'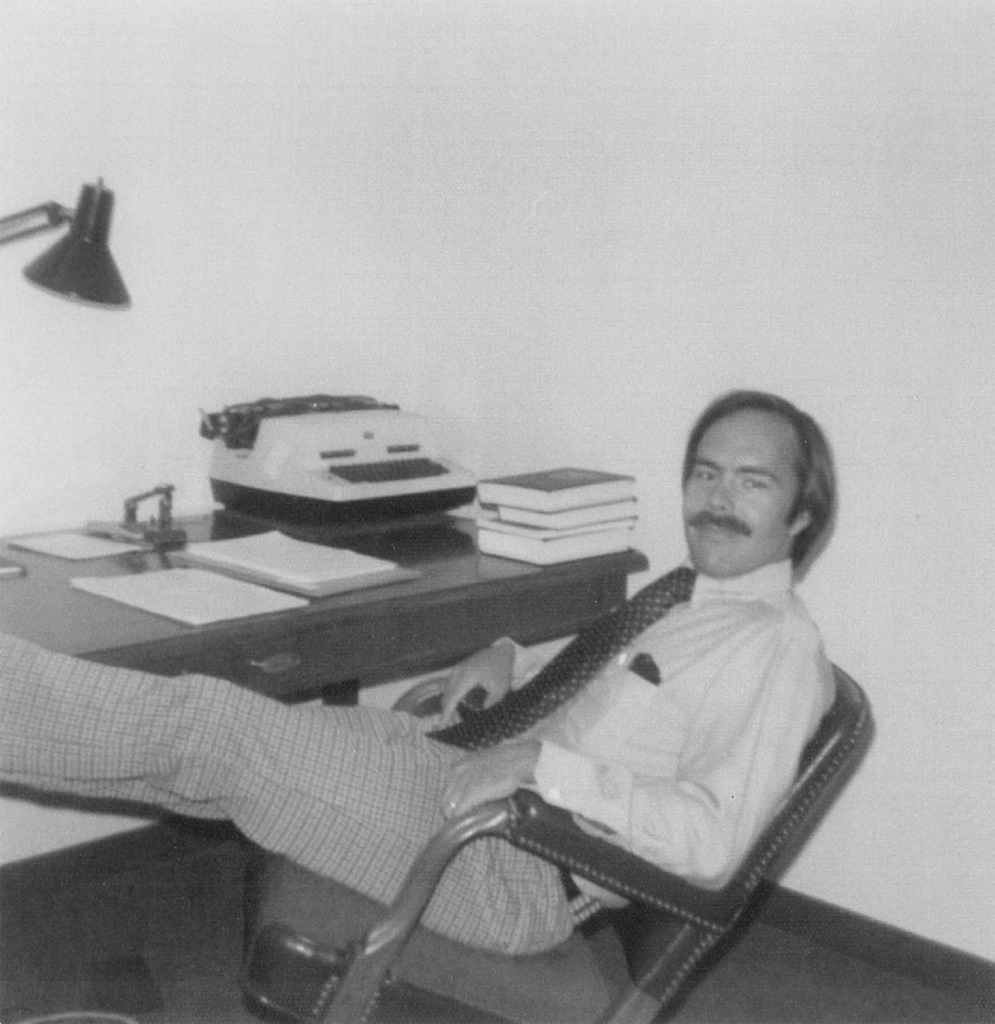 In 1993, Lynn (pictured right) was 42 and a young partner in the litigation practice at Akin Gump. He was frustrated that the national corporate firm wasn't hiring enough trial lawyers and was increasingly managed by transactional-side partners.
That same year, Lynn had lunch with legendary Dallas lawyer Jim Coleman.
"You need to leave and start your own firm before you turn 50 or you will never leave," Coleman told Lynn.
That week, Lynn wrote what he calls a "true estoppel letter" to his spouse, Barbara Lynn, who is now a federal judge but was then a litigation partner at Carrington Coleman.
Dear Barb,
I intend to leave Akin Gump in two weeks unless I hear an objection from you within three days.
Sincerely Yours,
Mike.
Lynn had seen the success that Steve Susman had opening a litigation boutique in Houston a decade earlier, and he met with Mike McKool, who had started litigation-focused McKool Smith in Dallas in 1991.
"I went to the library and read all the press clippings on Steve Susman, and I thought we could do that here in Dallas," Lynn said.
Lynn started talking with fellow Akin Gump partner Steve Stodghill and Assistant U.S. Attorney Tom Melsheimer, and the trio agreed to launch the firm together.
In 1994, the firm hired its first associate, Eric Pinker, then a litigation associate at Akin Gump.
"Eric was the best hire in the 30-year history of the firm," Lynn said. "Eric is one of the best trial lawyers I have ever seen. Eric is not the best at any single thing, but he is the second best at everything."
Pinker said he became "disillusioned practicing litigation" at a large corporate law firm.
"This was an exciting opportunity to work with Mike and the others, but also some risks," Pinker said. "The four of us were all in it together."
The next year, 1995, Lynn, Stodghill & Melsheimer hired Jeff Tillotson from Baker Botts as the firm's fifth lawyer and fourth partner and his name was added to the front door.
"Everyone at Baker Botts told me that I was insane for leaving a big law firm to join Mike and Tom and Steve. They said if I left, I would never be heard from again in big commercial litigation," Tillotson said. "The opposite ended up being true. We took advantage of the large corporate law firms retreating from an emphasis on litigation. It allowed us to attract top tier talent from those in Big Law who wanted to try cases and go to court."
"We proved that clients hire lawyers — not law firms," he said.
Lynn and the firm scored two huge victories in 1999 and 2000.
Visa International hired Lynn in 1998 to defend the company against charges made by Dallas-based ZixIt Corp., an internet credit card processing company, that a Visa executive had anonymously posted 437 critical messages on Yahoo's investment website. ZixIt sought $800 million in actual damages and $1 billion in punitive damages.
Lynn employed the "so what" defense.
"Sure, we did it, but so what? We showed that the postings had no material impact on the market," Lynn told The Lawbook in a 2014 interview. "The jury gave us a complete victory."
A year later, in 2000, Lynn represented Alcatel on a contingency-fee basis in a high-dollar trade secret dispute with Samsung, which Lynn says settled "very favorably" for Alcatel. While the terms of the agreement are confidential, lawyers familiar with it say it is the largest corporate trade secret settlement agreement ever reached in a Dallas County court case.
'No One Gave Us a Shot'
But 2000 also brought the first turmoil to the young law firm when Melsheimer and Stodghill departed to open the Dallas outpost of Fish & Richardson — an event Pinker described as a "hard reset" for the firm.
"People think that hard times or stress cause trouble for law firms, but the opposite ended up being true for us," Tillotson said. "We were so successful that it gave all of us more options. Not only were we hunting at other firms for talent, but other firms started looking at our lawyers and our successes."
Tillotson said Melsheimer and Stodghill leaving "turned the rest of us into a more self-reliant and more cohesive group."
That same year, the law firm elected Pinker as its first managing partner.
"Until Eric became managing partner, we had no formal organizational structure," Lynn said. "All firm management decisions were made in the hallways."
Stanton joined Lynn Pinker in 2003. Schwegmann, who practiced at Cravath in New York for three years, joined the firm in 2005.
"Mike and the firm put its money where its mouth is about giving its lawyers courtroom and trial experience," Stanton said.
This past year, 80 percent of Lynn Pinker's lawyers actively participated in courtroom proceedings, including trials, Lynn said.
In 2014, Lynn, then-partner Jeremy Fielding and partner Chris Akin captured headlines when they convinced a Dallas jury to award their client, pipeline giant Energy Transfer Partners, $319 million in damages — which grew to $914 million eventually awarded by the trial judge — over an alleged partnership dispute with Houston midstream giant Enterprise Products.
Even though the Texas Supreme Court later reversed, Lynn said he will never forget being in the courtroom in March 2014.
"No one gave us a shot at winning that case, and hearing the jury return with its verdict was one of the best days of my career," Lynn said.
One of the key moments at trial credited to ETP's victory was when Lynn questioned ETP Chief Executive Officer Kelcy Warren on direct examination.
"Show me a document [that says] any party had the right to eliminate another party," Warren said from the witness stand. "Go to frickin' church. Have a parent. Have a moral compass. You've got to be kidding me."
Former ETP Deputy General Counsel Tonja De Sloover said Lynn was already doing legal work for ETP (now called Energy Transfer) when she joined the pipeline company as head of litigation in 2013.
"Mike is a bit of an acquired taste — a real character — and I wasn't used to that having come from Fulbright & Jaworski," said De Sloover, who left Energy Transfer in 2021 to become the assistant general counsel and head of litigation for IBM. "But I quickly came to realize that Mike is one of the most strategic lawyers I have ever met."
"I have absolute trust in Mike," said De Sloover, who now has Lynn Pinker handling disputes for IBM. "He cares as much about cases as I do. He is so competitive. The law firm is really a family to him, and he is incredibly invested in his younger lawyers."
Then came 2016, another critical year in the law firm's history.
On January 19, Tillotson announced he was leaving to start his own firm.
"Throughout it all, it is Mike Lynn's law firm and it should always be Mike Lynn's law firm, because he built it and made it the great firm it is today," Tillotson told The Lawbook in 2016. "Mike is a great friend and that's not going to change."
Three weeks later, Lynn said the firm made its biggest business decision in the firm's history — to add seven lateral hires, which included Michael Hurst (pictured right), Shonn Brown and Jonathan Childers.
"We had never hired more than one or two laterals at a time, and we discussed whether it was a risk to our culture and style to add so many lawyers at once," Lynn said. "It was a risk that has paid off."
In November 2016, the firm scored another huge courtroom win. Lynn and Correa joined Dallas trial lawyer Chrysta Castañeda in representing Mesa Petroleum Partners and T. Boone Pickens in an oil and gas dispute in West Texas against Dallas-based J. Cleo Thompson. A two-week trial ended with the jury awarding Mesa $146 million in damages.
'Cross Between a Family and a Soccer Team'
On March 14, 2020, Eric Pinker was on a flight from Sierra Leone, West Africa, to Dallas/Fort Worth with a connecting flight in Paris when he received a series of emails.
Pinker had visited his daughter, who was serving in the Peace Corps in a small village. He cut his trip short as countries began closing borders and issuing travel bans due to Covid-19.
"First, I received an email stating that President Trump was issuing travel restrictions from Europe, and then I got an email saying that the firm was closing its physical offices indefinitely because Dallas County had ordered all nonessential businesses to close," Pinker said. "I had just re-signed our new lease agreement that included renovations, and now all that space we were paying for would be empty for who knew how long."
Then more bad news came hours later in the form of an email from named partner Trey Cox announcing that he was leaving Lynn, Pinker, Cox & Hurst to join Gibson Dunn.
"All of this happening at once was extremely stressful as the firm's managing partner," Pinker said. "But it wasn't a firm-ending event at all. We ended up being extremely busy throughout the pandemic."
Schwegmann said Pinker's steady hand and Lynn's energy and passion during Covid guided the firm to its most profitable year to that point.
"When I arrived at the firm, we had about a dozen lawyers and no bureaucracy, no structure," Schwegmann said. "We're now an established institution, but we have worked to keep the entrepreneurial spirit and camaraderie."
Even as the law firm has nearly doubled in size, from 25 to 47 attorneys, during the past decade, its lawyers have stuck to certain cultural guides and practices.
For example, nearly all of Lynn Pinker's lateral lawyer hires clerked for a federal judge or the Texas Supreme Court. Each new hire is given a script and then told to prepare an oral argument.
"Finally, I try to scare them away by telling them every reason I can think of as to why they should not come to our firm," Lynn said. "We like lawyers who have sufficient grit. Were they athletes or debaters? Have they been knocked down and got back up?"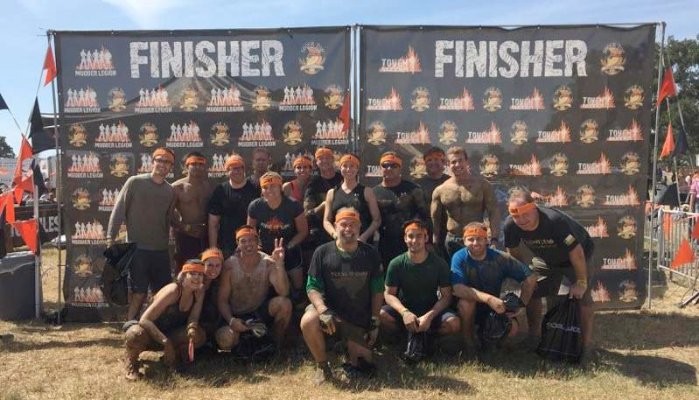 Lynn Pinker partners posing after completing a Tough Mudder competition
Another tradition that has lasted is the "pink champagne toasts."
"After every big courtroom victory, we get the whole team together and the youngest lawyer involved in the case leads a toast of pink champagne and then a midlevel lawyer does a toast to the non-lawyer staff folks who did critical work," Lynn said. "The firm runs as a cross between a family and a soccer team. There's no hierarchy. If the mailroom clerk walks in with a great idea, we adopt that idea."
"How have we survived and been so successful when nobody gave us a chance?" Lynn asked. "It is the talent we've recruited and supported and rewarded."