For years, national expert experts told Jackson Walker managing partner Wade Cooper that he needed to merge with a much larger corporate law firm with offices around the globe if his firm's lawyers were to remain competitive.
Wade watched as other Texas-headquartered firms — Fulbright & Jaworski, Andrews Kurth, Gardere and Thompson & Knight — combined with out-of-state legal giants over the past decade. Other Texas corporate firms, such as Haynes Boone, Baker Botts, Bracewell and Vinson & Elkins, made strategic decisions to aggressively expand outside the state.
Meanwhile, Cooper and Jackson Walker stuck to their gameplan to focus on Texas.
And only Texas.
Being what Wall Street analysts would call a pure Texas play paid off handsomely. Jackson Walker has experienced extraordinary growth, nearly doubling its attorney headcount and revenues since 2015. In 2022, the firm had 424 lawyers in six Texas offices producing revenues of $402.3 million — gains of around 10 percent and 16 percent, respectively.
"We hit for the cycle," Cooper told The Lawbook. "Our growth hasn't been the result of one or two practice groups. By growing within our existing footprint, we have been able to grow without extra expenses."
According to the Texas Lawbook 50, which ranks corporate law firms on their Texas operations, Jackson Walker had the second most attorneys and fourth highest revenues in the Lone Star state — only $4.4 million behind third-ranked Norton Rose Fulbright.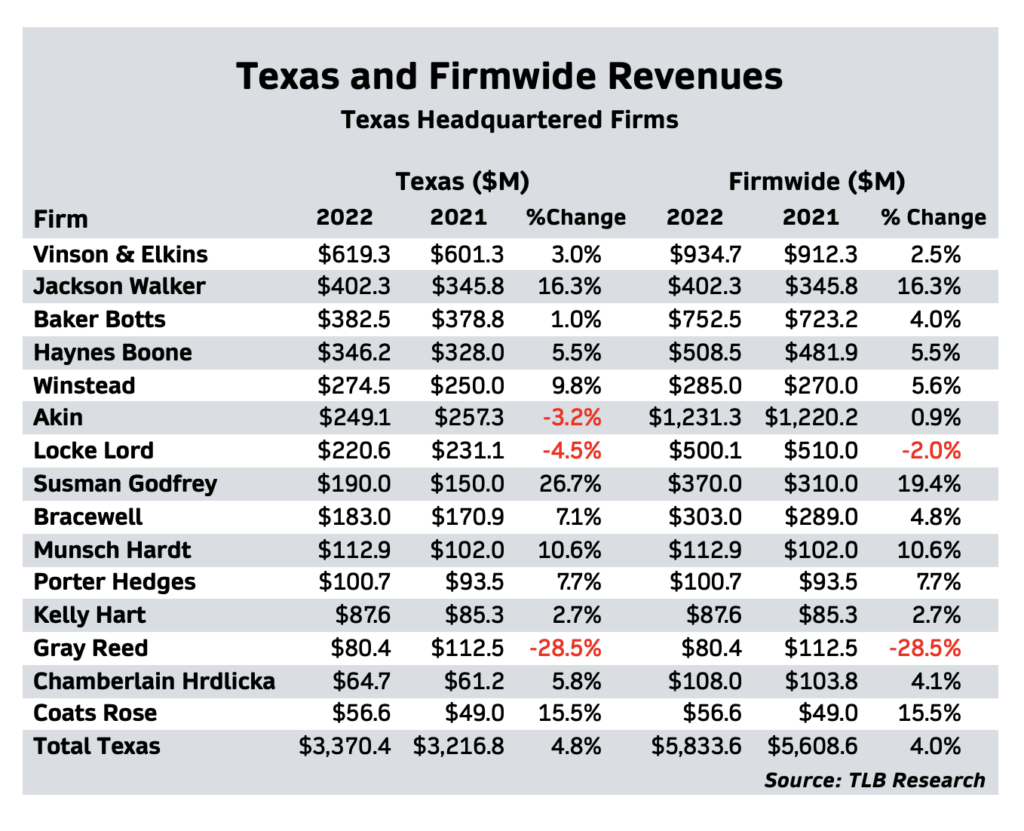 Jackson Walker is leading a resurgence of Texas-based firms that are growing revenues and increasing profits in their Texas operations.
Fifteen of the Texas Lawbook 50 firms are headquartered in Texas. In 2022, they generated $5.83 billion firmwide and $3.37 billion from their Texas operations (chart 1). As a group, the firmwide revenues increased four percent. Those same firms grew revenues nearly 5 percent in their Texas offices.
Twelve of the 15 firms grew Texas revenues in 2022. Four of them — Jackson Walker, Susman Godfrey, Munsch Hardt and Coats Rose — posted increases of more than 10 percent. Five others — Haynes Boone, Winstead, Bracewell, Porter Hedges and Chamberlain Hrdlicka — reported revenue increases of five percent or more.
"Our conservative firm management and aversion to debt have served us well," Haynes Boone managing partner Taylor Wilson said. "We are experiencing less volatility than the national law firms. The Texas economy has proven to be resilient during times when other parts of the country are down."
Leaders at competing firms agree.
"We like our platform. We like our strategy. We like the path we are on," said Bracewell managing partner Greg Bopp, who noted that nearly half of the firm's attorneys are now based outside of Texas. "We have a deep energy practice, and Houston is the energy capital of the world."
Three of the 15 Texas firms reported their non-Texas operations outpaced their in-state business in 2022. Houston-based Baker Botts grew Texas revenues one percent, but the firm boosted non-Texas revenues more than seven percent. Revenues for Locke Lord's Texas operations declined 4.5 percent last year, while the firm's top line was flat for its non-Texas offices.
"2022 was a strong year for us — just not as strong as 2021," said Locke Lord firm chair David Taylor. "This year has started very strong for us. We are always looking to grow in our strength practice areas."
Akin had a slight revenue gain nationally in 2022, but its Texas revenues were down three percent to $249.1 million. The decline can be directly traced to the firm reducing its Texas lawyer count from 182 in 2021 to 176 last year.
"We are very disciplined in our hiring," said Alison Chen, partner-in-charge of Akin's Houston office. "Laterals have to fit into our premier practices."
Battling Out-of-State Entrants
The Lawbook 50's Texas legacy firms had a good year in 2022, but they continue to lose lawyers, clients and work to the national law practices that have invaded the state in the past dozen years.
The Texas Lawbook 50 reported $8.63 billion in revenues in 2022, and $5.26 billion, or 60 percent, was generated by the Texas offices of the 35 out-of-state law firms. Those national law firms increased their Texas revenues by more than nine percent, doubling the growth rate of the Texas-headquartered firms.
The shrinking market share of Texas-based firms has been remarkable. In 2014, Texas legacy firms outnumbered the out-of-state firms four to one in the Lawbook 50 revenue rankings. Last year, the national firms seized a two-to-one advantage.
Although the national law firms continue to expand in Texas, often by hiring partners away from the Texas-based firms, the national invasion has helped the indigenous firms in at least one specific ways, according to Michael McKenney, managing director of Citi Private Banking's Law Firm Group.
"The Texas law firms have benefited from the national law firms because big national firms brought billing rates and compensation structures with them when they opened in Texas," McKenney said. "That gave the Texas firms the cover to increase."
McKenney focuses on the firmwide performance of the half-dozen Texas-based firms with national footprints — V&E, Baker Botts and the like. His data show that Texas legacy firms raised billable hourly rates 5.5 percent in 2022, while national firms reported a slightly higher gain of 5.8 percent jump.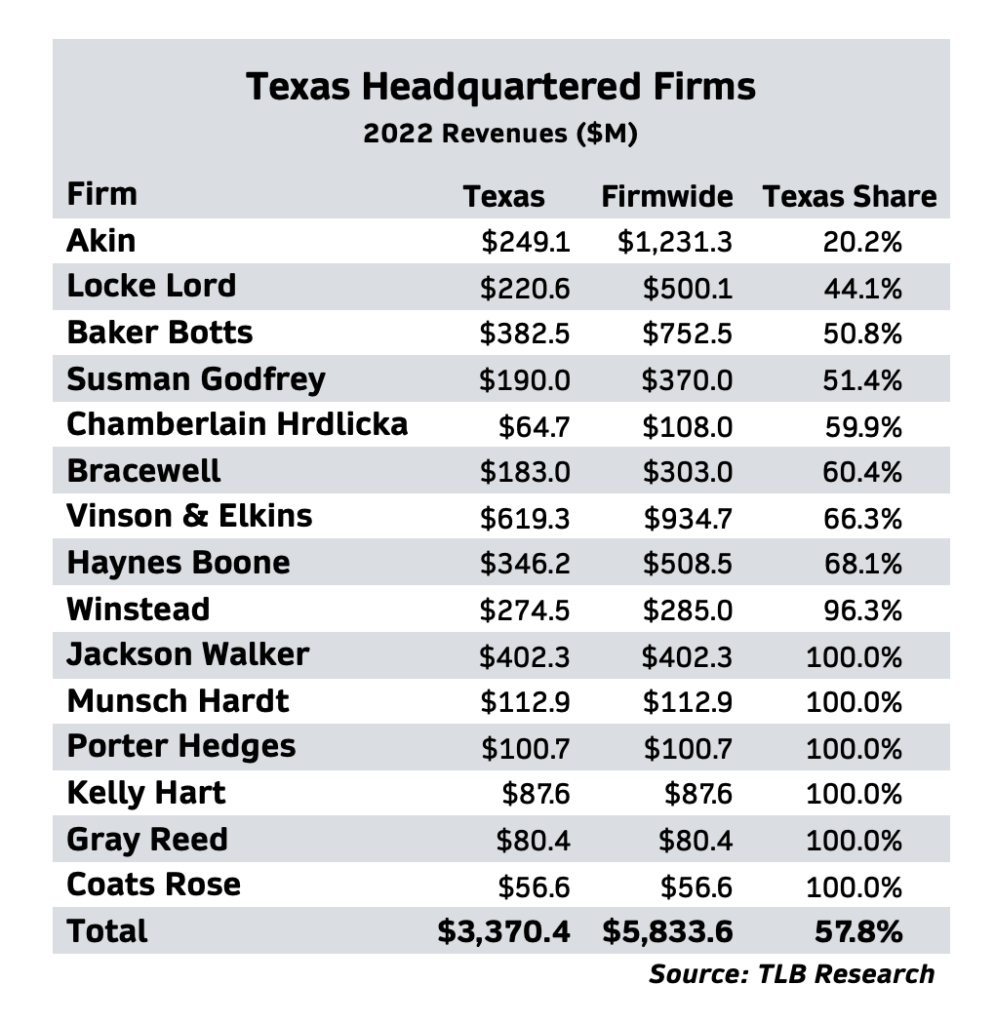 Einat Sadka, a Dallas-based director in the law firm group at Citi Private Banking, said the higher rates stuck even though many clients protested.
"In an inflationary environment, clients are more receptive to rate increases," Sadka said.
Sadka and McKenney said lawyer headcounts rose 4.6 percent in 2022 for the nation's biggest firms, while the number of lawyers at Texas-based firms declined 0.7 percent. As a result, the biggest Texas-headquartered firms witnessed a five percent increase in expenses, well below the eight percent for corporate firms nationally.
"The Texas firms have been much more cautious about the business environment," McKenney said. "It is not at all clear that volume of work is going to improve for the rest of 2023. You have to look forward to 2024 to see volume increasing."
Partly because of the wariness of hiring too many lawyers, productivity has held up better at the Texas-based firms. Billable hours per lawyer were down 2.2 percent in Texas versus a 6.7 percent drop nationally.
"Texas seems to be a good defense when times are tough nationally," McKenney said.
Different Business Models
Jackson Walker prospered by staying true to its Texas roots, but not all Texas-based firms operate close to home. Among the Lawbook 50's 15 Texas-headquartered firms, 42 percent of the $5.83 billion in firmwide revenue came from non-Texas offices.
That number is skewed by one giant corporate law firm — Akin Gump, founded in Dallas in 1945. Now co-headquartered in Dallas and Washington, D.C., the firm made 80 percent of its $1.23 billion in revenue outside Texas in 2022 (chart 2). In fact, Akin's $982 million from non-Texas operations was 5 percent more than second place V&E made in its 11 offices.
One of Akin's specialties is helping clients deal with government policies and regulations. Chen said, for example, that last year's Inflation Reduction Act sweeping infrastructure and energy provisions have provided her and other corporate transactional lawyers "job security."
"We have been getting calls right and left about the IRA," she said.
Across the board, firm leaders in Texas say that their transactional lawyers have been kept busy on IRA-generated work.
"The IRA is driving a tremendous amount of transactional and regulatory work," Bopp said. "In this environment, you have to be nimble and flexible and address risk management matters quickly."
Locke Lord is the only other Lawbook 50 Texas legacy firm that generated more revenues outside Texas than within the state.
Two firms are around 50-50. Revenues for Houston-based litigation boutique Susman Godfrey were split $190 million for Texas offices and $180 million for offices in other states. Baker Botts reported revenues of $382.5 million in Texas and $370 million out-of-state.
Six of the Texas legacy firms — Jackson Walker, Munsch Hardt, Porter Hedges, Kelly Hart, Gray Reed and Coats Rose — made all of their revenues within Texas. Except for Jackson Walker, these firms rank in the bottom half of the Lawbook 50.
Getting into the top half of the Lawbook 50 typically comes with a national footprint. Legacy big guns Baker Botts, Bracewell, V&E, and Haynes Boone get one-half to one-third of their revenues from non-Texas offices.
Winstead, which doesn't release its firm financials to the public, generated more than 95 percent of its estimated $285 million in firmwide 2022 revenues in Texas, according to Texas Lawbook research.
"We had significant growth, and most of it was client and demand specific. 2022 was better than 2021," Winstead chair emeritus David Dawson told The Lawbook in an interview.
"We have been very disciplined in our firm's focus," Dawson said. "We are not a firm that aspires to be all things to all people. We have been laser-focused in growing in the areas where our clients need us, including real estate, public finance, public-private relationships, airlines and aircraft finance. That discipline is the reason we have been successful."
Munsch Hardt and Porter Hedges stuck to Texas and managed $100 million in revenues in 2022. At the latter firm, managing partner Rob Reedy said the firm is in year five of a strategic plan that led the Houston-based firm to increase revenues by nearly 8 percent in 2022 and exceeding $100 million for the first time in the firm's history.
"We are lucky to be in a fantastic business market and legal market," Reedy said. "The economy in Texas has allowed us to have strong performances and a lot of strong work by lawyers throughout the firm."
Porter Hedges and Jackson Walker benefit tremendously from work referrals from other corporate law firms in matters involving transactions, litigation, restructurings and regulatory actions.
Cooper cites Jackson Walker's partnership with Kirkland & Ellis bankruptcy matters in the Southern District of Texas. Chicago-based Kirkland ranked No. 1 in the Lawbook 50 revenue rankings for the past three years.
"Part of our calling card is that we are not here to steal your clients or your lawyers — we are here to help," Cooper said.
This is part six in the Texas Lawbook 50 series of articles. Past articles include:
June 12: Three firms, extraordinary growth — The LA connection
May 15: Another record for Texas revenues in 2022
April 19: Corporate firms in Texas continued to add lawyers in 2022 at a near record pace
April 10: The Big Three – Baker Botts, Norton Rose Fulbright and V&E – and their 24 journeys from top of the mountain, battling for survival and extraordinary success and profits
April 6: Susman Godfrey looks to its 40 year history and has best financial year ever