WNDYR CEO Claire Haidar's presentation to the Association of Corporate Counsel's DFW Chapter was designed to be a cold hard slap about the days ahead for most businesses.
Companies today are fraught with constant chaos and face crisis after crisis. The workforce is increasingly unstable and is becoming less and less productive. Corporate leaders are trying to implement hybrid working conditions – efforts that she predicts will fail miserably.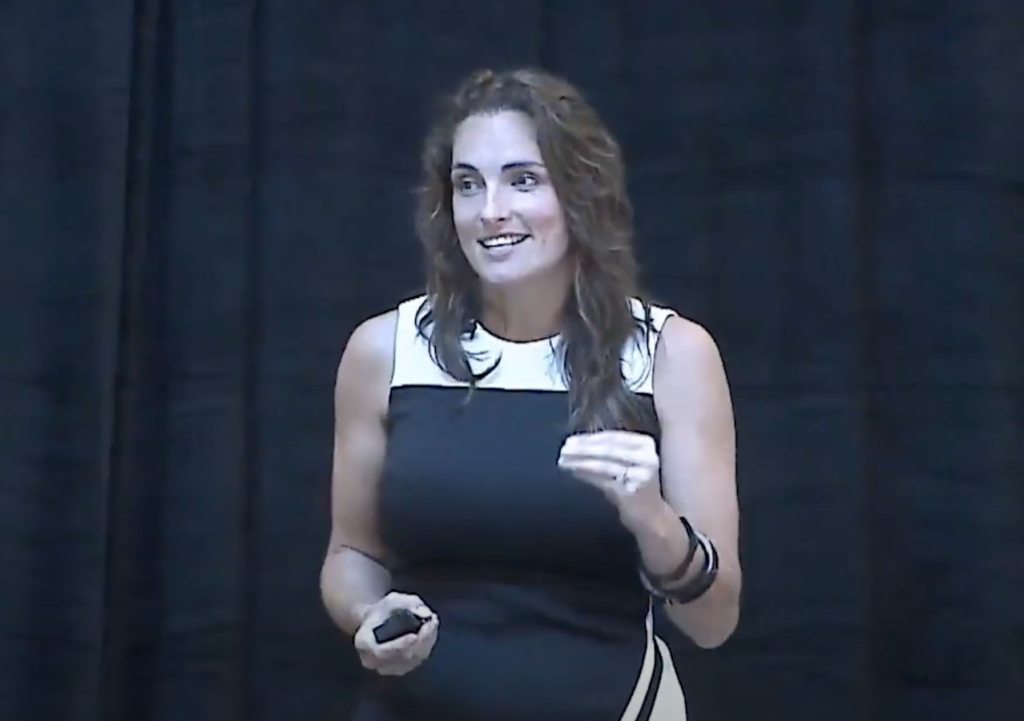 Bottom line: Business leaders face challenges today like nothing they have ever seen before.
But before Haidar delivered the unsettling news to 300 ACC DFW members attending the group's recent golf and spa retreat, she shared a recent experience in which she humiliated herself in front of countless colleagues and friends, as well as a major investor.
Newly vaccinated and eager for in-person public contact, Haidar met a major new investor in her business for lunch earlier this year at a swanky Uptown Dallas restaurant.
Champagne had been delivered to the table for the celebration. Salads were served. Haidar recognized on the table a bottle similar the olive oil dispenser she has at home and quickly sprayed the content on her greens.
"I genuinely thought it was olive oil," she said. "It was hand sanitizer."
At first, Haidar started to panic and hoped no one would notice her mistake.
"Then the smell of the sanitizer emanated from the salad," she said. "Everyone knew. It was the most embarrassing moment of my entire life."
The lesson: Things are not going to go the way you have planned for the foreseeable future.
Haidar is described as a "futurist." No tarot cards or Ouija boards. She is a business advisor who helps leaders examine data trends and human behavior in order to take a peek around the corner at what is coming in the world of work transformation.
The key word: Change.
"If we knew the science of change, we would have known at the start of Covid we were headed straight into a mental health crisis," said Haidar, whose clients include Ernst & Young, Siemens, Credit Suisse, Accenture and Schlumberger.
Haidar's key predictions include:
The current constant world of crisis that seems to consume people and businesses is here to stay;
Companies and law firms that once operated fully in-person who believe they can quickly move to a hybrid of remote and in-person work are doomed to fail;
A mental health crisis involving employees and leaders is quickly approaching because people simply do not have the time they need to do all that is required of them at home and work; and
Going forward, business leaders should expect no more than four hours of productivity a day from their workers and the employee turnover rate – known as the "Great Resignation" – is real and will continue to wreak havoc in the workplace.
"We've entered a whole new era of chaos," Haidar said. "We innately don't like it. We want to push back against it. We want to reorganize it and put order to it."
But Haidar said that is the wrong approach because the scientific chaos theory actually contends that chaos isn't disorganized at all. She said it is a "highly, highly connected networked environment."
"Think about nodes everywhere, and those nodes are connected," she said. "The reason it feels chaotic is because every change happening at the micro level impacts every other node. Every change happening to you is impacting the circle around you. Every change to them, you are feeling it. But if you put chaos under a microscope and look at it very closely, it is highly structured and is need of zero organization."
In order to move into this new era of chaos in a hyper-connected world in which every aspect of everything impacts us requires that "we stop trying to organize the chaos."
"That's the mind shift and it is huge," she said.
Haidar said the first step is understanding that most professionals today operate on a "deficit of hours and a deficit of days."
Studies show that it takes 70 hours a month on average to keep a house organized and clean. Parenting two children takes an average of 225 hours per month. For those who work eight hours a day, that's another 230 hours per month consumed. Sleeping eight hours a night deletes another 240 hours a month. Exercise, on average, is another 10 hours a month. Personal time, such as watching TV, showering, trying to golf with friends and having a beer at the pub is another 55 hours a month. Commuting, on average, takes 30 hours a month.
That all adds up to 860 hours. But there's just 720 hours in an average month, which leaves a deficit of 140 hours – nearly "six days short just to do normal life."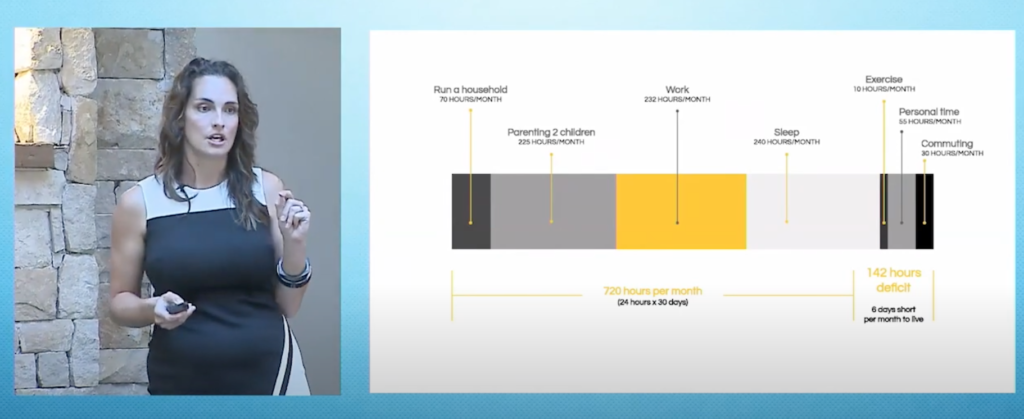 "The first thing we sacrifice is sleep," she said. "We think that if we sleep less, we get more done. Then next sacrifice is exercise. Then we cut away the personal time. Parenting has taken on a whole new level of time strap during the past year. We didn't really want to put more time in there, but we have had to and it skewed the life calculation even more. We were lucky with commuting because that was taken away, but it is coming back."
Haidar said work and personal life become a juggling act.
"Life and work are no longer separate entities," she said. "It is all just one thing right now. You are working while you are living. You are living while you are parenting. You are parenting while you are working. It is everything all in one and it is not going to change."
"Now you understand why we feel tired all the time," she said. "A human cannot live in [time] deficit. … You can, but you will get really sick. We are staring at a huge issue. As general counsel of a company, the brunt of this problem is going to become yours. This is your biggest risk. Employee burnout. Employee turnover. Employee mental health risks. Those things impact the bottom line."
Haidar said business leaders are "facing a crisis" called "The Great Resignation." She said recent data shows that companies face a 40% employee turnover rate.
"This is our new reality. It is going to be a perpetual reality," she said.
Companies that think one answer is a blended workforce that allows some employees who used to work in-person to now work at home will be disappointed at best and frustrated at worst.
She said that GCs need to get "very strategic regarding this whole going-back-to-work policy."
"There is no such thing as blended," she said. "It is an impossible mirage that you think is out there and that you think you can achieve. You can't. A company cannot be blended. An in-person company is fundamentally different from a virtual company. Everything about it. The values it takes to run it. The mind-shift it takes to work in those two environments."
"I'm talking something as opposite on the spectrum as socialism and capitalism," she continued. "That's how far apart those realities are. This is where companies are going to struggle and falter in coming years. Companies are going to have to redefine themselves. Are they a virtual company or an in-person company? They can't be both."
Haidar said that corporate in-house counsel need to better position themselves to play a critical role. GCs have the "capacity to make the change happen," she said.
"Legal has not had the strategic place in the C-suite that it has needed to have," she said. "[Lawyers] have been [at the table] but it has been a protective mechanism, but it has not been a transformative mechanism. It has not been leading the discussion."
Haidar said corporate in-house counsel need to "get serious about prioritization."
"Forget goal-setting," she said. "It is going to change every single week. The revenue number is going to change. The headcount number is going to change. The legal risk is going to change. As in-house counsel, we are going to have to sit with our teams and say, 'If this is the goal, what is the pain we are going to have to navigate?' Not 'how are we going to do it' – what is the actual pain? It is fundamentally different conversation than the one we have been having to date."