Hiring established lawyers typically involves a series of formal meetings and social gatherings that give firms and prospects a chance to feel each other out. The Covid-19 pandemic made face-to-face encounters risky for a large chunk of last year, thwarting the year's search for compatibility.
Nobody had ever been through anything like a global pandemic, so it's not surprising that lateral hiring slowed. Responding to a Texas Lawbook survey, 37 firms collectively made 325 lateral hires in 2020, down almost 27% from the 444 in 2019.
The pandemic-year toll was even higher at the partner level. The Texas Lawbook 's new Lateral Partner Database shows that 114 transactional, litigation and regulatory corporate partners took their practices to new law firms in 2020 – a 34% decline from the 174 partner laterals in 2019.
This top-level lateral hiring was down for the second year in a row in 2020. Activity had spiked in 2018, when 255 partners leaped from one law firm to another. In that year, Andrews Kurth merged with Hunton & Williams and Gardere combined with Foley. Each firm saw a sizeable partner exodus during the first three months of the year. At the same time, Katten Muchin, Shearman & Sterling and other out-of-state firms arrived, creating extra froth in the market.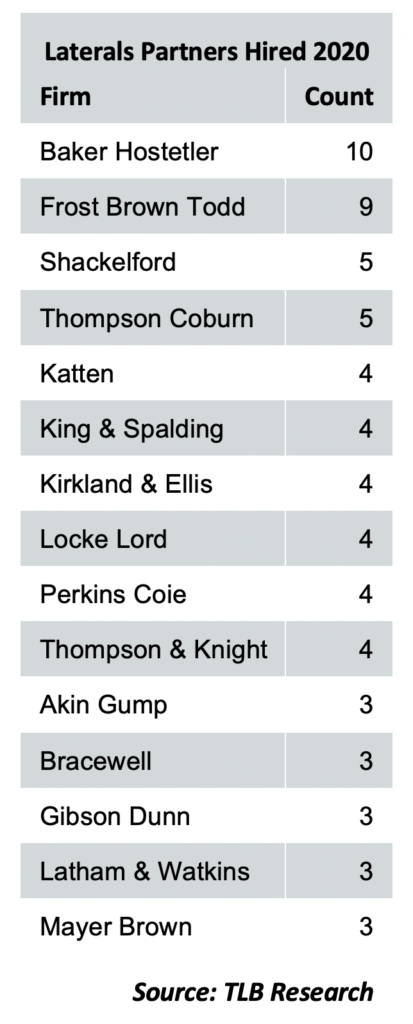 Lateral movements reflect developments and broader trends in firm finance – most notably, what type of lawyers firms want and what they're willing and able to pay for them. In the early months of 2021, signs are pointing to a bounce-back year for laterals
"We're in the busy part of the cycle," said Kent Zimmermann, a law firm consultant at Zeughauser Group in Chicago. "Some firms are in the enviable position of having more demand than they can meet."
Zimmermann said many firms took a pause on laterals in the great uncertainty of the pandemic's early months. The legal business improved as the year wore on, he said, and the lateral market picked up steam along with it in the second half of the year.
Several firms told The Lawbook they've ramped up the hunt for talent in the early months of 2021.
"We interviewed a fair number of people in 2020," said Tom Melsheimer, managing partner at Winston & Strawn. "We didn't end up closing like we did in the past. This year, I think you're going to see more firms – Winston & Strawn included – get more aggressive."
At Kelly, Hart & Hallman in Fort Worth, managing partner Marianne Auld said the firm brought on nine lawyers this year to make up for 2020's attrition – "and then some."
Bracewell managing partner Greg Bopp said the firm had already added 10 laterals in 2021 – but none of them in Texas.
"We continue to be a destination firm," he said.
Gainers and Losers
In March 2020, the pandemic closed offices, froze travel and made a night on the town potentially life-threatening. The slowdown in lateral hiring might have been steeper if not for the same internet technologies that firms used to maintain day-to-day contacts with clients, colleagues and courts. A Zoom meeting may pale in comparison to office visits followed by drinks and dinner – but firms and the lawyers they targeted made it work.
"When the pandemic hit, law firms in Texas put a freeze on the lateral legal market," said Yvette Ostolaza, chair-elect of Sidley Austin's management committee. "Many firms were unsure if they would have the work to support additional laterals and some partners were unsure how their clients would react to them changing firms during a pandemic."
NOTE TO PREMIUM SUBSCRIBERS: The Texas Lawbook has chronicled over 900 lateral hirings over the past decade. A searchable database record of those moves is now available on our Firm Management page. Check it out: Here.
The slow market in 2020 wasn't just firms reluctant to pull the trigger on hiring laterals. Lawyers hunkered down, too.
"As the market rebounded, the challenge was getting candidates to engage," said Mardy Sackley, founder and principal at Lone Star Legal Search, a Dallas company that matches lawyers and firms. "Unless there was a compelling reason to move, most candidates had their heads down working and dealing with uncertainty due to the pandemic, the election and oil and gas challenges."
In 2020, the most active firms in the lateral market were Kirkland & Ellis with 34 hires and Jackson Walker with 30. The two firms – the first arriving from Chicago in 2014 and the second home-grown in Dallas – have formed a working relationship on bankruptcy cases, a busy and lucrative practice given the stresses the pandemic put on businesses in 2020.
Other firms with success in hiring laterals were Munsch Hardt at 17, Munck Wilson at 16 and Chamberlain Hrdlicka and Thompson & Knight, both at 13.
Texas partner-level hiring involved at least 50 firms in 2020, topped by Baker Hostetler at 10 and Frost Brown Todd at nine.
A couple dozen high profile lateral moves took place just prior to the Covid shutdown.
Shearman, for example, took three corporate transactional partners from Jones Day and two from Thompson & Knight in the days just prior to imposition of stay-at-home restrictions. White & Case grabbed two partners from Vinson & Elkins. And Haynes and Boone nabbed two finance partners from V&E.
And there were some lateral moves announced during the first month of the pandemic. Akin Gump added two transactional lawyers from Haynes and Boone the very week of the shutdown. Three weeks later, Thompson & Knight snagged three intellectual property partners from Haynes and Boone
Some of the partners who took their practices to new firms in the summer and fall included:
Baker Botts executive compensation partner Eric Winwood, who jumped to Sidley;
Corporate partner Jonathan Newton, who went from Baker McKenzie to King & Spalding;
Winston & Strawn litigation partner Taj Clayton, now at Kirkland & Ellis;
Transactional partner Stephen Olson, who moved his practice from Jones Day to Gibson Dunn; and
Mark Temple and Peter Stuhldreher, labor and employment partners from Reed Smith who left for Baker Hostetler.
The flip side of lateral hiring is firms' losing some star performers, who might even add insult to injury by taking key clients to their new employers.
Fewer firms were willing to disclose the departures, but Vinson & Elkins lost 30 associates, counsel and partners in 2020, which followed 31 leaving in 2019. Winston & Strawn saw 22 lawyers walk out the door. Thompson & Knight, which recently announced a proposed merger with Holland & Knight, saw 21 attorneys jump ship in 2020.
Mark Kelly, V&E's chairman, didn't sound alarm bells over the number of departing colleagues. The firm offset the lateral losses with 18 hires in 2019 and nine in 2020, and it added key lateral hires to out of-state offices. It's gearing up for a big year for hiring in 2021, Kelly said.
Kirkland and Jackson Walker, the two firms doing the most hiring in 2020, didn't disclose how many lawyers they lost to competitors. Texas Lawbook research, however, shows each firms had at least two partners and a dozen non-partners leave in 2020.
Returning to the partner-level data, Thompson & Knight saw with most departures at nine, followed by Haynes & Boone and Winstead at seven each.
Win some, lose some – that's how the high-stakes Texas talent battle goes. Baker Botts managing partner John Martin has seen it from both sides. On hiring, he deems his firm competitive: "We have a strong record of keeping our talent and attracting new talent." On departures, he struck a philosophical note: "We have a deep talent pool. We're a natural target for that."
Money Still Talks
Laterals represent the quickest way for an aggressive firm to bring top talent on board – for example, they've been the primary vehicle for the past decade's strong growth among the national firms that planted their flags in Dallas and Houston.
The lateral market's hottest properties are always elite lawyers with clients and expertise in fast-growing practice areas – in 2020, that included private equity M&A, capital markets and, for most of the year, bankruptcy and restructuring.
In pursuit of increasingly scarce Texas talent, larger and more profitable firms have a huge advantage – and in most cases money talks.
"There are a small handful of firms that simply have more money than the other firms and they can go onto the marketplace and get who they want," Zimmermann said.
Because the talent market has become so competitive, a small handful of firms pay signing bonuses ranging from $50,000 to $300,000 for associates. Younger partners are sometimes being offered multi-year guarantees of $2 million to $4 million annually.
Firms don't always find what they want in Texas.
"The Dallas and Houston markets are facing such a shortage of available talent that firms must look to hire from other markets," Ostolaza said. "We are in talks right now with lawyers at other firms in other states about bringing them here."
Michael McKenney, managing director of Citi Private Banking's Law Firm group, said Texas has joined a national trend of firms growing "more thoughtful in who they pursue" – with the goal of selecting the lateral hires that will pay off quickly.
"Every law firm says their lawyers put firm culture before profits and compensation," McKenney said. "It is true that culture matters up to a point, but when the money divide gets larger and larger, culture matters less and less."
Robert Rabalais, partner in charge of Simpson Thatcher's Houston office, echoed the importance of being choosy, saying his firm would be looking to add associates and a few senior people in the right areas.
"Our goal is to be elite and be very profitable – not simply size for size sake," Rabalais said.
Many of the firm leaders now making decisions on hiring laterals have worked in the Texas legal circles for decades. These veterans say jumping firms was a lot rarer when the state had just a few big firms – make partner and stay until retirement was the common career path.
"You didn't see the movement among the large firms," V&E Chairman Mark Kelly said. "People are much more mobile today."
What changed? The money is just so much bigger, with millions of dollars being waved under potential job hoppers' noses, and the influx of national firms means there are more places to hit the jackpot.
"Now, a lot of guys are serial lateral movers" Rabalais said.
Texas Lawbook Editor's Note: This is the first in a series of articles about law firm finances from 2020.